Senior Practicum
The Senior Practicum is a year-long capstone program for all IoES Environmental Science majors and one of the best environmental science and policy educational experiences in the world.
We have designed the Practicum to launch our students into impactful careers. And it works: alumni routinely describe it as the best thing they did as a UCLA student-a life-changing year. In many cases, students go on to work for the clients.
The program pairs teams of five to seven students with a faculty member or other environmental expert. Then it places them with clients ranging from the Natural Resources Defense Council to Northrop Grumman.
Real World Solutions
Clients from across the nation come to IoES with environmental systems and sustainability problems. Students conceive and deliver science-based solutions, working on-site in small groups with support from faculty and outside experts. The Practicum offers much more than traditional internships. Our students find answers to critical questions, such as:
How seriously do hydraulic fracturing spills threaten groundwater supplies?
Do industrial livestock operations increase antibiotic resistance to critical drugs?
Can spectral light reduce the numbers of malarial insects-protecting millions by changing light bulbs?
How can we save bobcats and other free-ranging wildlife from pest control poisons?
How can a mid-sized California city go carbon neutral?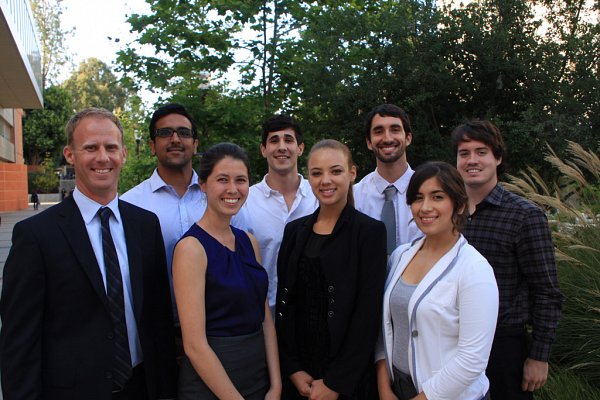 In 2016, practicum projects:
Mapped potential groundwater pollution plumes from lead and manganese contamination affecting the sole water supply source for the City of Maywood, CA.
Demonstrated that factors such as ethnic background, knowledge of nature and childhood environment have a significant influence on a person's preferences for nature—and that urban parks in Los Angeles and elsewhere may not meet communities' needs.
Investigated the effectiveness of municipal programs designed to reduce industrial stormwater pollution across the Los Angeles Region. Found inconsistent and often incomplete compliance with federal requirements for controlling pollution from industrial runoff.
Created a methodology for identifying and assessing social, financial, and environmental co-benefits that may stem from carbon offset projects related to livestock operations. This was done to demonstrate the full value of the offsets to inform decisions on whether to continue and expand such programs for public and private sectors.
Real World Clients
Our partners include leaders in government, the non-profit world and business—prominent institutions such as the National Park Service, The Nature Conservancy, Walt Disney Imagineering and the United States Environmental Protection Agency. Clients often return to participate year after year—the Practicum generates valuable information and resources for their missions. Meanwhile, they're making a valuable contribution by educating the next generation of environmental problem-solvers.
2016 List of Partners
City of Los Angeles
Climate Action Reserve
Environment Now
Green Seal
Huntington Botanical Gardens
Laguna Greenbelt
Los Angeles Waterkeeper
National Park Service
Natural History Museum of LA County
Natural Capital Project
Natural Resources Defense Council
The Nature Conservancy
The Bay Foundation
"The Practicum really brought my experience at UCLA full circle, it allowed me to understand how to apply what I had learned in school and academic knowledge to a real world problem and that's helped me tremendously in my career."
Hunter Connell
"Being able to work with really inspiring, educated people who are passionate about these issues made me feel like we can do anything."
Rachel Chung
"I don't know of any other schools that are doing this … The fact that this is being done among undergraduates is just incredibly impressive."
Charles Stringer
"If this is the next generation of environmental scientists, the future looks very promising."
Damon Nagami
Clients
Click below to submit a problem for practicum solution.
SUBMIT