The Environmental Science and Engineering Program has awarded the Doctor of Environmental Science and Engineering (D.Env.) degree to over 255 students.
The ESE program is one of the oldest, most successful applied environmental doctorate programs in the nation. Founded by Nobel Laureate, Willard Libby, in 1973, the ESE program has produced graduates that have worked in senior leadership positions in places such as the USEPA, Army Corps of Engineers, Disney, California Air Resources Board, AECOM, MWH, Heal the Bay and the Santa Monica Bay Restoration Commission.
Our graduates have helped write laws and regulations that have changed the face of air and water quality protection. They've greened Fortune 500 companies. They've restored water supplies to communities that lost their water due to groundwater contamination. They've helped build sustainable developments all over the globe. And they even helped create our nation's first statewide network of Marine Protected Areas. UCLA ESE graduates have made a difference for nearly 40 years: a difference you can see in the air we breathe and the aquatic environment we enjoy.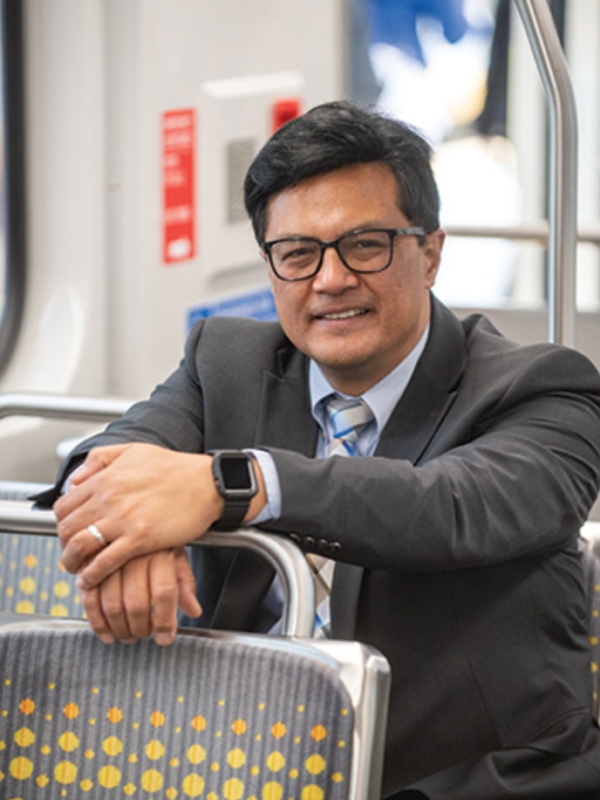 alumni spotlight
Cris B. Liban, E.S.E., 2003, Chief Sustainability Officer for the Los Angeles County Metropolitan Transportation Authority
---
Cris B. Liban is dedicated to the sustainability of the county's environment, economy, people, and beyond. He oversees Los Angeles Metro's internationally recognized environmental, sustainability and energy initiatives and since 2005 has led the first and most comprehensive sustainability and resiliency program in the transit industry. As L.A. Metro's executive for environmental compliance and sustainability, he developed the agency's first Power Purchase Agreement and has run the first EV charger system owned by a transit agency. His commitment has improved the environmental quality of the agency's infrastructure and service while delivering projects that are equitable, diverse, inclusive, resilient and sustainable without driving up costs.  Liban chairs the American Society of Civil Engineers' National Committee on Sustainability where he oversaw the development of the first ANSI international standard on sustainable infrastructure, served on the National Advisory Council for Environmental Policy and Technology at U.S. Environmental Protection Agency and served on California's AB2800 Climate Safety Infrastructure Working Group. Liban concurrently (2020) serves as a Commissioner to both the L.A. County Beach Commission and the L.A. City Board of Transportation Commissioners.
alumni spotlight
Elissa Foster, E.S.E. 2016, Senior Manager of Product Responsibility for Patagonia
---
The comprehensive education and experience Elissa Foster received in the Environmental Science and Engineering doctoral program made her an expert in environmental sustainability. Her dissertation on product life cycle assessment and usage in the apparel industry gave her skills to evaluate environmental effects of textile and apparel industries, including raw material extraction, knitting and weaving, dyeing, manufacturing, distribution, usage, disposal and recycling. Now, as a senior manager of product responsibility for Patagonia, Foster is responsible for developing sustainable strategies at the apparel company. Her challenge is to consider how the company can continue to make great products — apparel, equipment, and accessories ­— to satisfy high demand while reducing environmental impact. To achieve Patagonia's goal of a carbon-neutral supply chain by 2025, Foster oversees a team of environmental researchers and data scientists, using life cycle assessment to give the company accurate information and suggestions. "I think that by choosing more responsible materials and manufacturing processes ­­— recycled instead of virgin material, specific dye technologies or no dyes at all ­— there are ways we can reduce impact." 
alumni spotlight
Mark Gold, E.S.E. 1994
---
Mark Gold's research on local urban runoff and the health risks posed to swimmers led to California's toughest-in-the-nation beach water quality standards. It also helped create the $100 million Clean Beach Initiative to address the state's most polluted beaches. While he was executive director and president of Heal the Bay—an environmental group dedicated to healthy watersheds and coastal waters—Gold created the Beach Report Card, which grades over 500 west coast beaches. Back on campus, he's now UCLA's associate vice chancellor for environment and sustainability and a leader of the Sustainable L.A. Grand Challenge, which has an ambitious goal of getting L.A. to 100 percent renewable energy and 100 percent locally sourced water by 2050.
alumni spotlight
Shelley Luce, E.S.E. 2003, President & Chief Executive Officer of Heal the Bay
---
Shelley is responsible for determining Heal the Bay's policy priorities, forming smart strategic alliances, and growing public participation across greater Los Angeles. Shelley, who holds a Doctorate of Environmental Science and Engineering from UCLA and a B.S. in Biology from McGill University, began her advocacy career at Heal the Bay, serving as a staff scientist from 2001-2005. She went on to hold executive director positions at the Santa Monica Bay Restoration Commission, the Bay Foundation, and the Environment Now Foundation before rejoining us as President and Chief Executive Officer in 2017
alumni spotlight
Ben Schwegler, E.S.E. 1999, Chief Scientist for Disney Imagineering
---
Walt Disney theme parks can not only claim to be the "happiest places on earth," they're also now the most energy-efficient theme parks and resorts. As chief scientist for Imagineering Research and Development, Schwegler spearheaded the use of 3D and 4D simulation to ensure that sustainable design and engineering are utilized in all of Disney's built environments. This resulted in water treatment technologies that enabled the first closed-loop control of wastewater treatment plants. The challenge at a place like Disney is incorporating a broad cross-section of professional visions and input. "In our world we deal with artists, so we need to make engineering decisions that allow everyone else's creativity and good ideas to flourish," says Schwegler.
alumni spotlight
Chad Nelsen, E.S.E 2012, CEO Surfrider Foundation
---
Nelsen is the man behind surfonomics—the scientific breakdown of surfing's economic importance. The son of a marine science teacher, Nelsen remembers performing seawater buoyancy and salinity tests in his father's lab. In grad school, Nelson realized he could combine his passion for the ocean and science with his recreational pastime—surfing—in his doctoral thesis. He had a hunch the monetary value of healthy coastal ecosystems and surf breaks was an under-utilized tool in coastal conservation. "One of my proudest accomplishments is that surfonomics is now being applied to coastal preservation efforts around the world," says Nelsen. He's now CEO of Surfrider Foundation, the largest U.S non-profit dedicated to marine conservation.
alumni spotlight
Keith Kawaoka, E.S.E. 1980, Deputy Director of Environmental Health, Hawaii
---
From chemical weapons disposal to the Zika virus, Kawaoka has taken on massive environmental issues. He's also had a wildly diverse career. "I managed to work in environmental science all my career—except for the few times I was a rocket scientist." Kawaoka isn't joking. His ESE internship was with Aerospace Corporation—a military projects research center. In the 1970s, Kawaoka worked on renewable energy technologies. Then in the 1980s, he learned rocket science for the Strategic Defense Initiative, or "Star Wars." Now in Hawaii, he's deputy director of environmental health, working on legislation, dealing with new challenges, such as interacting with media. "A lot of times you get a few minutes or seconds before the camera starts whirling," he says. "There's never a dull moment."
alumni spotlight
Nicholas Nairn-Birch, LiS Class of 2009, E.S.E. 2012
---
Nairn-Birch heads California's effort to get low-income residents out of older, high-polluting, gas-guzzling cars and into clean-air vehicles. Working for the Air Resources Board, he designs programs to modernize the state's car fleet and meet ambitious greenhouse gas reduction goals. In LiS, Nairn-Birch quickly learned that environmental problems have to be addressed in their broader context—most environmental solutions require input from a variety of experts. Being able to speak to and facilitate dialogue with chemists, engineers, toxicologists, economists, business people and trade associations is key to sustainability leadership, he says. It's a skill that was also instrumental in his earlier work on pollution prevention and chemical safety at the EPA.