Los Angeles high school students: grab your cell phones, video cameras and microphones—your voice and creativity can change the planet.
This environmental short film contest is a platform to showcase your ideas, commentary and vision for our city and the world. You may submit one short film for each category and films must feature the Los Angeles Area—creative liberty is encouraged. Post your film at filmfreeway.com/festival/ioesfilms.
Awards & Prizes
The best film in each category will receive $500, a VIP tour of Paramount Studios and will have their film screened with a director's Q&A at the EarthNow/Earth2050 symposium.
The first runner-up in each category will receive $200.
Categories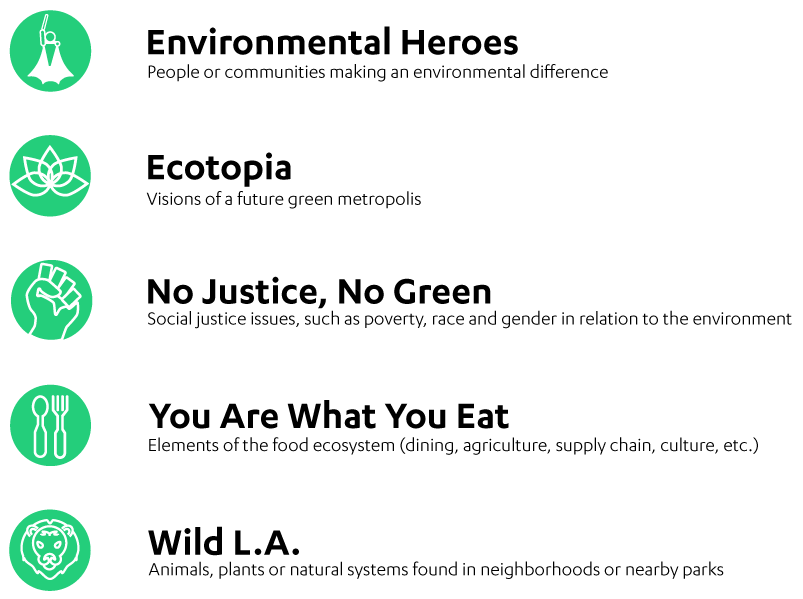 Judging Panel
John Fiege is a director, cinematographer and photographer. His documentary credits include Above All Else, Mississippi Chicken, Sunken Garden, Slow Season and Food is Free.
Laura Gabbert is a documentary director and producer. Her film credits include No Impact Man, Sunset Story, The Healers of 400 Parnassus, Tarantella, Getting to Know You and City of Gold.
Brian Koppelman is a New York City based writer/director and producer. His credits include Billions, Rounders, Solitary Man, Knockaround Guys, Ocean's Thirteen and The Illusionist.
Jesse Sisgold is the Chief Operating Officer at Skydance Media, a next-generation film, television, and interactive studio. Recent Skydance credits include Star Trek Beyond, Mission: Impossible – Rogue Nation, Terminator Genisys, World War Z, Jack Reacher, G.I. Joe: Retaliation, Grace & Frankie, Altered Carbon, Red Mars and Jack Ryan.
Dr. Susan Smalley is a behavioral geneticist, writer and activist. She is the founder of the UCLA Mindful Awareness Research Center and a Professor Emerita in the Department of Psychiatry and Biobehavioral Sciences at UCLA.
Kevin Wall is an Emmy Award-winning producer, activist and new media entrepreneur. He is the founder and CEO of Control Room, which produces and distributes live music concerts across Internet, radio, television, and mobile phone platforms.
Rules & Terms
Films must be less than 3 minutes in length.
Individuals can submit one film per category.
Participants must be enrolled in high school and under 19 years old.
Films must be submitted by October 4, 2016 via the Film Freeway submission site.
Finalists will be notified on October 6, 2016 and finalists must submit their film as a digital file by October 10, 2016.
Finalists are required to attend the award ceremony on October 20, 2016 at UCLA.
Through your submission, UCLA IoES will be given the right to use your film for promotional, but not commercial, purposes.