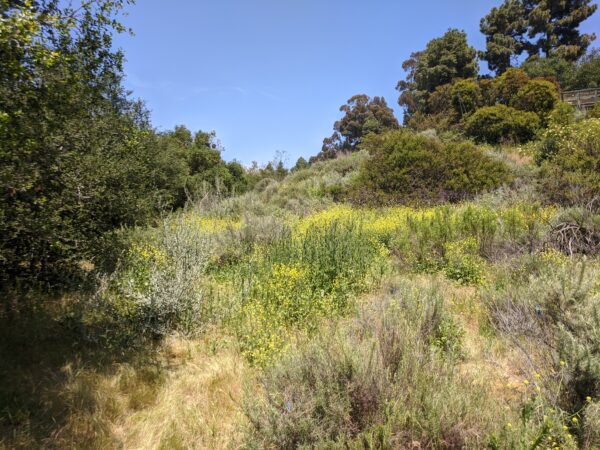 Sage Hill at UCLA is 3.4 acres of CA native habitat that is home to a high level of biodiversity. The UCLA Institute of the Environment and Sustainability (IoES) is developing the area into a space that offers easily accessible, outdoor, hands-on learning and research experiences for students across campus. The Restoration Ecologist/Managing Director is a new, full-time academic administrator position dedicated to Sage Hill. The Managing Director maintains primary responsibility for oversight of Sage Hill including encouraging, coordinating, and supporting all restoration, teaching, and research activities, as well as facilitating Gabrielino (Tongva) Tribal access and cultural activities. The Managing Director teaches two courses per year, including the environmental science senior Practicum on a topic related to Sage Hill. Additional duties include advising and mentoring students, assisting with grant writing for program support and infrastructure improvements, co-managing needed enhancements with capital and operations units, developing communications and reports, and maintaining a library of equipment, digital assets, and data. The Managing Director reports to the Director of IoES and works collaboratively with the Associate Director and a wide range of IoES and UCLA faculty, researchers, and administrators to expand opportunities for UCLA students and ensure positive student outcomes. The Managing Director may also participate in research as PI, co-PI, or Partner. The start date for this position is flexible, with a preference for Fall 2022. To learn more, visit www.ioes.ucla.edu/sagehill
Qualifications
Ph.D. or corresponding terminal degree in hand by the time of appointment in a field related to restoration ecology, botany, zoology, environmental science/studies, and/or Traditional Ecological Knowledge (TEK). A proven record of professional and academic achievement including teaching, research experience, professional practice, and/or funding through competitive grants. We particularly welcome applications from scholars/practitioners with knowledge of California ecosystems, knowledge of inclusive pedagogy, and experience developing TEK-based field courses or teaching exercises.  
Appointment
The initial appointment is for the 2022-23 academic year, with the possibility of annual renewals. Salary is commensurate with experience.
To Apply
Visit: https://recruit.apo.ucla.edu/JPF07716  The application includes a cover letter, CV, statement of teaching, statement on contributions to equity, diversity, and inclusion, and an optional statement of research. In the cover letter, applicants should describe how they plan to create an inclusive community, as well as their experience working with individuals from historically marginalized or underserved groups. Applicants are asked to provide contact information for 2-3 references.  
Applications due September 29, 2022. Please contact Dr. Cully Nordby at nordby@g.ucla.edu if you have any questions.
The University of California is an Equal Opportunity/Affirmative Action Employer. All qualified applicants will receive consideration for employment without regard to race, color, religion, sex, sexual orientation, gender identity, national origin, disability, age or protected veteran status. For the complete University of California nondiscrimination and affirmative action policy, see: UC Nondiscrimination & Affirmative Action Policy.