Graduate Housing Team Photo Stream: Winter 2018
By Vanessa Nguyen, Elias Platte-Bermeo, Riley Cooke, Diana Nguyen, Zachary Devereux, and Ryan Hallman. Edited by Melissa Ikeda.
The 2018 Sustainability Action Graduate Housing Team is off to a great start as they build off last year's project to reduce waste and foster sustainable habits among the residents of the Graduate Housing facilities. Check out what they've been up to in the first few weeks of their project!
Week 2: Team Building
The Grad Housing Waste Diversion team participates in a leadership strengthening activity to hone in on skills they hope to develop and improve throughout the next few months. "Nuture Collaboration" is one they can check off the list!
The Grad Housing Waste Diversion team are all smiles after their first team meeting! The new team members are pumped and ready to start talking trash. 
A night of the first Sustainability Action Research Team Retreat! Team Members Riley Cooke and Zachary Devereux pose for the picture as they up-cycle their old t-shirts.
Week 3: Stakeholder Meetings
 Grad Housing Waste Diversion Team at our first stakeholder meeting at the ResLife office in the Weyburn University Apartments. Daisy Oliver is pictured coming in to sit down at the head of the table; she is our primary stakeholder, and she is the Community Director for the University Apartments. Addae Jahdai-Brown (not pictured) is the Assistant Director for the Off Campus Apartments and was an important stakeholder last year for the Grad Housing team. At our first meeting, we introduced ourselves and got to know each other a little bit, discussed ResLife personnel changes and important points of contact, went over our goals for the project and what resources we might be needing from our stakeholders. 
Week 4: Timelines
This week, we had an extensive team meeting with our stakeholders to talk about how we can perfect the composting system at the Hilgard graduate apartments. We decided on a timeline that included a site visit, a survey, and an audit before Week 7.
Fueling up for our busy schedule!
Week 5: The Nitty Gritty
The group's response to team member Diana getting up close and personal to the Hilgard Apartment's compost bin in order to analyze the odor.
 The Grad Housing Team examines the many flies on the wall at the Hilgard Apartment site visit to check out their compost bins.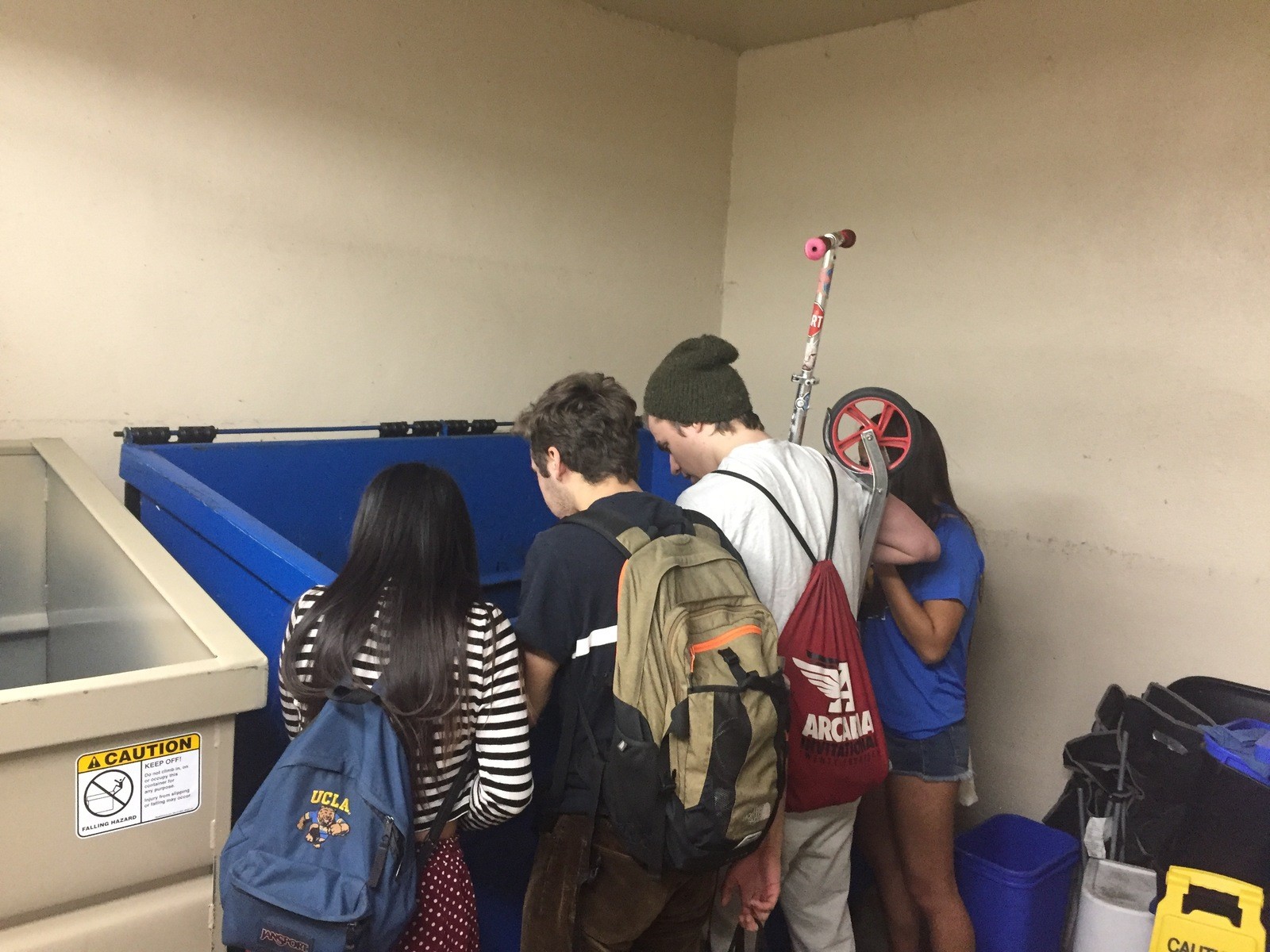 The team estimating the recycling dumpster usage at the second Hilgard Apartment during our site visit on February 4th.
Week 6: Getting "Trashy"
In order to quantify waste output and the sorting habits of residents, our Grad Housing team conducted hands-on waste audits at the Hilgard apartments. With this data, comparisons to past waste trends provide changes in resident behavior and illustrates program success.
Week 7: Reflections 
This week, the Grad Housing Waste Diversion team played "sustainability charades" and cheered on Vanessa as she (nearly) led us to victory. We then got outside to reflect on the challenges our team has faced thus far and to acknowledge what each of us has been most proud of. The weather may have been cold, but there was nothing but warm vibes on this lovely Thursday afternoon!
Week 8: Cookies for compost survey!
​On a cold an windy Tuesday night, team leader Vanessa took on the not-so-SoCal weather to table and meet with graduate housing residents about waste diversion and their composting system. While the cookies were meant for the residents, Vanessa stole a bit of the sweet Diddy Riese goodies!
Team member Riley tackled the tables to meet and greet graduate housing residents. Offering "COOKIES for COMPOST survey", team members would gather residential responses on experiences and suggestions about the current Hilgard composting system.
Week 9: Waste audit activity!
This is the result of Grad Housing's planned activity for the entire SAR class! Part 1 of our activity involved having teams do a "mini-waste audit" to get a sense of what our team does in waste diversion. Part 2 was to take hand-sorted bags of trash and make art out of them with supplies we provided. The teams were really engaged and we were happy to see such inspiring pieces, a lot of them having to do with International Women's Day. Pictured are 3 teams' sculptures/pieces/figures on the desk. 
Quick visual check up on the waste room in 720 Hilgard this afternoon. It has been almost a month since our first full-blown waste audit and it is helpful for each member of our team to occasionally check on the waste room and some of the factors that residents commonly complain about. The waste room had just been cleaned at the time of our audit, and there were no flies to be seen. The room was relatively clean again today and the odor was noticeable but not terrible. However, there were a bit more dead flies than there were previously, as shown in the section of the wall in this picture. It will be important to continue monitoring this situation throughout spring.
Our lovely team member Diana Nguyen preparing relatively sanitary bags of trash in advance of our sorting + art activity for class the following day. She scoured many floors of her residence hall to acquire all the items she brought.
Week 10: Midterm presentations!
This week, we wrapped up the quarter with one last team meeting where we discussed goals for the beginning of next quarter and final tasks for this quarter. We really missed Elias at our meeting because he got to leave an entire week early for spring break – we were all very jealous!
Read more about the Graduate Housing Team's mission on their Project Page. To check out other current and past SAR teams, visit the "Our Work" page, and don't forget to give our Facebook page a "like" to keep up to date with what we're up to!
SaveSave
SaveSave
SaveSave
SaveSave
SaveSave
SaveSave