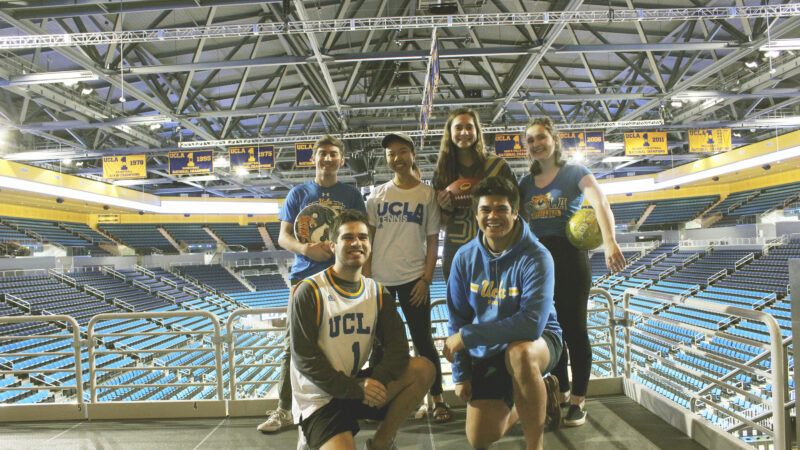 Blog |
Green Games Blog Post: April 19, 2019
Green Games Pins Down Student Athletes' and Fans' Interest in Making Sports More Sustainable
By: Zachary Alter, Jacob Gerigk, Sarina Levin, Jonah Eisen, Amber Lam, and Kate Minden.
It's a new quarter and the Green Games team is moving right along with it! As of this week, our student survey measuring interest in improved athletic event sustainability gathered a total of 204 responses! It was encouraging to see that 85.8% of students are interested or extremely interested in seeing improved sustainability of these events. At the end of last quarter, our team and stakeholder, Kayla Shirley, met up with Erinn McMann, Director of UCLA Recreation, to discuss our plans to create green templates for club and varsity sports that will address events and general practices. The creation and implementation of these templates will be our main goal for this quarter. We will also be conducting another waste and demographic audit of a UCLA softball game on May 10th.
Outside of our main goals, our team is being helped by several student athletes interested in sustainability. They are doing tremendous work conducting waste audits of the Acosta Training Center and swim practices as well as working towards forming an environmental leaders group within the Student Athlete Advisory Community. To help encourage them, our team is looking for ways to have athletic waste audits count towards athletic community service hours.
Finally, our team may have a solution forthcoming about the excess food produced at events! A nonprofit organization named Goodr (which transports excess food from large organizations/events with homeless shelters) is looking to expand into the LA area. They have already reached out to Bonnie Bentzin and Kayla is assisting us in potentially having UCLA Athletics be a part of it.