Resilience Blog Post: February 15, 2019
Team Connects with Campus to Design Resilient UCLA
By:  Lea Le Rouzo, Nicholas Caton, Anh-Vy Pham, Sophia Bozone, Tory Coffin, and David Scolari. 
For several weeks now, the SAR Resilience Team has been working on transforming the goals and actions laid out by Resilient Los Angeles into a basis for a comprehensive resilience plan for the UCLA campus. The team started by identifying the actions within LA's plan which are applicable to UCLA and is now in the process of linking each action to a specific department or group within the university that would oversee its execution.
The team is also working to alter some of the actions listed in Resilient Los Angeles so that they better match the values and priorities of UCLA as well as developing new actions which are specific to the UCLA campus. While some aspects of UCLA's infrastructure, communities, and systems match those of the City of Los Angeles, there are also many ways in which UCLA's campus and its occupants are distinct from its host city and thus require a uniquely tailored resilience plan.
In order to determine where UCLA's resilience plan should differ from Resilient Los Angeles, the Resilience Team plans to utilize methods such as interviews with field experts as well as focus groups and surveys with the broader student body. In this way, the team will leverage the different layers knowledge that students, staff, and faculty posses about the campus.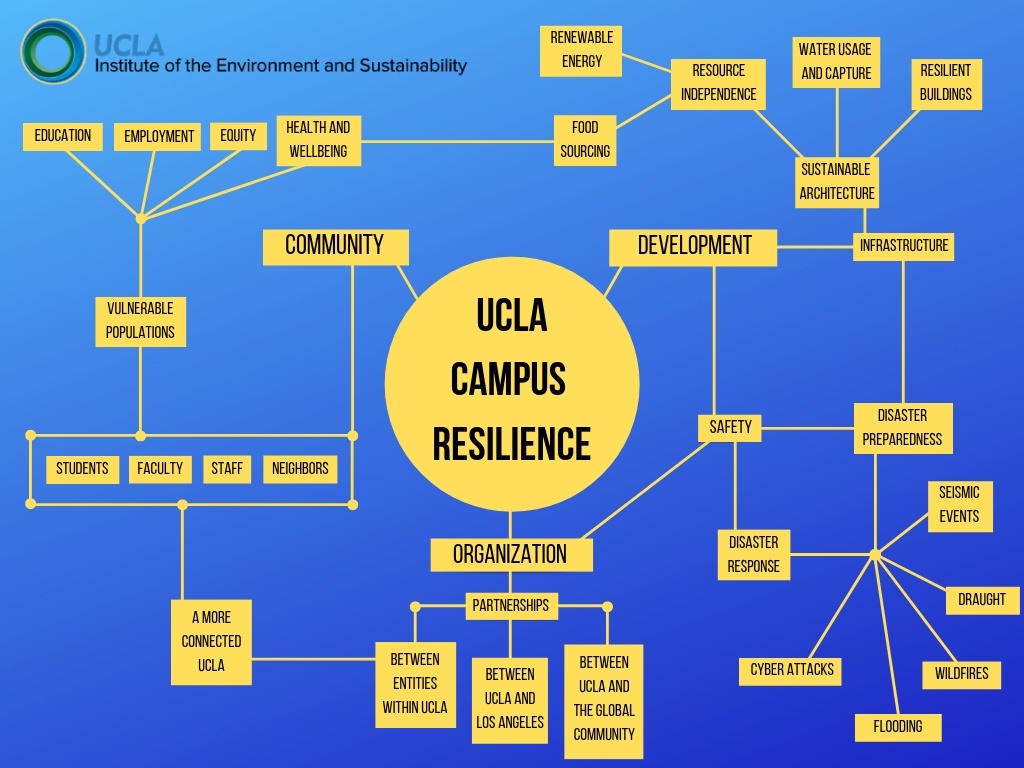 Infographic Caption: UCLA Campus Resilience begins to take shape, as this concept map attempts to demonstrate the various linkages between its different components. In the coming weeks, the Resilience Team will be reaching out to various departments and groups within the university and showing them where they fit into the resilience plan.