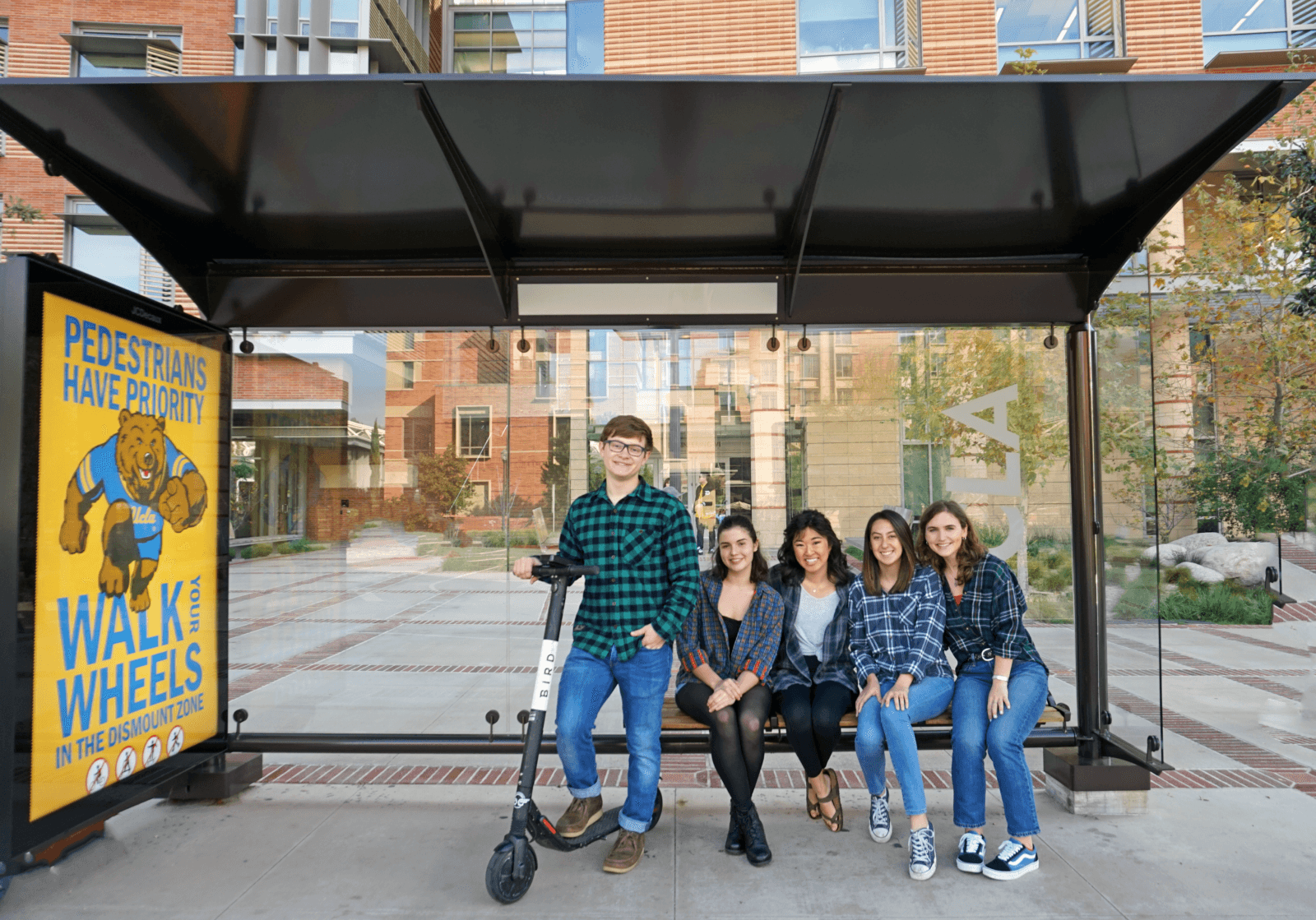 Transportation Blog Post: April 12, 2019
UCLA's Newest Invasive Dockless Species
By Madeline Jordan
Wow, it's the best time of the year and Spring quarter is already in full swing! At the end of last quarter the SAR Transportation Team aggregated our spot-count data and determined that the four present e-scooter parking locations on campus were critically underused over the course of our three week assessment period. Each parking location averaged between 1.5 to 5 total e-scooters at each location per spot-count. It is also important to note that these locations averaged less than 0.5 e-scooters inside each parking lot per spot-count. One of the parking locations (near the Alumni Center), was only used once during our entire data collection period. We can compare these locations with our two hotspots, which averaged between 12.33 to 15 e-scooters per spot-count.
Our team has developed two possible main reasons for the underuse of the e-scooter parking lots. The first of which is location. All of the e-scooter parking lots are located on the way to campus on Westwood Plaza Boulevard, but never at a realistic end destination (like in front of a classroom building). Because they are in such inconvenient locations, we believe people are less inclined to stop their e-scooter ride early to use the e-scooter parking lots. The other reason is awareness of the parking spot. The e-scooter parking spots are not very visible at all, often times hidden near a bush or behind a building. There isn't even a physical structure to indicate that e-scooters should be parked there, only a painting on the sidewalk. This is extremely ineffective for spreading awareness of the parking spots and encouraging their use.
Since once again beginning to collect spot-count data at the start of week one, our team has taken note of the fact that over spring break a new dockless mode of transit arrived in Westwood. It is an electric bike, called Wheels, that is quite similar to a Jump bike but it is much smaller. Our team will make sure to note how many Wheels we see during our spot-counts so that we can possibly account for changing trends in e-scooter use with this new dockless bike option too. Nonetheless, e-scooter parking spots will play an important role in continuing to increase the safety of e-scooters and other dockless electric vehicles as sustainable modes of transportation on campus. We must continue to strive to improve these locations and their visibility if we expect them to be used more regularly by the UCLA community.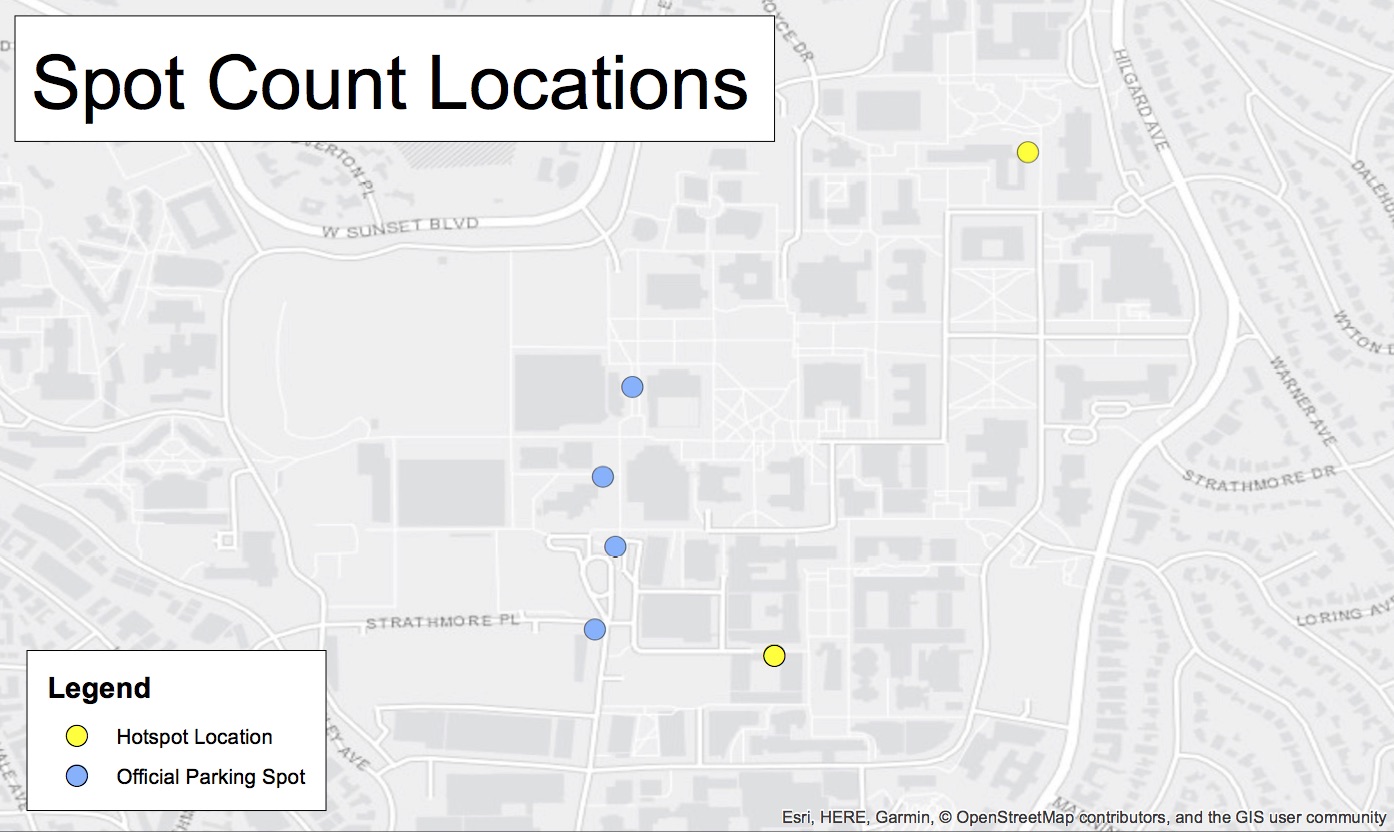 Map Caption: The blue points on this map represent the current parking locations surveyed in our spot-count data collection. The yellow points represent locations that we deemed to be hotspots, with high e-scooter activity.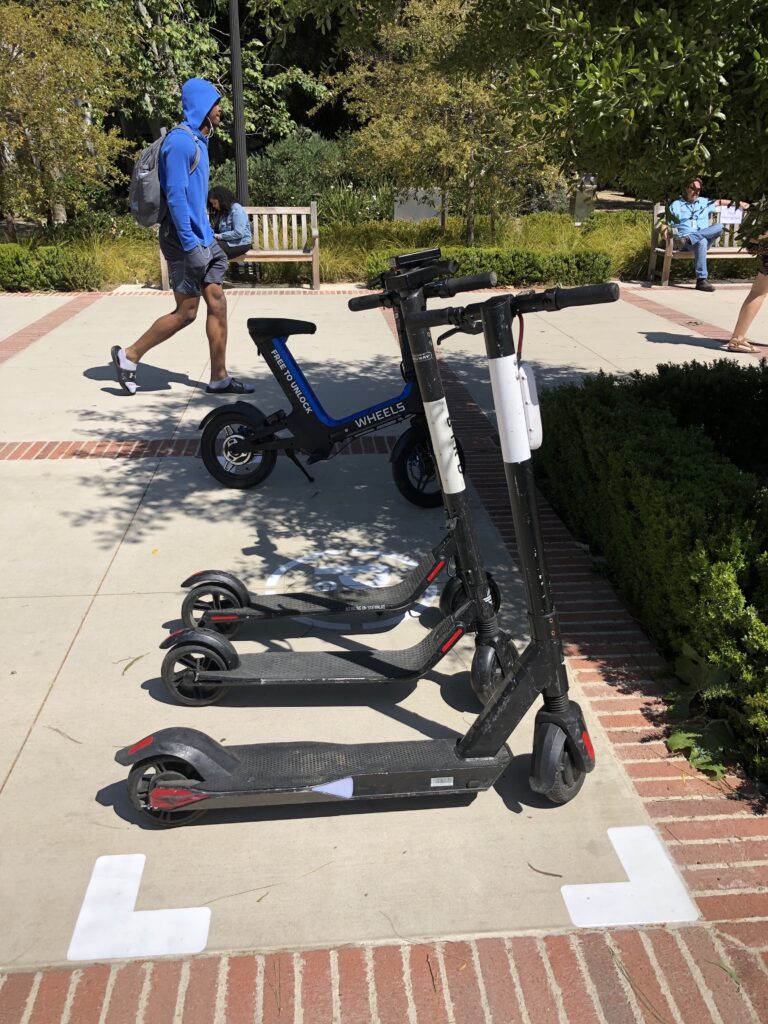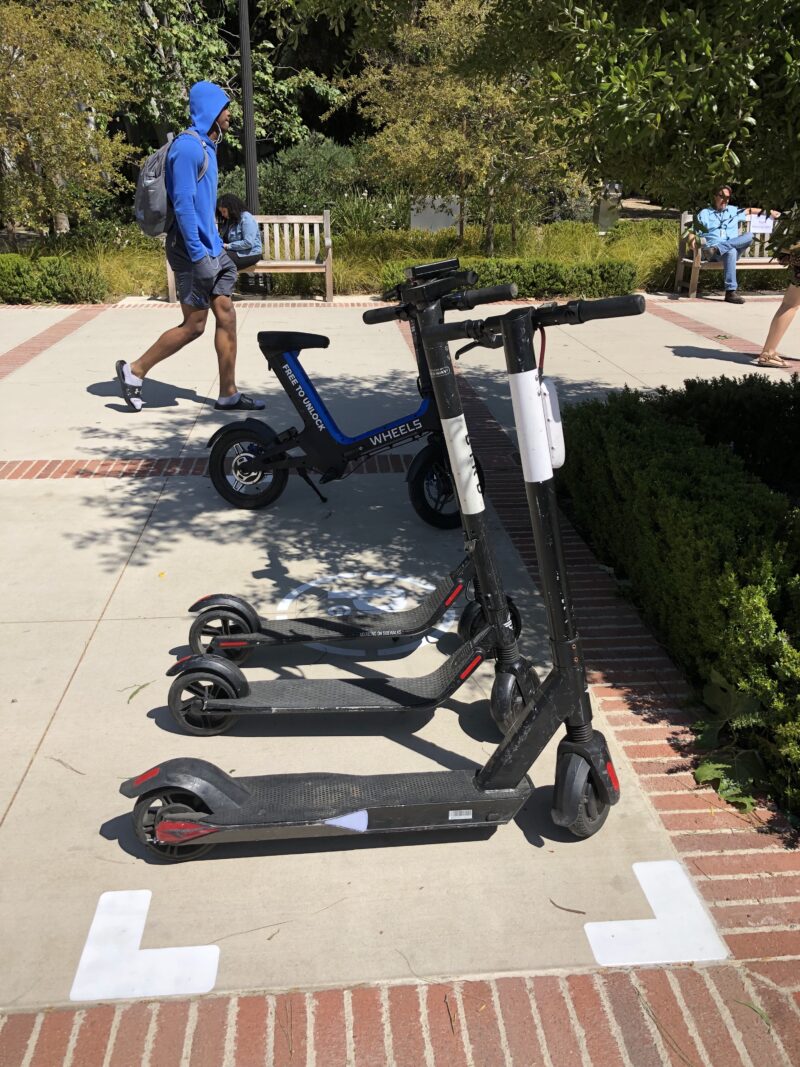 Photo Caption: Wheels are the newest form of dockless transit on UCLA's campus. In this photo of the parking location at Ackerman Turnaround, you can see three e-scooters, and one Wheel bike parked inside of the spot.