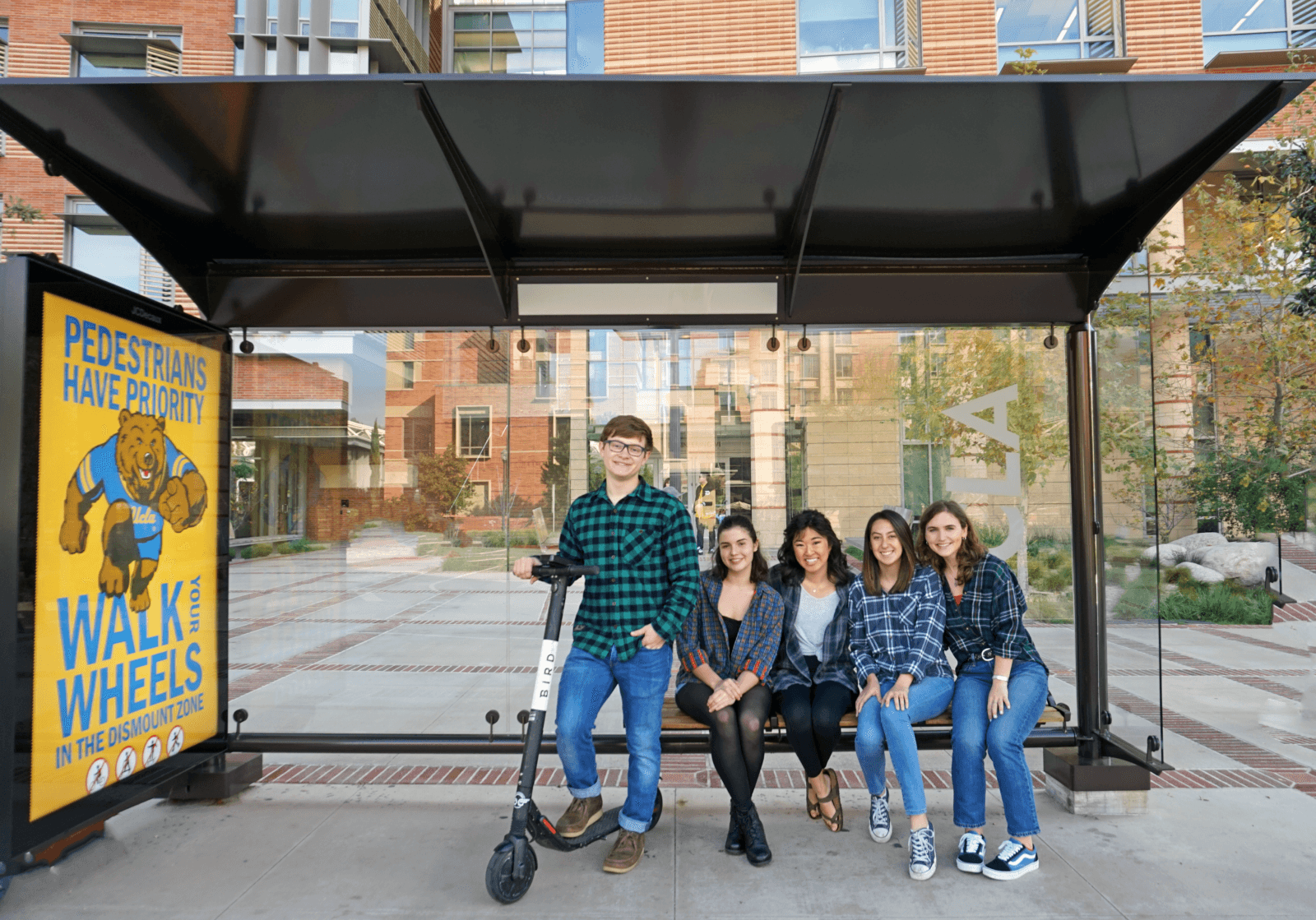 Transportation Blog Post: April 26, 2019
Birdin' Away At Earth Day!
By Brooke Shimasaki
This week our team tabled at the UCLA Earth Day Fair in Dickson Court. We all had a chance to talk with the campus community and discuss the various sustainable modes of transportation offered on and around UCLA. We had a fun mapping activity where participants could win oranges when correctly identifying sustainable transportation pick up/drop off zones. Also we encouraged people to take our Transportation Attitude Survey. Fortunately, our team got into contact with campus representatives from Bird — a popular, LA based e-scooter company. Through discussion, our team found that Bird had very similar goals of promoting safe and mindful e scooter use (specifically they focused on encouraging riders to use helmets). Bird generously donated brand stickers, drawstring backpacks, helmets, and flyers with promotional codes. This merchandise was given to participants after they completed the Transportation Attitude survey. Overall, the Earth Day Fair was a great opportunity to collaborate with a prominent e-scooter company as well as promote sustainability in transportation with the UCLA community.
After a successful day tabling at the Earth Fair, we were able to reach our goal for the number of responses to our survey. We collected responses from people from all across our campus which have provided us with valuable information that has helped us learn more about transportation patterns at UCLA. This data has helped us to understand how many people on our campus use e-scooters, why others choose not to use them, and what factors do people consider the most important when deciding on a mode of transportation. Of our survey takers, 31% use e-scooters while the remaining 69% of survey takers preferred other modes of transport, mainly walking, to navigate our campus. While many of the people who chose to not use e-scooters cited cost, safety, and campus infrastructure as their main reason for not using the device, many others chose to write in their own reason such as not having a driver's license which is needed to access them. Despite differences in preferred transportation, survey takers consistently chose speed, cost, and environmental impact as the most important factors that they take into consideration when choosing a mode of transport. We will be considering these results, as well as the results to our remaining survey questions, to inform our campaign which will be aimed at encouraging the UCLA community to choose sustainable transportation options.