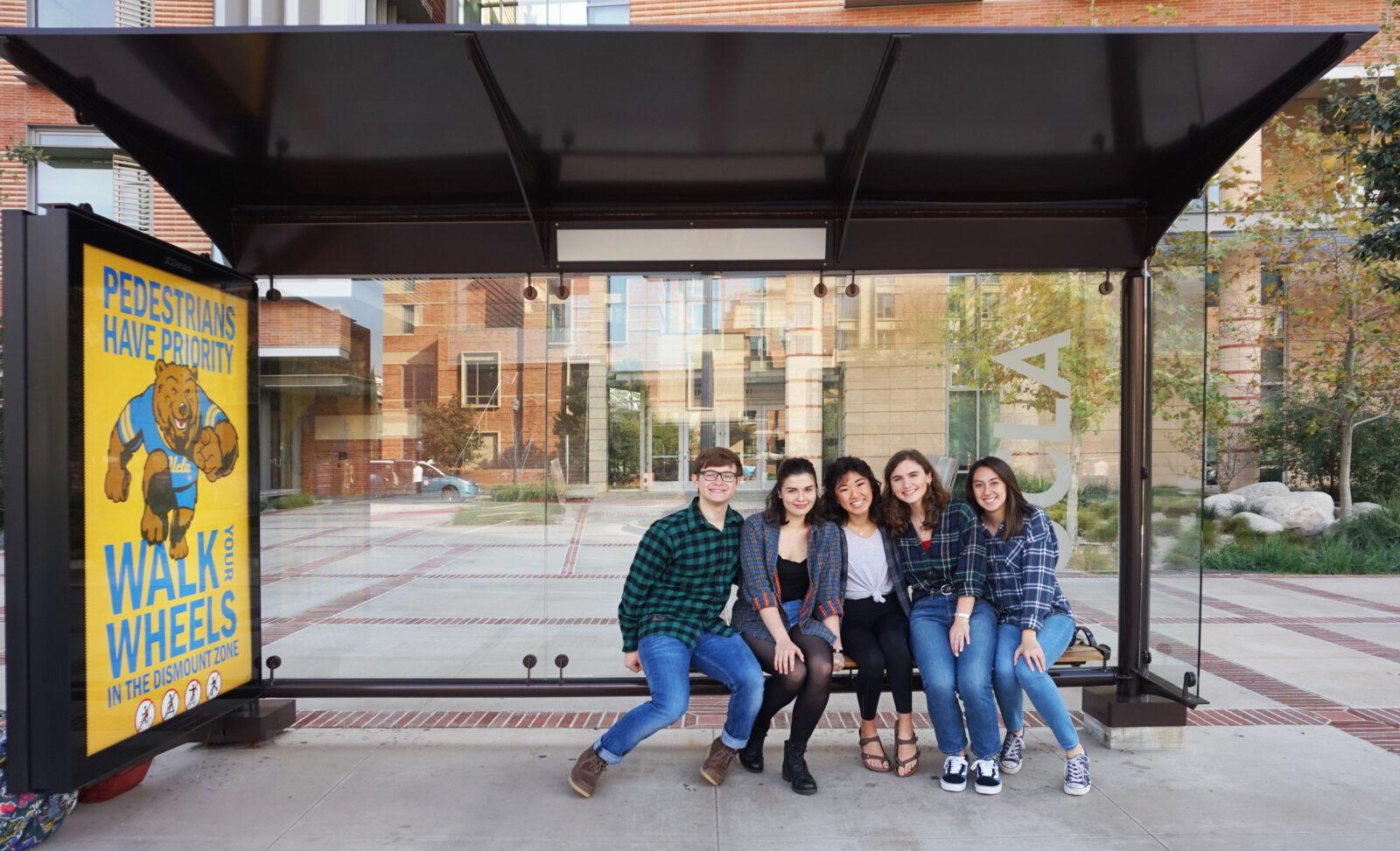 Transportation Blog Post: February 1, 2019
Transportation Team Tidbits
By Anna Weir. Edited by Chloe Ney.
Hello from the 2019 SAR Transportation Team!
Our group represents the integrative nature of Sustainability Action Research; we are Environmental Science, Geography, Biology, and Physics majors who will use skills from our respective fields to improve transportation around UCLA!
Our university is a large one, with a community of over 70,000 students, staff, faculty, researchers, and alumni spread across 419 acres of beautiful, green campus. Efficient modes of intra-campus transportation, such as the BruinBus and Bruin Bike Share, are vital for moving such a large user-base across an expansive campus. These affordable modes have been widely-utilized for years, yet a significant number of students and staff have recently started using ride-hailing apps to travel short distances between campus locations in 2018.
2018 also marked a big change for transportation around UCLA in a way that long-term the Sustainable Transport Plan could not predict. E-scooters seemed to appear overnight, propped up on street corners with the appealing offer of costing only $1 to unlock then $0.15 per riding minute, and the ability to leave your scooter wherever you pleased once arriving at your destination.
In a matter of weeks, UCLA was so overrun with Birds that Alfred Hitchcock could have easily sued us for copyright infringement. While this allowed students to move efficiently around campus with minimal carbon emissions, the ability to leave your e-scooter wherever you wanted meant that emergency exits and wheelchair ramps quickly became blocked and overcrowded, and popular walkways such as Bruin Walk became hazardous for riders and pedestrians alike.
Therefore, the goal of our research for the next two quarters is to work with Jimmy Tran in the UCLA Transport Department to examine the impact e-scooters have had on intra-campus transportation preferences, as well as potential locations for on campus e-scooter parking zones. We may also look into the motivations behind why students use ride-hailing to get to and from campus buildings as a way to reduce local congestion and vehicular emissions as we move into Spring Quarter. Watch this space for further updates on our progress throughout our journey – see you in Week 6!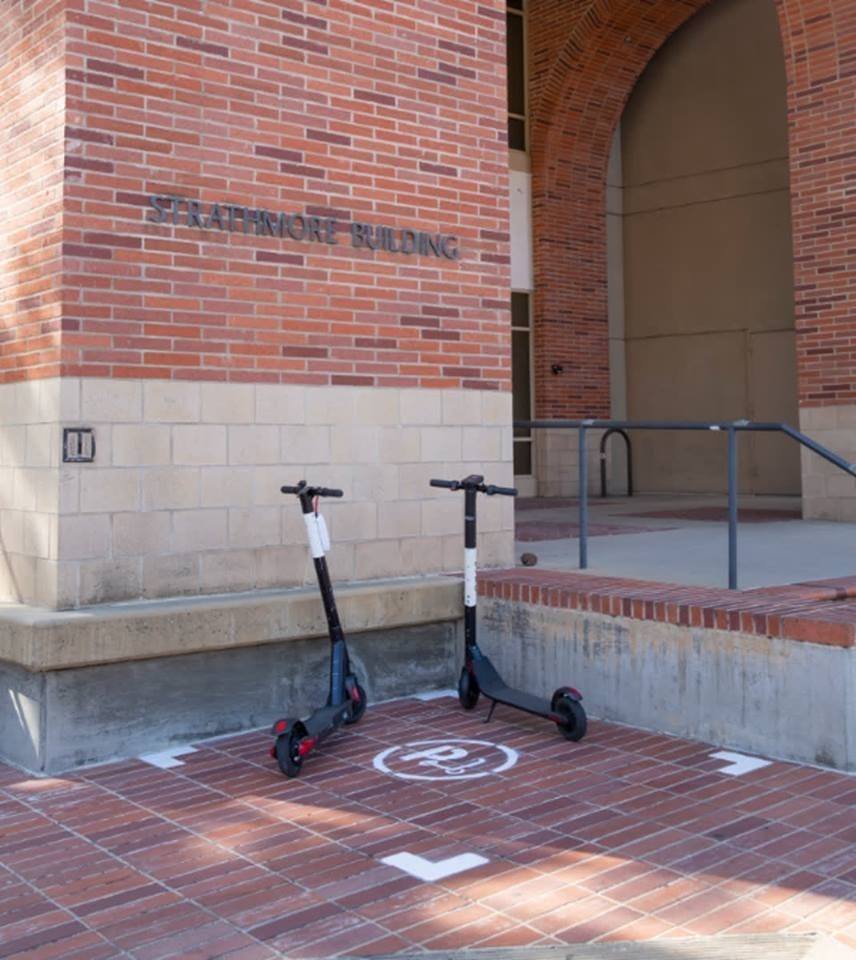 Photo Caption: Our team will work to determine the best locations for 'Bird Landing Spots' such as this one based on local e-scooter activity, and will also determine the suitability of promotion tactics to encourage students to use them. Photo credit: UCLA Transportation Facebook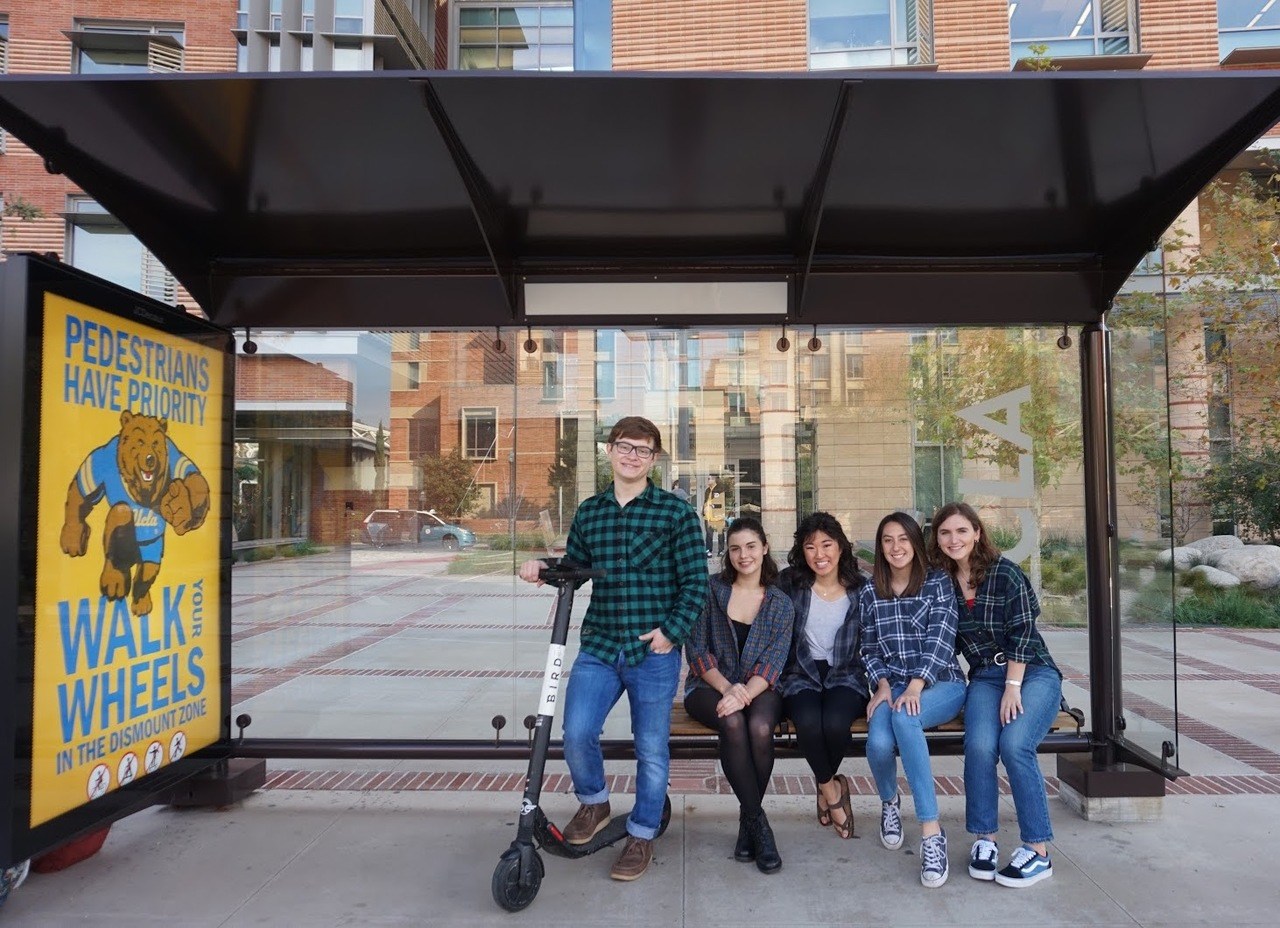 Photo Caption: With all members rocking plaid flannels, the SAR Transportation Team poses for a photo at the "Gateway Plaza," bus stop. This stop is easily one of the most prominent bus stops around the UCLA campus, as it drops passengers off near Bruin Plaza and Ackerman Grand Ballroom. Photo credit: Chloe Ney