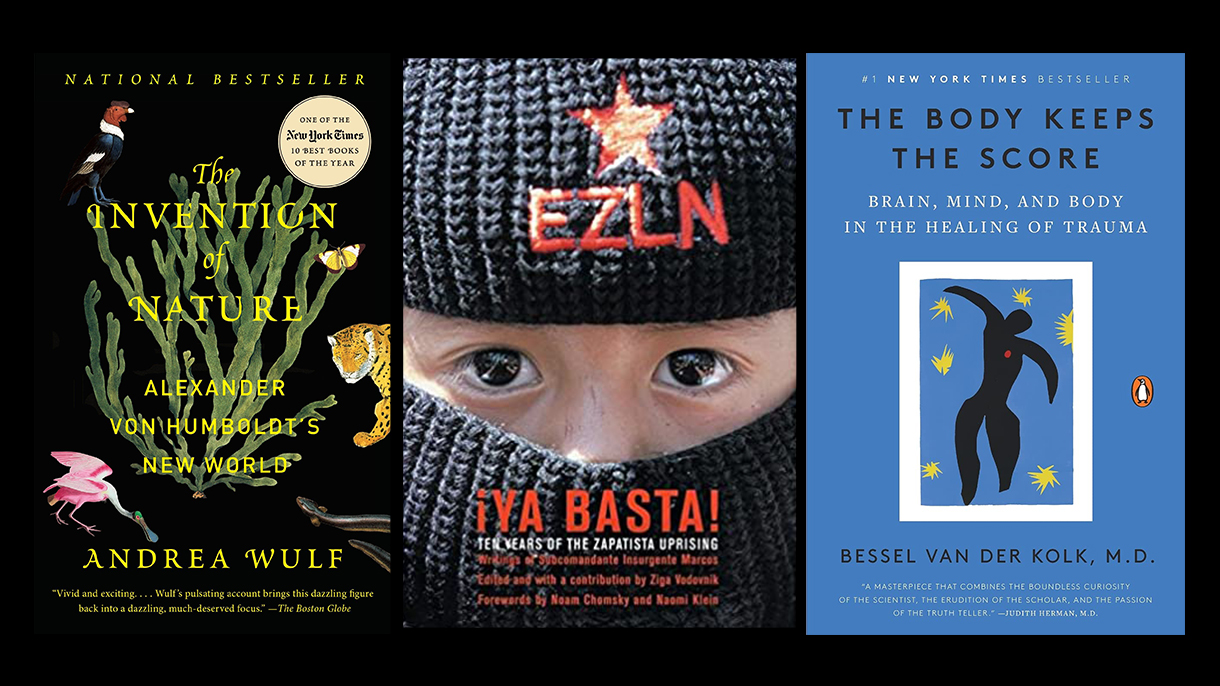 What they're reading: 2021 Pritzker Genius Award book recommendations
Enrich your knowledge with the favorite books of our 2021 Pritzker Emerging Environmental Genius Award candidates. 
The 2022 candidates will be announced this summer — stay tuned.
---
by Amor Towles
After almost two years of having restrictions on travel, this book provided an interesting perspective on how one can cope and thrive with unexpected and drastic changes in one's circumstances.
Recommended by: Amelia Wenger
by Liz Wiseman with Greg McKeown
This is my favorite book because it has had a profound effect on how I think about leadership. The whole organization we have built is a result of the unconventional leadership ideas in this book.
Recommended by: James Kanoff
by Marshall Berman
Berman's foundational book examines social and economic modernization and its conflicting relationship with modernism. As an aspiring urban planner, urban theorist and environmental practitioner, this book was essential in helping me understand and disentangle the many tensions and contradictions that underpin urbanization, development and growth.
Recommended by: Monika Shankar
by Hans Rosling with Ola rosling and Anna Rosling Rönnlund
Factfulness made me a believer in the power of policy and people working together to improve the human condition. The book illustrates how the world has gotten better in ways that may seem counterintuitive. I am more of a "possiblist" in climate change and other world issues because of it.
Recommended by: Etosha Cave
by Andrea Wulf
This is one of the books that I have read multiple times. As a person whose academic experience transverses across many disciplines, I find understanding the journey, thought and adventure of Alexander von Humbolt not only inspirational and relatable, but also helpful to my thought process as I go deeper into my own conservation journey. This book is highly recommended.
Recommended by: Farwiza Farhan
by Bell Hooks
Its expansive conceptions of love and what drives us ground me in this work every day!
Recommended by: Dany Sigwalt
by Wade Davis
It is a beautiful collection of stories from different indigenous peoples and local communities across the world. It relates how there are many different ways of being human, of living, of thinking, on this planet.
Recommended by: Alejandra Echeverri
by Ben Horowitz
This is the best guide for an entrepreneur going through this challenging journey.
Recommended by: Daniela Fernandez
by David George Haskell
This book beautifully captures the unseen complexity of what might otherwise be considered a mundane landscape. Haskell masterfully unpacks the layers of stories that can be found in something as simple as a slug's slime trail across a rock or a gust of wind through leaves.
Recommended by: Anand Varma
by Subcomandante Insurgente Marcos
¡Ya Basta! is one of my favorite books as it chronicles the Zapatista armed struggle through communiques starting on New Year's Day 1995. Throughout the book there are also journal entries with recurring characters that I love. I really like Marcos' alterego the cockroach, who is always just another voice in his head.
Recommended by: Chook-Chook Hillman
by Bessel van der Kolk, M.D.
It really highlighted the importance of dealing with trauma as well as healing. The roots of individual trauma can be tied back to a lack of human infrastructure to support raising healthy, happy human beings. As a new dad, I'm trying my hardest to be the best parent I can be!
Recommended by: David Diaz
by Michael Lewis
I see a lot of parallels in our work. Policymakers at the federal level get all the attention, resources and all-star treatment, but local action is actually just as important. We've built the largest dataset on local climate action in the country, and we're using it to identify and support undervalued local policymakers who can make a big impact.
Recommended by: Caroline Spears
by Bill Gates
As a new generation entrepreneur in the space of climate-smart agriculture and sustainability, I appreciate hearing deep thoughts from Bill Gates based on his personal experience fighting climate change and working toward a thriving humanity.
Recommended by: Kaiyu Guan
by Scott O'Dell
I read this as a kid, and it felt like for the first time I was reading words that described the connection I felt with nature. Also, the main character Karana is complex and an inspirational person to read about, as she endured great hardship yet embraced her independence. As an adult, I appreciate even more the story of the girl who survived on an island and witnessed the tilt of an ecosystem (fur hunters manipulating the ecological food web and her life).
Recommended by: Tristin Anoush McHugh
by Chimamanda Ngozi Adichie
It was the first time ever I read a book with a character I could relate to so closely — an African woman living in the United States and having to grapple with what it means to be Black in America.
Recommended by: Lola Fatoyinbo
by Frank Stewart
I love this book because it combines stunning photography, scientific information, poetry and stories from the community that describe the beautiful uplands of Hawaii, the "Wao Akua": realm of the gods.
Recommended by: Lehua Kamalu
Klaus J. Puettman, K. David Coates and Christian Messier
This book was exciting to me because it captured what I think is beautiful about forestry in an accessible way. It succinctly shares what has led to the managed forest landscape of today as well as insight on how we can do better.
Recommended by: Zack Parisa