Topical Tag: Conservation
Events
Symposium
Research Roundtable: Water Resiliency for Business
A Corporate Partners Program Event
6.5.2017
The Corporate Partners Program will conclude this year's focus on Water Resiliency for Business with a Keynote from LA24 and interactive Research Roundtables
---
Lecture Series
Will Farmed Fish Save Our Oceans, Delight Our Palates, and Provide Healthy Food for All?
The Conservation Science, Economics and Operations of Aquaculture
5.25.2017
NOTE: THIS EVENT IS SOLD OUT. PLEASE WATCH THE LIVE STREAM HERE. Current projections estimate that the global population will surpass nine billion people by 2050 and total food demand will approximately double. Seafood is a major source of protein in many regions, but over 80 percent of the world's fisheries are depleted or fished beyond capacity. Aquaculture—rearing...
---
Lecture Series
Panel Discussion: Biodiversity in the Anthropocene
Join the UCLA Botanical Garden for an expert discussion about species that are flourishing in a rapidly changing world
5.18.2017
Biodiversity is undergoing tremendous change at the hands of humanity. As some habitats disappear and many wild organisms face extinction, other species flourish in novel ecosystems. Join us for an expert panel discussion which will examine the current state of biodiversity and the narratives which shape related public opinion and policy as we ask the question: how can we successfully coexist with nature on an increasingly technological planet?
Projects
Evaluation of Community Scale Solar Water Heating in Los Angeles County
In California, approximately half of all residential gas consumption is used to heat water, and nearly 90% of all residences have gas water heaters. While water heating represents a relatively small portion of total residential energy use (approximately 3%), annual CO2 emissions from gas water heaters are comparable to those produced by a city of...
Environmental Storytelling Collaboration with KCET
LENS is collaborating with KCET, Southern California's independent public TV and digital media company, to produce immersive stories that bring new voices and new ideas into environmental reporting and that bring our faculty and student research into conversation with diverse public audiences. In our pilot year (2017-2018), the project will focus on California as a...
2017 Call for Research Proposals
The UCLA La Kretz Center for California Conservation Science and the UC Natural Reserve System Stunt Ranch Santa Monica Mountains Reserve are pleased to announce their annual call for student research proposals. We invite undergraduate, graduate and postdoctoral researchers to consider applying for this funding opportunity. Because Stunt Ranch is now administratively a part of...
Publications
Published Work | 2017 | Chelonian Research Monographs 7: 292 pp.
---
---
In the News
Headline
12.7.2017
Waning plantain yields in rural Cameroon hurt college attendance
". . . you almost never see a statistical significance that strong. It was compelling," stated Trevon Fuller, assistant adjunct professor at the Center for Tropical Research to Mongabay in regards to decreasing Cameroonian college attendance rates as a result of decreased plantain yields. Co-authors in Fuller's lead study include Kevin Njabo and Thomas Smith.
---
Blog
12.4.2017
Inhabiting a Post-Urban Twenty-First Century
The capitalist paradigm as a world economic system that works for people and the planet is failing. For cities and nature, shifting graciously and well into the Anthropocene requires a fundamentally different political-economy that reflects new ethics and priorities.
---
Headline
11.21.2017
Clothing Color May Affect Local Animal Behavior
It has long been established that even the most innocuous of human activities can impact animal behavior. From birds mimicking phone ringtones to grins triggering aggressive responses from primates, people often have a greater impact on animal behavior than they realize. Now, a recently published UCLA study on local western fence lizards (Sceloporus occidentalis) has...
Video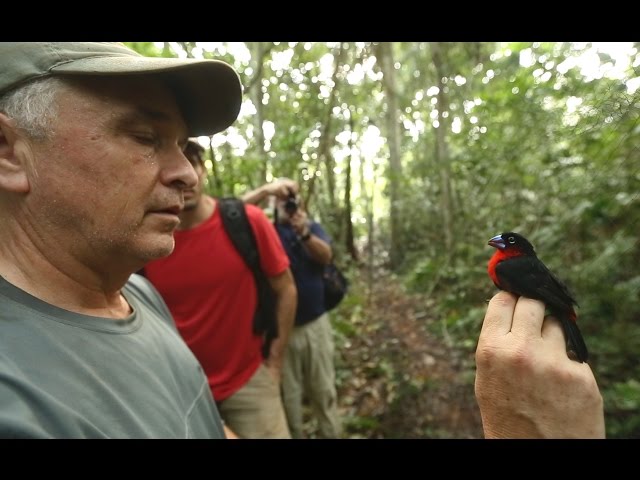 Open for business in the Congo rainforest
Recently, crew of college students from UCLA and Cameroon left convenience behind and plunged into the rainforest. Their objective: reopen a field station that had been shuttered for two decades, while taking the pulse of local wildlife. Through their efforts and a project from UCLA's Congo Basin Institute, the Bouamir research station is again open...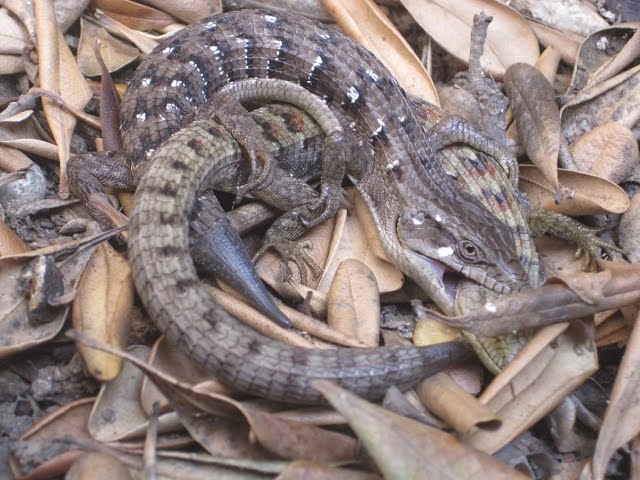 Biodiversity in 2050 LA
H. Bradley Shaffer, Director, La Kretz Center; Professor, UCLA Institute of the Environment and Sustainability