Events
Awards
GreenShorts Award Ceremony
An environmental film competition for Southern California high school students.
5.9.2018
With GreenShorts, high school students get a chance to sit in the director's chair and win cash prizes. The contest invites two-minute-or-less films to showcase ideas, commentary and vision for cities and the world. This year, students submitted one short film in five categories: Climate Heroes, Watertopia, No Justice No Green, You Are What You...
---
Lecture Series
Atlas of (Remote) Islands and Sea Level Rise
A Talk with Christina Gerhardt, University of Hawai'i
4.3.2018
In a 2016 lecture titled "Let Them Drown," Naomi Klein called attention to the nexus of climate change, colonial racism and poverty—as Rob Nixon has done in his book Slow Violence and the Environmentalism of the Poor. But Klein shifted the spotlight of these concerns to the oft-overlooked low-lying island nations. Their current day situation is...
---
Projects
Nimble Foods for Climate Chaos
"Nimble Foods for Climate Chaos" is a cross-disciplinary collaboration between environmental artist and NYU faculty member Marina Zurkow, Los Angeles chef duo Hank and Bean, and LENS faculty director Allison Carruth to explore the cultural and environmental conditions that would support sustainable food systems. The project brings immersive / public art and storytelling together with...
Evaluating the impacts of environmental education and research on students
Team: Melonie Fong, Audrie Francis, Meleeneh Hairapetian, Madelen Hem, Julia Park, Sarah Paset Advisor: Magali Delmas Client: Environmental Charter Schools
Environmental Storytelling Collaboration with KCET
LENS has partnered with KCET, the nation's largest independent public media company to produce engaging, research-driven environmental stories.
Publications
---
Published Work | 2017 | American Literary History
---
In the News
Headline
7.26.2018
Three Yale women named finalists for Environmental Genius Award
Yale shows pride in three alumni finalists in the Pritzker Awards. These three women are taking environmental problems head-on – transforming the food industry, strengthening community initiatives, and bringing affordable solar energy to low-income communities.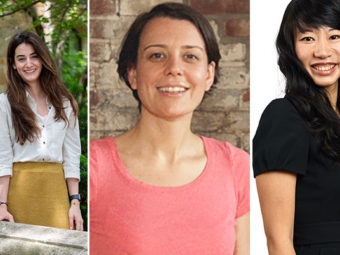 ---
Headline
7.13.2018
26 Climate Scientists Urge Gov. Brown to Phase Out California Oil Extraction
"We urge Governor Brown to show science-based climate leadership and protect California communities by addressing California's own dirty oil extraction," said UCLA's Dr. Aradhna Tripati. She is one of the twenty-six climate scientists coming together to call Governor Brown to action to divert from oil and gas to meet Paris Agreement goals and help communities harmed by the industry.
---
Headline
2.28.2018