Events
Symposium
EARTH NOW: EARTH 2050
UCLA College Luskin Endowment Inaugural Symposium
10.18.2016
From public policy to installation art, EARTH NOW: EARTH 2050 explores all facets of modern environmental challenges and highlights efforts to make lives and businesses more sustainable. The program includes talks from top experts, workshops, local and national nonprofit organizations, art, a student film contest—and much more. We will highlight UCLA campus-wide sustainability while showcasing the new Luskin Conference Center and honoring the generosity of Meyer and Renee Luskin.
Projects
Lomas Barbudal Monkey Project
The Lomas Barbudal Monkey Project was founded in 1990 by Susan Perry, with the help of Joseph Manson and Julie Gros-Louis, for the purpose of studying social intelligence in the white-faced capuchin, Cebus capucinus, and this population has been studied almost continuously ever since. The Lomas Barbudal capuchins have become one of the most intensively...
Fellowships
Fellowships are at the core of our center, and create pathways into leadership. Our fellows are provided with financial support and engage in research, mentorship, and outreach. 
Research Across Ecuador and Beyond
Overview The Center for Tropical Research conducts cutting edge research in the Amazon and the Andes to complement our primary focus on the Chocó. In these projects, CTR combines the highest quality scientific research with local outreach to achieve conservation goals. Below, is an overview of our projects. The Amazon Basin The Amazon Basin exemplifies...
In the News
Headline
9.27.2017
Leonardo DiCaprio Foundation awards $20 million in environmental grants
The Congo Basin Institute at UCLA has received a grant from the Leonardo DiCaprio Foundation (LDF). This gift will expand conservation and restoration efforts at Bouamir Research Station in Cameroon, developing technologies that engage indigenous residents and African researchers. Click the link to visit the official LDF article.
---
Headline
6.1.2017
New carbon map will help protect the DRC's rainforests
Researchers were able to map the aboveground biomass in the DRC down to the one-hectare level using high-resolution airborne Light Detection and Ranging, or LiDAR, in combination with satellite imagery and machine learning geospatial algorithms, a method developed by Dr. Sassan Saatchi, an expert on tropical forests and the global carbon cycle at UCLA's Institute of the Environment and Sustainability and NASA's Jet Propulsion Laboratory.
---
Headline
5.23.2017
High-tech rainforest map brings climate and conservation efforts into sharp relief
The map was created using methodology developed by Adjunct Professor Sassan Saatchi, an expert on tropical forests and the global carbon cycle with UCLA and NASA's Jet Propulsion Laboratory. It combines data from satellites and an airplane-based laser detection system known as LiDAR, or light detection and ranging, to map the height and crown of trees at a fine-scale resolution.
Video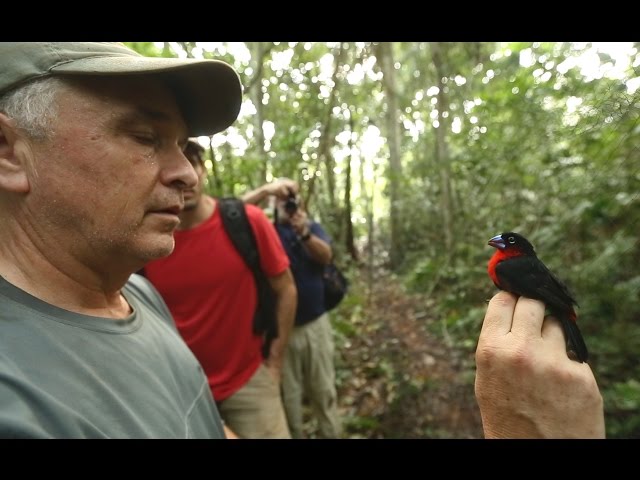 Open for business in the Congo rainforest
Recently, crew of college students from UCLA and Cameroon left convenience behind and plunged into the rainforest. Their objective: reopen a field station that had been shuttered for two decades, while taking the pulse of local wildlife. Through their efforts and a project from UCLA's Congo Basin Institute, the Bouamir research station is again open...