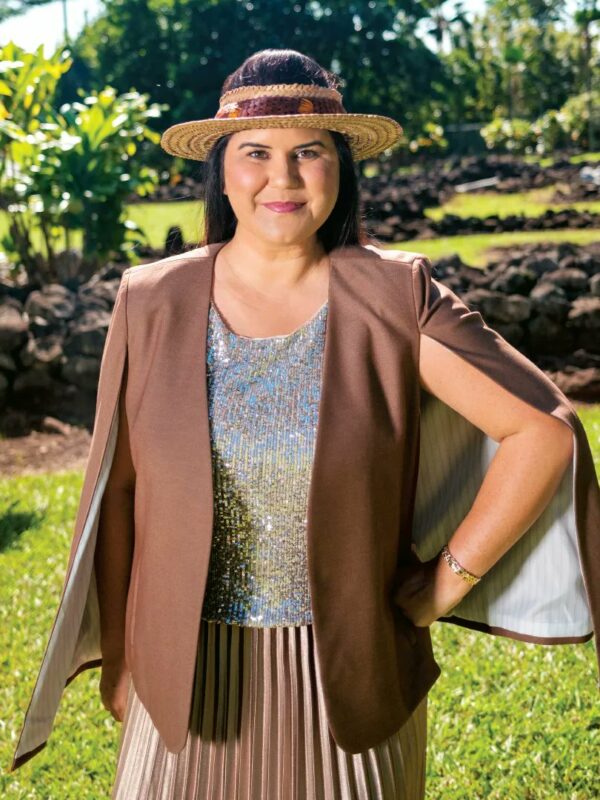 Kealoha Fox, Ph.D.
Senior Advisor, Institute for Climate & Peace
Pronouns: she/her
Kealoha Fox applies Indigenous innovation for collaborative solutions in business, science, and policy and is a Kanaka Maoli (Native Hawaiian) scientist, practitioner, business leader and advocate based in Hawai'i. She is president & senior advisor to the Institute for Climate & Peace recognizing climate and peace as integrated collaborative fields helping to advance just and sustainable peace for thriving, cohesive communities.
Dr. Fox is co-chair of the American Academy of Arts & Sciences Climate Commission; an Obama Leader Asia Pacific with the Obama Foundation; policy co-chair of The Native Hawaiian & Pacific Islander Hawaiʻi COVID-19 Response, Recovery & Resilience Team; technical contributor to the 5th National Climate Assessment with the U.S. Global Change Research Program; and a member of the Embassy of Tribal Nations Climate Action Task Force. Her actions elevate healthy people, places and futures — including with her new work entitled Kūkulu Ka Wanaʻao, which uplifts the worldview of Pacific women to combat climate change. She serves on the Asian & Pacific Islander American Health Forum, Doris Duke Charitable Foundation, and Hawai'i Budget & Policy Center, among many other community leadership roles.
Dr. Fox has published numerous articles and editorials on designing social-ecological well-being strategies with measurable impact in the Pacific. She is co-author of the books Mana Lāhui Kānaka: Mai nā kūpuna kahiko mai a hiki i kēia wā and Haumea: Transforming the Health of Native Hawaiian Women and Empowering Wāhine Well-Being, which focus on Indigenous resilience through a Polynesia worldview. Her scholarship on the conceptualizations of illness and disease was published in 2022 by UNESCO in a book which honors The International Decade of Indigenous Languages (IDIL2022-2032). A graduate of the John A. Burns School of Medicine, she is the recipient of more than 50 awards and distinctions, including the 2020 Robert Wood Johnson Foundation Snapshot of Innovation award to build a Culture of Health and named one of 20 leaders to follow for the next 20 years in 2022 by Hawaii Business Magazine. Each year, Kealoha mentors dozens of young women of color inside and outside of the academy.
As a Native Hawaiian woman, Kealoha has been deeply and purposefully trained by esteemed community elders in traditional and ancient Native Hawaiian practices and protocol such as ho'oponopono, hāhā, and lā'au lapa'au. When not working, she enjoys spending time with her beloved ʻohana where you will often find them caring for the land and sacred resources of their island.
More important than any accolade or achievement, the roles she is most proud of in her story thus far is as a mother, grateful daughter, and steadfast protector of the place she loves the most, Hawai'i. 
Feature photo courtesy of Hawaii Business Magazine