Leaders in Sustainability Certificate
An edge in sustainability
Graduate students seeking an edge in future careers need look no further than the national award-winning Leaders in Sustainability graduate certificate. Companies, consumers and governments across the world increasingly focus on making products, services, operations and lives more sustainable. This cross-disciplinary program gives students the tools to make that happen in a collaborative, action-oriented setting.
The Leadership Project
The Leadership Project offers a chance for graduate students to shine—individually or as part of a group—by designing projects that go beyond research and deliver clear outcomes and impacts.
LEARN MORE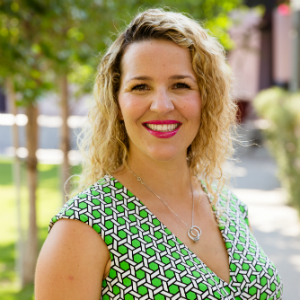 alumni spotlight
Cassie Gardener-Manjikian, M.P.H., LiS Class of 2012
---
A passionate environmentalist and social justice organizer, Gardener-Manjikian says LiS broadened her views on what real sustainability looks like. "Interacting with students and faculty with diverse backgrounds and views about sustainability helped me value more mainstream and economically-framed solutions I hadn't considered. I learned 'going green' isn't just about reducing our eco-footprint, but partnering with businesses and governments to 'green' their products, chemicals, technologies and regulatory frameworks." Gardener-Manjikian helped create UCLA's first climate change and health class. Working for California Environmental Justice Alliance, she's back on the frontlines of advancing policy to address environmental issues that affect mostly low-income and communities of color.
---
"For me, it was a learning lab where I could explore key sustainability concepts and a framework for how policy interacts with urban planning, business and medicine"
Bob Eidson
LiS Class of 2009
---
Take the next step