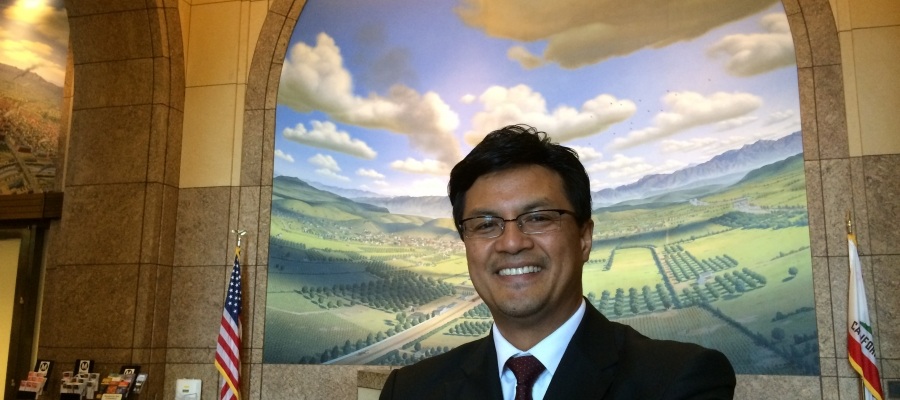 Story
Philippines honor Environmental Science and Engineering graduate
Cris Liban—a graduate of UCLA's Environmental Science and Engineering program—was honored today with the Philippines' highest civilian award for Filipinos living abroad.
At Malacañan Palace in Manila, Liban was presented with the 2016 Presidential Award for Filipino Individuals and Organizations Overseas for his work at Los Angeles County Metropolitan Transportation Agency (Metro), where he serves as Executive Officer for the Environment and Sustainability.
One of just 23 to receive the award this year, he was officially recognized for spearheading "efforts on environmental compliance, environmental remediation, energy and renewable energy, climate change, and water and resources management."
"I never expected or aspired to be honored by a whole country for my body of work," Liban said, adding that he hopes his success inspires young people growing up in the Philippines.
At Metro, Liban manages a range of programs with environmental and social justice aspects. He battles food deserts in south L.A., working with nonprofit organizations to bring fresh food to light rail stations along the Blue Line. Compton Mayor Aja Brown supported the effort, sponsoring a farmers market at the city's station. The program has been touted as a transit and social justice win-win, improving access to healthy food for residents of the economically depressed area, while incentivizing their use of public transportation.
Liban also works to curb emissions and climate change through many of Metro's other programs, as the agency works to improve mass transit where it's most needed. One example is Metro's Community Solar Program. Instead of simply writing checks to small businesses for financial losses from transit project construction (which can get in potential customers' way), the program engages businesses and communities to install solar panels that save money—and energy—in the long term. In July, the program was praised by President Barack Obama as he announced an initiative to expand residential renewable energy.
With L.A. County voters' November passage of Measure M—a half-cent sales tax that promises to dramatically expand the regional rail and bus network—there is plenty more coming from Liban and Metro. The measure's projects will reduce vehicular emissions, of course, but the part that means the most to Liban is connecting L.A.'s diverse communities.
"The beauty of where I am and what I do is the ability to bridge the needs of sectors that are not just transportation—connecting the dots to afford opportunities to people who would otherwise not have them," Liban said.
Liban credits UCLA's Environmental Science and Engineering professional doctorate with giving him the "not only the unique perspective of a technician, but also elements of policy, law, and other skill sets that a traditional Ph.D. might not have afforded." At UCLA, Liban was mentored by Mel Suffet, professor of environmental health sciences. He said students called Suffet "Teddy Bear" for his sense of humor and sunny disposition—all while teaching some of their most challenging coursework.
"He has transformed a lot of people through his love of chemistry and the environment," Liban said. "I've never seen a guy so energetic and full of life, even at nine o'clock at night."
When Liban returns from Manila, he'll still have miles to go—and not just the miles of rail in Measure M. He also serves the public as transportation commissioner for the City of L.A., beach commissioner for L.A. County, and was appointed a national adviser on environmental policy and technology by the United States Environmental Protection Agency. 
It may seem like a lot to take on, but Liban's ideals run deeper than the daily grind.
"It's not only the professional opportunities, it's really setting up this holistic approach on all levels of our society here in the United States. People's lives become better because of how I advocate for those causes."