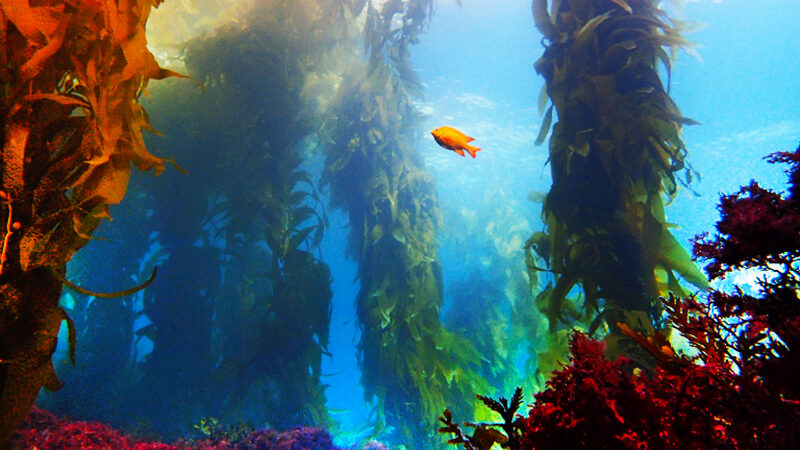 Story
2020 senior practicum adapts to recent global conditions with strong research
Overcoming obstacles due to the pandemic, seniors delivered high-level research
Any scientist doing field work can tell you things rarely go according to plan. And in the case of this year's senior practicum teams, they really didn't.
As the world reacted to a once-in-a-lifetime pandemic, seniors in the environmental science major at UCLA were hard at work. Every year, they complete a year-long capstone program in which teams partner with clients from across the nation to create research and solutions for real-world sustainability problems. For many, it is a chance to go out into the field and flex their education in a hands-on way.
Many teams that planned on conducting field work were forced to turn to research remotely upon California's lockdown in response to the COVID-19 pandemic. Twelve practicum teams adapted by creating interactive websites to submitting research papers for review. Despite the odds, students generated highly impactful reports and forward-facing recommendations for their clients, said Noah Garrison, director of the environmental science practicum. The teams presented their final research at a virtual event held on June 6.
Garrison, recipient of the 2020 UCLA Sustainability Achievement Award, oversees the practicum every year and is familiar with the unpredictability of scientific research. This year, nearly all of the teams' plans were upended.
"They have done remarkable work to transform their projects to answer other questions or to answer questions in different ways," Garrison said.
One team's client was the Bay Foundation, a non-profit dedicated to restoring and protecting the Santa Monica Bay's ecosystems. Originally, they planned to focus their field research on restoration of kelp forests and sea grass beds near Catalina Island. When that approach became impossible, they found a new way to put their meticulously compiled research to use. They expanded their initial scope from solely Southern California to the whole of the United States, and built a public-facing website for researchers, students and others. The website includes an interactive map of restoration projects across the nation, recorded interviews with various marine vegetation scientists, and a library of scientific literature and policy legislation centered around kelp and seagrass restoration.
Carter Webb, content creator for the team, had his sights set on this specific practicum since his first year at UCLA. Though he was looking forward to utilizing his diving skills in the field, he instead helped address the desperate need for accessible communication in marine restoration research as a whole. "We can't do this alone," he said, citing his work on the website's library as an opportunity to make vital scientific work "as convenient as possible for the general public to understand what's going on."
"I think the transition of our project has taught me a lot about the way that everything's not set in stone, and the importance of adaptability," said Ryan Miller, the team's project manager. "We were very adaptable, and we were ready to sort of turn on a dime and transition into website-building. That was one skill that I didn't think I was going to pull out from the practicum this year."
Another team studied the impacts of oil and gas development on indigenous communities. They planned to travel to New Mexico over spring break to learn how best to serve the community, tribal members, and their client, WildEarth Guardians — a non-profit which protects and restores the environmental health of the Rocky Mountain region of the United States.
After their trip was cancelled, the students scrambled to compensate for the lack of direct, in-person input from tribal community members. They amended their approach by hunkering down on remote work and ensuring that the produced public-facing report was accurate and useful.
Students took the project seriously given how disproportionately indigenous communities are afflicted by the health hazards of encroaching oil and gas development.
"The idea that our work is basically part of a bigger and more relevant issue today is something that's really empowering and really motivating," team member Mariane Sanchez said.
One team managed to prepare and submit two academic articles to peer-reviewed publications — one to California Agriculture and another to Nature Sustainability. This group's client was Sustainable Conservation, an organization which partners businesses, landowners and the government to find practical ways for the private sector to contribute to conservation. The practicum, which studied the process for rebuilding carbon in agricultural soils using compost, presented their research to the California Air Resources Board and hopes to contribute the sequestering of carbon on a large scale in agriculture.
"This is how science happens," Garrison said. "Research gets sent off-track, and you find new and more innovative ways to meet your goals."
In spite of the lost field work, most students felt the practicum still served as a "year-long bonding experiment" and a career trial-run, as student researcher Molly Schaner put it. The class of 2020 is graduating into a changed world, she said, but that fear that comes with that motivated them to use their skills to make a large-scale difference.