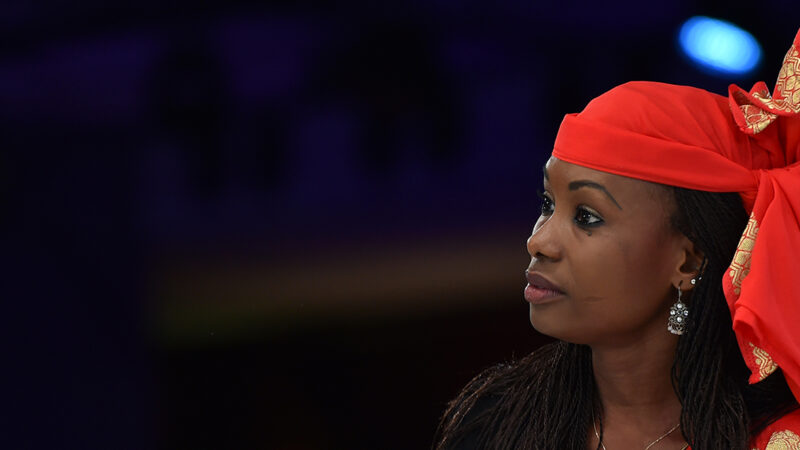 Story
Activism in pandemic times: Q&A with Hindou Oumarou Ibrahim, 2019 Pritzker Award winner
As with most, the pandemic drastically changed Hindou Oumarou Ibrahim's life over the past year. But it hasn't slowed her.
In her multiple roles: UN Sustainable Development Goal Advocate, founder/president of the Association for Indigenous Women and Peoples of Chad (AFPAT), and Conservation International senior fellow, Ibrahim continued advocating for environmental justice and inclusion of Indigenous knowledge in global efforts to battle climate change since winning the 2019 Pritzker Emerging Environmental Genius Award.
At home near Lake Chad — where she normally lives as a member of the Mbororo Indigenous semi-nomadic community — before the pandemic hit, she made progress on a local project to create 3D participatory maps of natural resources with Indigenous communities. Once completed, these maps will help build a better understanding of limited natural resources such as access to water, enabling better adaptation and mitigation planning. Even the process of bringing together local communities with local government authorities helps decrease conflict and create better livelihoods.
After the pandemic shut down borders and Ibrahim found herself on lockdown in Paris, she focused on her role as a public advocate for Indigenous groups and the environment — and ensuring that Indigenous communities around the world had access to life-saving information about COVID-19. Ibrahim has been part of a network of self-organized Indigenous peoples who held meetings to share breaking news, insights and information about how best to protect their communities everywhere during the pandemic. The information was then shared with local communities on the ground. She also continued to advise the national government of Chad on sustainability and Indigenous concerns, in light of COVID-19, which exacerbated the impacts of climate change.
She also spoke at numerous high-profile international gatherings. Over the past year, she has used her voice in daily and diverse high-level virtual convenings preparing for the delayed UN global conferences on biodiversity (COP15) and climate change (COP 26), now scheduled for next year, to remind us all that there is no path to a safe climate which does not also involve upscaling of nature-based solutions. She has briefed the UN Security Council on the impacts of climate change in the Sahel, made interventions during the UN General Assembly asking for a green recovery that re-balances our relationship with nature and joined the Vatican for their ecology and pandemic panel calling for a moral, spiritual and scientific urgency to re-imagine systemic change to support the health of the planet, to name a few.
As UCLA prepares to name the 2020 Pritzker Award winner from three finalists on December 16, I spoke to Ibrahim about activist life in pandemic times.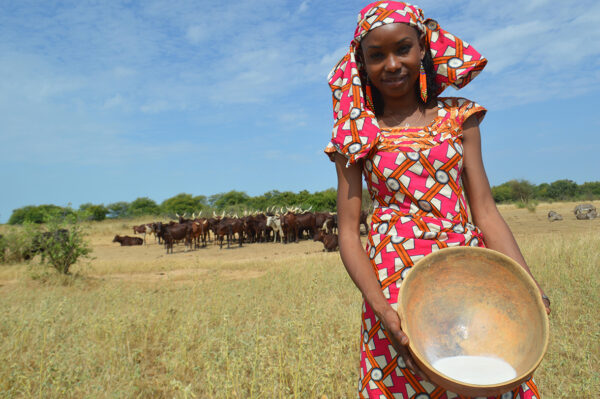 Photo by Salma Khalil – Association Terre indigenene
Hi Hindou. What are the major messages you're trying to get across as you communicate with people around the world?
Hindou: In the wake of the COVID-19 pandemic, it's more critical now than ever to ensure that the protection of nature and the rights of Indigenous peoples are integrated in our future plans to build back better and restore a more sustainable global economy.
We make up only 5% of the global population but manage more than a quarter of all land on earth and protect about 80 percent of global biodiversity located in forests – often even better than national parks. There is no way to slow climate change without scaling up nature-based solutions.
Climate change is the third biggest factor driving species extinction. Healthy ecosystems are vital to the earth's ability to absorb CO2, and estimates show that 37% of the cost-effective carbon emissions reductions needed to meet the Paris Agreement can come from the natural climate solutions of stopping deforestation, restoring degraded lands and better managing the way we use land.  
We offer nature-based solutions and ways of life that can help dramatically reduce emissions needed to fight climate change. So Indigenous people must be a major part of our response to climate change. Of course, that also means having more of us involved. Over the past year, I've been able to use my platform to propose the inclusion of Indigenous people from other parts of the world to share their knowledge.
How has the pandemic affected your work and your perspective on the global challenges we face?
Coronavirus is giving the world a new path if we acknowledge the lessons. It was an overnight change for all of us. It changed our way of living, consuming and producing. They locked everything down and closed borders — but one thing they didn't close down was food production and shipping. That shows how we are all interlinked through nature, the source of that food. Our response to the virus was global. People had to get creative with social distancing and everyone had their own ways to defend their people. Unfortunately, many politicians were simply defending their power and interests and continue to ignore the science despite the pandemic.
Too many politicians have argued that we must save the economy first when we must put people first. The economy is important, but if your people are not safe, how can it grow? We are one species. It is not the cash that makes you rich; it is your environment. If you keep your environment safe, you can keep your food supply safe. The reality is that a healthy economy demands that we rebuild our relationship with nature to ensure we have healthy people, nature and planet. What do I mean? We have to stop running the economy on practices such as fossil fuel and extractive industries that destroy the environment. If you protect nature it will protect you much better.
How has the pandemic affected the way you think about climate change and your plans for the future?
We cannot solve climate change with a vaccine. We cannot isolate from climate change nor close the borders to stop it. There will still be floods, fires and drought. We have 10 years to meet our global climate goals. For the next five years, I want to see serious emissions reduction. If we do not reduce, we will be on a pathway where there is no reverse. I want to see social justice included, integrated and respected in all environmental protection. I'm going to continue to fight for my people and all the other Indigenous peoples so we can have a decent life, continuously living in harmony with nature. But I also want to fight for all people living in rural areas, cities and towns, so they can understand that living with nature can protect us from many other pandemics and crises that the world can face.
That's why my message as an Indigenous activist is a simple one: we must re-build our relationship with nature for the survival of people and planet and we must do this in partnership with Indigenous peoples because we are on the frontline of environmental degradation. For me, winning the Pritzker Award was another important and welcome sign that Indigenous knowledge matters to the broader world.