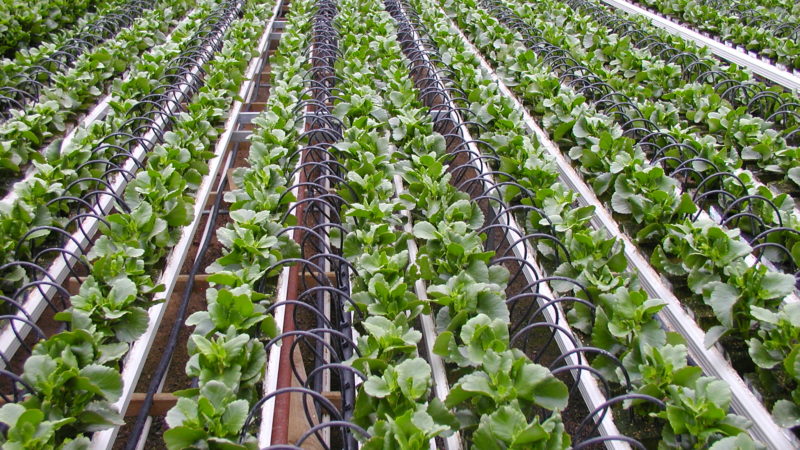 In 2015, during the worst of California's recent drought, Governor Jerry Brown ordered mandatory 25 percent cutbacks for residential customers in cities and towns.
The move led some to ask, "why not farms?" After all, agriculture uses up to 80 percent of the state's developed water supply.
The answer is complicated. The infrastructure, policy and laws that determine how water is delivered to the Central Valley are a patchwork, developed in piecemeal fashion over the past century.
The Natural Resources Defense Council (NRDC) is an international nonprofit that, in addition to working to protect the world's natural resources, public health and the environment, develops and advocates policy solutions for water conservation. In a report and blog post published Monday, the organization outlined a fundamental hurdle to effectively managing California's water supply: lack of consistent data.
From 2012 to 2016, the height of California's most extreme drought, "only 12 percent of California's large irrigation districts submitted all of their water delivery reports required under existing law," wrote Arohi Sharma, a water policy analyst with NRDC. "We need to better measure the water resources we do have so that we can better manage those supplies when California experiences lower levels of precipitation in the future,"Arohi said.
To help assess conservation opportunities, NRDC partnered with UCLA for the senior practicum, a yearlong program that pairs undergraduates with nonprofit organizations, businesses and government agencies to do independent research that addresses real-world environmental problems. Over the course of the 2017-18 academic year, a team of six students evaluated systems that deliver water to farms and how to make them more efficient.
On June 9, the students delivered their final report to a packed crowd at UCLA's California NanoSystems Institute. They noted that 44 percent of farms still use flood irrigation — an antiquated and inefficient method that simply releases water over fields. Only 70 percent gets used by crops. The rest evaporates or seeps into the ground.
There are three main ways water gets to farms. On-demand systems are fully pressurized, allowing farms to take water as needed, similar to turning on a tap in a home. Modified on-demand systems are gravity fed, but still allow farms to request water when they need it. The least efficient method is fixed-schedule. Under this system, farmers have little or no control over how much water they get or when they get it. This system is also often incompatible with modern irrigation practices. Upgrading these fixed delivery systems will likely make the biggest difference, the students found.
Jordan Coe, a 2018 graduate and member of the UCLA research team, said upgrading water delivery systems would empower farms to use modern irrigation methods, promoting conservation and improving their ability to grow crops.
"When the infrastructure to deliver water was first set up, they used gravity to transport water," Coe said. "Unless you have some sort of pump at the end of the of the system to pressurize water flow, you can't use modern technology like sprinklers or micro-drip irrigation."
Those advanced systems can deliver the amount of water crops need at the right time, so up to 90 percent goes to plants.
The potential water savings are enormous, said NRDC's Arohi Sharma, who served as the students' liaison with the organization. With investments in agricultural efficiency, like smarter water delivery systems and on-farm irrigation upgrades, the state can save up to two trillion gallons of water per year — enough to supply 7.5 million households, based on average usage.
A major barrier to improving that infrastructure is financial, the students discovered.
"The students found that districts and farmers want to upgrade their water systems, but they can't make the economics work," Sharma said. "That's good to know for NRDC. It may inform how we advocate for policies that reflect and account for those on-the-ground sentiments."
The students also found that many senior water rights holders — upstream farms with access to the most water — had already updated to efficient, modern systems.
The students suggested focusing on "junior rights holders." These farms are not guaranteed their full water allocation, an amount the state water board determines each farm can have for the year. (California water rights law is complicated; for a deeper look, read this explainer from KCET.)  In years of plenty, junior water rights holders get what they need. In dry years, they often don't, said Noah Garrison, the team's advisor and director of the senior practicum.
"During the recent drought, allocations coming from the water districts were effectively zero for the farmers downstream," Garrison said. "Many farms turned to groundwater instead."
The students' final recommendation was to target places where excess water doesn't easily infiltrate the ground to replenish groundwater basins. That includes locations where soil or other physical conditions cause water to run off or evaporate. Instead, upgrades should focus on farmland over basins that are critically over-drafted, as more than 20 basins in the San Joaquin Valley currently are.
These recommendations come with a caveat: modernization doesn't always translate to actual conservation. It only makes it possible. In practice, many farmers use saved water to irrigate more acres, grow for a longer period of the year or raise crops that require more water.
Climate change looms large in water conservation. UCLA experts including Alex Hall recently wrapped up a multi-year research initiative that predicted how climate change will affect the Sierra Nevada, where 60 percent of the state's water supply is stored in the annual snowpack. Warmer temperatures are projected to cause snow to melt earlier in the year — a change that could overwhelm our current system of dams and reservoirs.
Climate change makes efforts to conserve water more urgent, NRDC's Arohi Sharma said.
"California is going to have to adapt," Sharma said. "We know as a state that we're going to be experiencing lower levels of precipitation. Our farmers, our cities, our urban and rural residents will need to adapt to lower water supplies in the future."
One of the first steps to doing so will be getting better information about the problem. Similar to what NRDC reported, UCLA students said that their project was complicated by inconsistent and incomplete data.
---
Top Image: Drip irrigation system. | Photo via Wikimedia Commons.