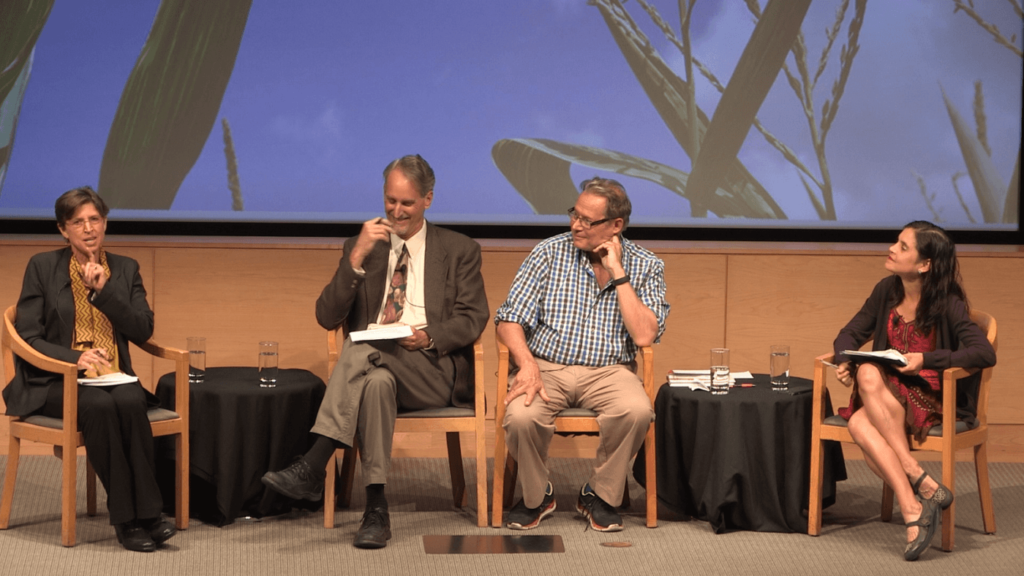 Review
Debate on GMO foods heats up
Genetic modification is 40 years old, but public discourse about GMOs remains contentious, from Twitter feuds to farmers markets.
On Tuesday, a different side of the debate took stage. Four scholars from across the country gathered at UCLA to discuss GMO foods. The event was the latest installment of the Oppenheim series, which seeks to inform public dialogue with expert perspectives on today's most pressing environmental issues. (Scroll down for the full video.)
Eliana Guterman, a freshman in global studies at UCLA, was surprised to hear that GMO foods have not been proven unsafe. She said "common people" continue to fear the technology because of unknown risks. "We don't see that research," Guterman said. "We end up hearing that it's controversial even though it really isn't."
Even among experts, however, there's still plenty of room for disagreement.
Timothy Wise of Tufts University argued that for GMOs to be a solution to global food security, they had to be useful to small farmers, their families and their communities—especially in places such as Africa and Latin America. "The jury is really out on that," Wise said. He also noted the broad spectrum of views about the health risks of GMO foods.
"The only consensus on GMOs is that there is no consensus," Wise said. "We need more studies to really understand if GMOs are safe. Let's not yet shut the door on this conversation."
Peter Kareiva, director of UCLA Institute of the Environment and Sustainability, disagreed on that point.
"There's no real evidence of any health effects," Kareiva said. "The two places to look for data are actually in humans." Comparing Europe to the United States, he noted that there are no significant differences in health outcomes despite the fact that Europeans don't eat many GM foods and people in the U.S. have been consuming them for decades.
University of California, Berkeley's Maywa Montenegro said there is too much focus on GMOs—and it comes at the expense of traditional farming.
"What will get us into the future of sustainable food and feeding the world is more investment in agro-ecology and conventional plant breeding," Montenegro said. "I'm not holding out against biotechnology, I just don't want the focus to be exclusively on it."
Pamela Ronald, of University of California, Davis, argued that GMO crops benefit the environment by allowing farmers to use fewer chemicals.
"Instead of worrying about the genes in our foods, we must focus on the goals of sustainable agriculture," Ronald said. "One of the greatest challenges of our time is to feed the growing population without further destroying the environment."
The wide-ranging discussion touched on numerous hot topics, including GMO labels, herbicides and social justice concerns. Montenegro noted that the impacts of GMO foods are global, but decisions about where and how to invest in food system are made primarily by elites in the richest countries.
The panelists were able to find common ground on several issues: farmers should have more input in the conversation, each kind of GM food or crop should be considered separately, and more long-term studies are needed to settle long-standing health concerns.
Amala John, a UCLA senior studying molecular cell biology, said the debate was useful to her studies about plant life. "I think genetic engineering is very promising, although it has a lot of limitations. I was able to learn about the fears and the risks that seem to be present for a lot of people."