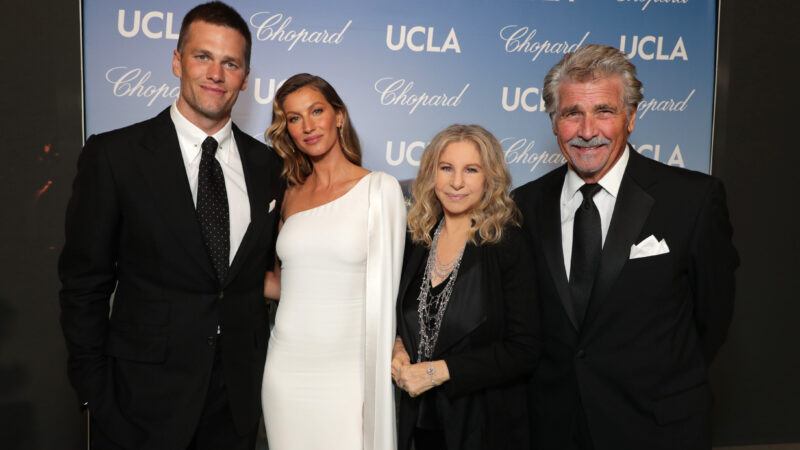 Review
Gisele Bündchen and Barbra Streisand honored for environmental leadership at UCLA gala
On February 21, UCLA honored Gisele Bündchen and Barbra Streisand for their environmental achievements at the annual Hollywood for Science Gala.
In receiving her award, Streisand invoked the Iroquois' people's "Seventh Generation" principle.
"Before they made any decision, they considered the impact it would have seven generations to come," Streisand said. "It wasn't only about today. It wasn't about profits. It was about the health of the earth for future generations."
Gisele Bündchen asked the more than 400 guests in attendance to use their talents to protect and improve our planet's health.
"We are all in this together. We need to find ways to use our unique gifts and collaborate with each other to keep this magical planet rocking, so future generations can continue thriving and enjoying this beautiful planet for a very long time," Bündchen said.
The event was sponsored by Chopard and presented by event chairs Milutin Gatsby, Lawrence Bender and Alexandria Jackson. Hosted by Jeanne and Tony Pritzker at their home in Bel Air, the evening featured performances by Lauryn Hill and CeeLo Green, along with a live auction and science demonstrations. All proceeds support UCLA's environmental research, education and outreach programs.
The event was co-chaired by top stars of the entertainment industry including Gerard Butler, Courteney Cox, Anjelica Huston, Adriana Lima, Laurence Fishburne, Robin Thicke, Lyn and Norman Lear, Nina Dobrev. Andy Garcia, Angela Lindvall, Taylor Hill, Maryna Lunchuk and Isabeli Fontana. Also in attendance were Tom Brady, Josh Brolin, Petra Nemcova, Jasmine Tookes, Julia Jones, Donna Karan, Jasper Paakonen, Josie Canseco, Todd Morgan and Rosanna Arquette, Kevin Kwan and Tan Kheng Hua.
A short film, directed by Rupert Sanders and created by a team including Alexandria Jackson and Lawrence Bender, urged action on accelerating environmental problems.
Peter Kareiva, director of UCLA Institute of the Environment and Sustainability, cited recent statistics on climate change and noted the urgency of the moment, saying aggressive action must be taken within the next 10–12 years to avoid the most harmful outcomes of global warming.
You can watch the short film here and please enjoy our wrap-up video below. 
---
TOP IMAGE: Tom Brady, Gisele Bundchen, Barbra Streisand and James Brolin. | Photo by Eric Charbonneau/Le Studio Photography.