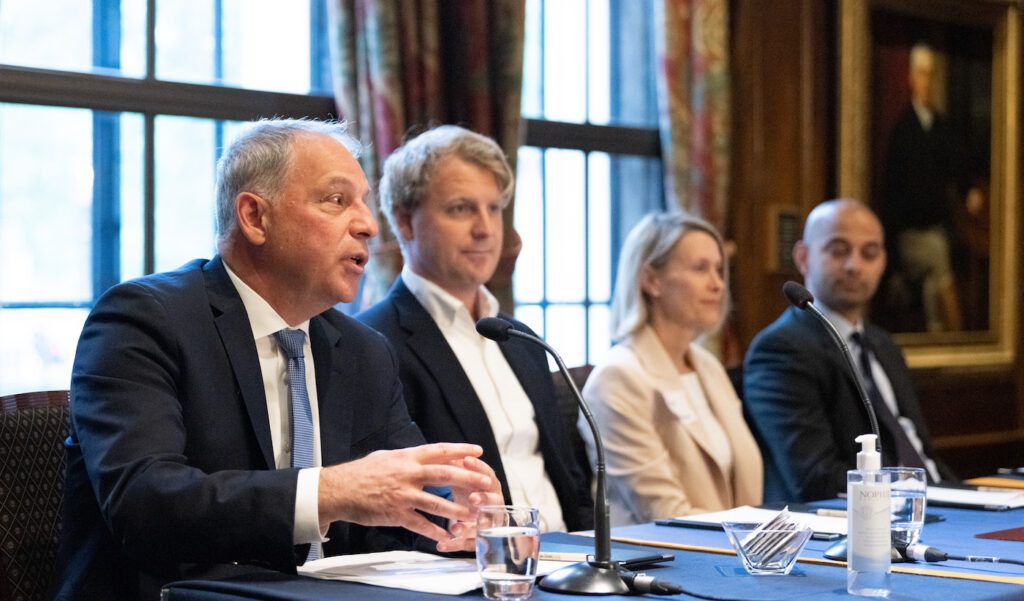 Story
Panel events focus on investment and tech innovation for climate crisis
Slowing the rapidly advancing climate crisis will require a historic effort that includes massive financial investment and unprecedented technological innovation.
UCLA representatives led by Chancellor Gene Block met with global business leaders in Europe — London on May 9, Paris on May 10 — to explore the challenge and discuss potential solutions.
The scale of the problem was outlined by Tony Bernardo, Dean of UCLA Anderson School of Management, on the first day of talks. He noted that averting the worst effects of climate change by 2050 would require an annual global spending increase of $3.5 trillion, according to a recent report from the McKinsey consultancy firm.
"That increase of $3.5 trillion is roughly half of global corporate profits, and roughly a quarter of global tax revenue" Bernardo said. "The challenges we face in terms of raising extraordinary capital are daunting."
Despite such stark realities, the mood among panelists remained hopeful. One bright remark came from Rhea Hamilton, a managing director for General Atlantic, a late-stage investment firm that manages over $85 billion in assets. Hamilton believes 70%-80% of the necessary solutions already exist — solutions that range from behavior change interventions to technological developments. It is her job to find those that are ready to be grown and sustained by large markets. Once identified, her firm provides the financial backing needed through investments of up to $300 million.
Panelist Cameron McClain helps companies prove themselves earlier in the investment pipeline as co-founder of Giant Ventures, a multi-stage investment firm. Sorting through business proposals eager for backing can be complicated. McClain said his firm is primarily interested in companies that fit in one of three categories: Convenience, which means the company would make it easier for a consumer to make an environmental improvement, through wasting less water for example; sustainable alternatives, such as plant-based meat; and improving climate-related pricing risks so that funds can be more productively allocated.
Representing the field of climate technology was Gaurav Sant, Pritzker Professor of Sustainability and manager of the UCLA Institute for Carbon Management (ICM). Sant recently led a team that developed a way to turn carbon dioxide into concrete, which is notoriously environmentally detrimental to produce. The team won $7.5 million from XPRIZE for their work.  
The second event provided further insight for how business and environmental drivers can reinforce each other. Panelist Olivier Tardy runs a $200 million construction company called CIFE that uses a lot of cement. Tardy partnered with a green financial fund to invest in technology so the spaces he builds are ahead of anticipated environmental regulations. "If you plan to sell assets then you better be ahead of the current regulation, otherwise you are likely to be selling obsolete concrete buildings," he said.
Additional comments from panelist Sarah Weldon showed how technical innovation can reach far beyond construction. Weldon manages business development at the French Alternative Energies and Atomic Energy Commission (CEA) whose mission includes creating and dispersing environmental innovations — from electric cars that self-charge as they drive to energy management systems that help corporations be more energy efficient.
Each speaker was a distinguished member of the UCLA community, with representatives including leadership, alumni and  faculty. Though not on stage, students were also recognized as important forces that drive sustainability at UCLA. "The students want everything to be renewable," Block said, adding that they "historically have led our efforts in this area, and continue to be fantastic."