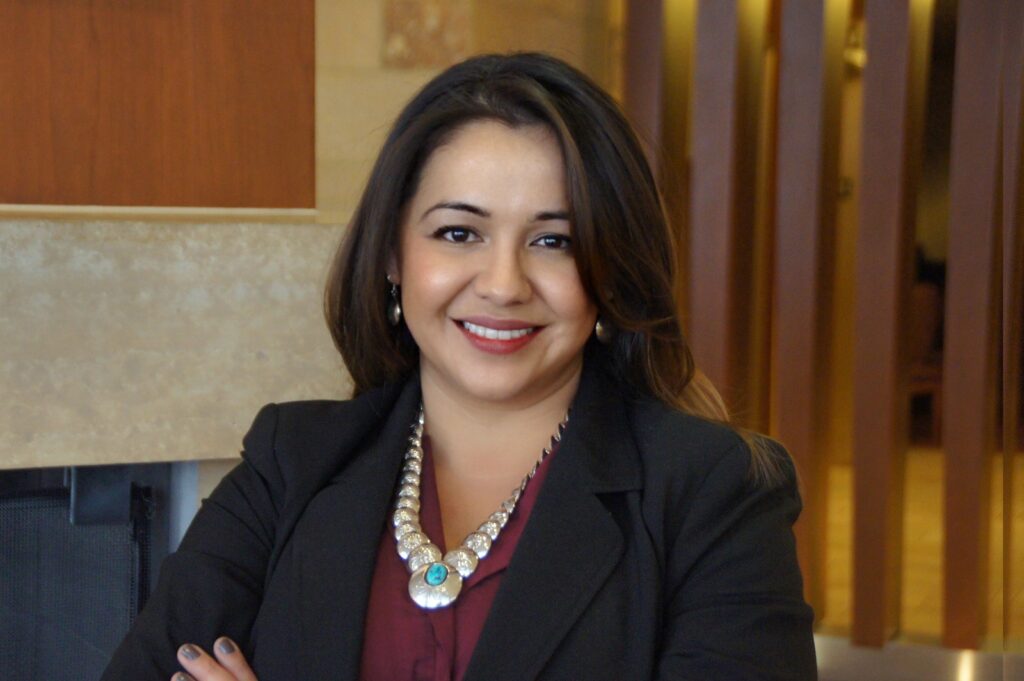 Story
Q&A with Clara Pratte, 2020 Pritzker Award winner
Fresh off the 2020 Joe Biden campaign and winning the Pritzker Emerging Environmental Genius Award, Clara Pratte spent the past year growing her work from Navajo Nation.
Pratte moved solar energy projects forward with Navajo Power, the company she co-founded to benefit local communities on tribal lands. She also expanded Strongbow Strategies, the professional services and consulting firm she founded.
As we look forward to announcing the 2021 Pritzker Award winner at a ceremony on Thursday, November 18 at 6 p.m. PT, we spoke to Pratte about her latest endeavors.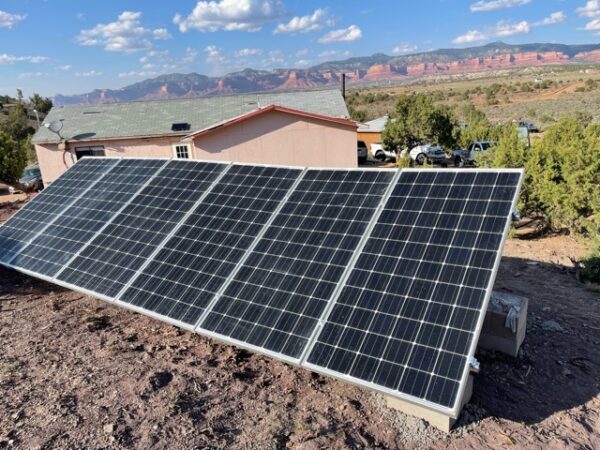 Hi Clara, thanks for taking the time to speak with us. What have you been up to over the past 12 months with Navajo Power? 
PRATTE: I think the most exciting thing related to the Pritzker Award is that we were able to launch Navajo Power Home, which focuses on the off-grid residential user. We're offering different tiers of solar array depending on the home. If it's a smaller home, you can get away with a relatively small unit that can be scaled up in case the home uses a microwave, dishwasher — that kind of stuff. That's exciting.
One of the things we hear from people on the ground is that people have come and done solar, but then they leave. There's no operations or maintenance training, no funding or commitment for the long haul. So it's not uncommon to find outdated solar panels on someone's home or hogan because they don't know how to take care of them and they lack guidance. We created a rental lease with a small monthly fee to provide ongoing maintenance and operations.
How are things going with the larger-scale operations?
For utility-scale solar, we've been sharpening our pencils to work on the lease itself, which we submitted to Navajo Nation's department of justice. We signed the final family we needed in an agreement that gives them substantial financial benefits from the project.
We have eight projects in the pipeline, three of which are located on Navajo Nation. The largest is called Painted Desert Power, and we're now in the process of seeking off-takers for the energy we produce. We expect this project to come online in 2024 and it will be the largest solar field in the United States to date, producing about 750 megawatts.
That's great to hear. What's new with Strongbow Strategies?
I started Strongbow with myself as employee number one. Then I added my partner and cousin to make it three. Now we're up to 45 employees, and it's expanded rapidly in the last couple of months.
We also started a coffeeshop, which might seem like an odd venture. One of our big goals is to create jobs for native people. We were able to hire from other nations with Strongbow but realized that we weren't having that big of a jobs impact on Navajo nation — not many people here have the necessary skillset. Once we get employees trained as baristas, they often ask about other opportunities. We've already had one employee get training to transition to working with the Bureau of Indian Affairs via Strongbow. The coffeeshop helps us identify folks who are great candidates for that kind of work.
I think it all starts with opportunity. Locally, those opportunities have been really constrained. But I've found that most people rise to the occasion.
It's been a tough year for many, with the ongoing pandemic and dire projections from the Intergovernmental Panel on Climate Change. What gives you hope for the future as you continue your work?
It can be a bit gloomy. This year's report was not great, and we need to create substantial changes now unless we want to continue to see huge effects and impacts from climate change.
I was reading an article about the wisdom of Navajo medicine men and how they anticipated certain pandemics. When people were suffering from the hantavirus, the medicine men said it's because of climate change and because we're not taking good care of the planet. And, lo and behold, months and months later scientific evidence supported that. Rodents that carry the virus had gotten out of control because of climate change.
But I think what's giving me hope, more than anything, is what I'm hearing in the energy industry spaces I'm occupying. We're working with a mining company on the other side of the world that changed their entire workflow to be more sustainable, and they're investing all their money in green hydrogen. I've never seen that before. I'm used to roundtable discussions where people are saying climate change is not a big deal, that we'll be fine. Now, leaders are all talking about this in a very serious way and laying out actions that need to be taken.
That gives me hope. I hate to say it, but human beings are self-interested by nature. When you hear those people talking about climate change, that gives me hope. They're seeing that it could impact their bottom lines. It's sad that it's taking that, but if that's what gets us where we need to be, I'll take it.