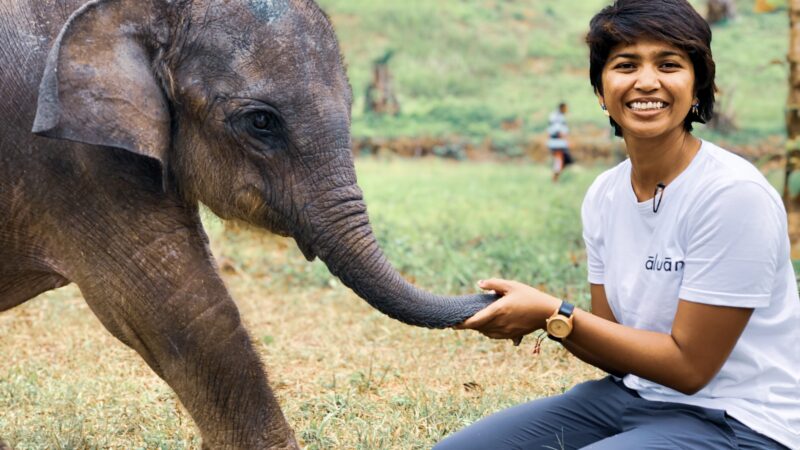 Story
Q&A with Farwiza Farhan, 2021 Pritzker Genius Award winner
Farwiza Farhan won the 2021 Pritzker Emerging Environmental Genius Award for her grassroots work to conserve the Leuser ecosystem in northern Sumatra, Indonesia.
With her nonprofit organization HAkA, which stands for Hutan, Alam dan Lingkungan Aceh, or Forest, Nature and Environment of Aceh, she works to conserve the last place on earth where the critically endangered Sumatran orangutans, rhinos, tiger and elephants still coexist together in the wild. The Leuser ecosystem is more than habitat for wildlife, it is an important landscape that supports millions of people living in and around the landscape.
Farwiza will visit UCLA as we announce this year's Pritzker Award winner at a ceremony on Thursday, November 10. We recently spoke with her about her latest achievements.
Farwiza, I'm looking forward to meeting you in person this year. It feels like forever since last November when you won the award­­. What have you been doing since then?
Farhan: So much has happened since I won the Pritzker Award. I was named to the TIME Top 100 Influential People and posed for the cover of TIME magazine for their October edition. I was also listed as a 2022 Henry Arnhold Fellow, and was honored with the Wayfinder Award from National Geographic and joined their cadre of explorers. These opportunities gave me a chance to highlight the importance of the Leuser ecosystem and the incredible work of folks on the ground who are working tirelessly to strengthen the protection of this landscape.
In September we launched the Leuser Award and Festival. This is a new initiative that we hope will bring broader support for the protection of the Leuser ecosystem while showing appreciation to grassroots conservation champions, especially women. The women who received the award said they feel seen, heard and supported. Many talked about how lonely it gets working on environmental protection when everyone around them is focused on making money from farming, mining and other destructive activities.
How have things changed on the ground level since last year, when we were still facing some of the toughest challenges of the COVID-19 epidemic?
The threat to the Leuser ecosystem is ever-present. Last year we won a number of important battles in court, but destruction of the forest is still happening. In the first month of the pandemic, we saw a spike in deforestation, but then it continued to decline. Initially, the pandemic forced us to stall a lot of our activities on the ground, but we began to resume some activities once the vaccination campaign become widespread in our communities.
The pandemic showed us that conservation won't work without community support, and that community support is contingent on their livelihoods — we have been working with communities to improve livelihood through alternative economic development and we continue to innovate to find best way forward.  
What's been happening on the laws and regulations side of things this year?
After a very long campaign, we won lawsuits against a mega-hydropower company that seeks to build a huge dam to generate electricity. If built, this dam will inundate 4,000 hectares of critical elephant habitat. We've also been working with the government to move a spatial plan for the Leuser Ecosystem that would establish new regulations to protect this critical place for conservation. We're currently awaiting a signature from Indonesia's president. That's the last step. Even though we haven't completed this yet, it feels like good progress to get it to this point.