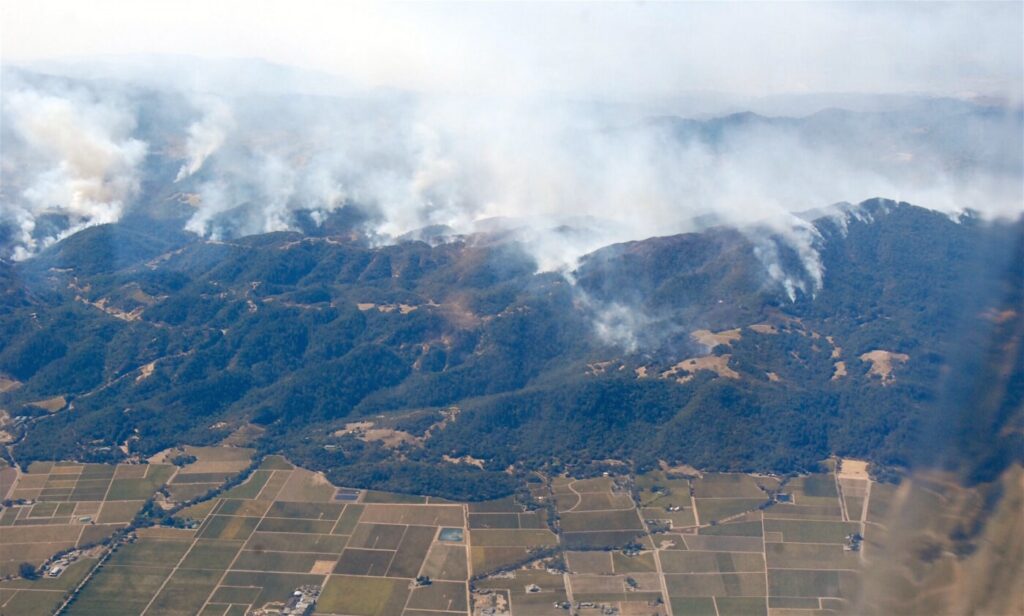 Story
Spurred by parents' close call with wildfire, UCLA alum uses AI to predict climate risk
On October 9, 2017, Sally and Brian Connell woke to a 2 a.m. call alerting them that a wildfire was racing toward their family vineyard in Sonoma, California. They could already smell the smoke.
"We saw a bright orange glow in our southern facing windows and it was not the sun rising," Sally Connell said. "We were confused at first — then we realized there was a fire just 500 meters away on the ridge."
Driven by strong winds, the Tubbs Wildfire had changed direction in the night and was approaching the edge of their property. The Connells had just enough time to shove their four sheepdogs into the car and grab a few possessions before escaping.
The close call terrified their daughter, Hunter, an alumna of UCLA's Institute of the Environment and Sustainability who lives in San Francisco. With climate-worsened wildfires dramatically increasing in the American West, the ordeal moved her to use what she had learned to help families in similar situations.
"My parents almost died," Hunter Connell said. "They didn't have a way to know ahead of time that a wildfire was at our front doorstep."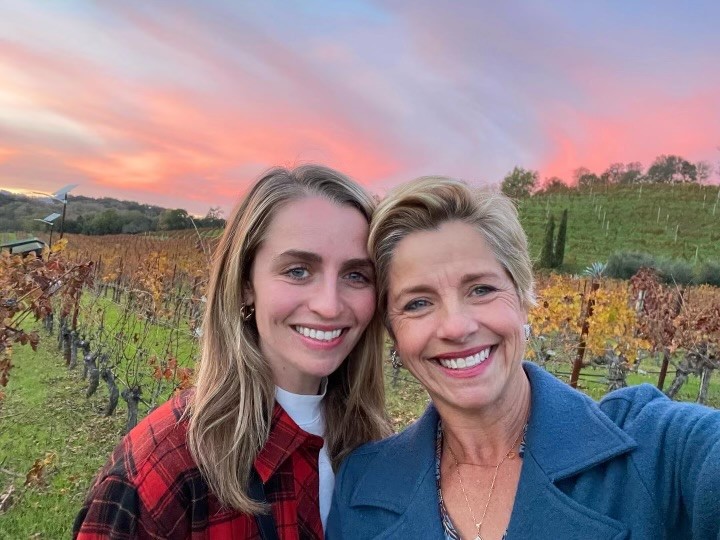 The Connells were relieved when they returned home a week later. An asphalt road prevented the flames from spreading to their vineyard, yet many of their neighbors and family friends were not as fortunate. Seven homes within a half mile of their house burned to the ground. All told, the Tubbs Fire burned 37,000 acres, destroyed 5,600 structures, killed 22 people and caused $1.2 billion of property loss.
When area residents tried to buy property insurance in the following months and rebuild, many were denied. But where insurance companies saw excessive risk, Hunter saw a multibillion-dollar market in need of change.
Hunter found that the models most insurers use to quantify risk were built in the 1980s — and haven't changed much since. They use as few as three basic geographic factors at every property and rely on historical data that is not updated enough to incorporate the effects of a rapidly warming climate.
Due to such limitations, they misidentify homes that are likely to burn as having low risk while identifying others that are unlikely to burn as having extreme risk, making them uninsurable.
Since 2016, the industry has suffered economic losses 400% higher than the average of the past few decades. But those losses are concentrated in less than 1% of properties, Hunter said. Insurers are sacrificing huge amounts of insurable revenue (30-40% of properties) while continuing to incur catastrophic losses.
The answer, she said, is artificial intelligence (AI). AI uses massive amounts of data to train computer programs to make decisions that normally require human intelligence.
A friend introduced her to an AI engineer named Adrian Albert, a scientific prodigy who built a computer from scratch as a child in Romania before moving to the United States, where he earned a Ph.D. from Stanford and was a founding engineer at the C3 AI, an artificial intelligence software provider.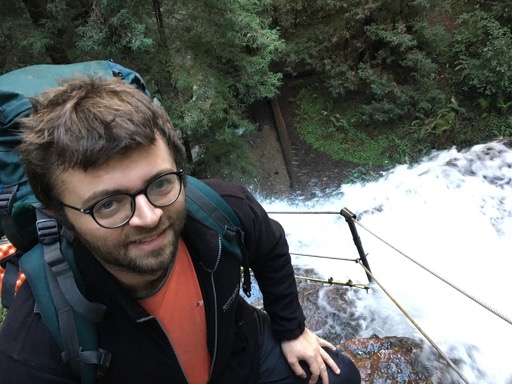 Adrian had been awarded a National Science Foundation grant to develop AI that estimates the probability of climate catastrophes. He was seeking a partner to form a business around the research when he met Hunter. The two shared a passion for climate action and became close friends, ultimately co-founding Terrafuse AI.
The wildfire prediction product they developed, which is based on research published in top peer-reviewed journals, has the potential to save insurance companies billions of dollars in aggregate and hundreds of millions per insurer, Hunter said. It accurately predicts about 70% of the locations where wildfire losses will occur — a vast improvement over traditional models, which only successfully predict 10% of the area that burns.
All startups face early challenges, but Terrafuse AI experienced a major tragedy in 2020, just months after its founding. Riding his bike home after an all-team meeting, Adrian was struck by a car and died. He was 35.
Hunter was devastated when she heard the news. After grieving the loss, she focused even harder on making Terrafuse AI a success to honor her friend's legacy, research, and their shared mission.
"Adrian was a breath of fresh air and the most purehearted person I have ever met. He would give the shirt off his back if someone needed it," she said, noting that they bonded over their mutual love of the outdoors.
Over the following two years, the company grew and attracted investment from prominent entities such as Microsoft, NASA, the National Science Foundation and the United States Air Force. The company now serves several large insurance companies and continues to grow.
Beyond the immediate business goal of helping insurance companies become profitable again and more consumers insurable amidst growing wildfire risk, Terrafuse AI plans to launch insurance prediction and mitigation solutions for other natural threats on the rise, including flooding and extreme wind.
After the wildfire trauma her parents experienced, Hunter realized it's not enough to simply slow climate change by reducing emissions — people must also adapt to new climate realities.
"Climate change came knocking at my door and almost killed my family, so I decided to work on resiliency instead," Hunter said. "Insurance is this amazing tool we have created for our fellow human beings to help protect one another from risk. We just need the right technology to guide it."