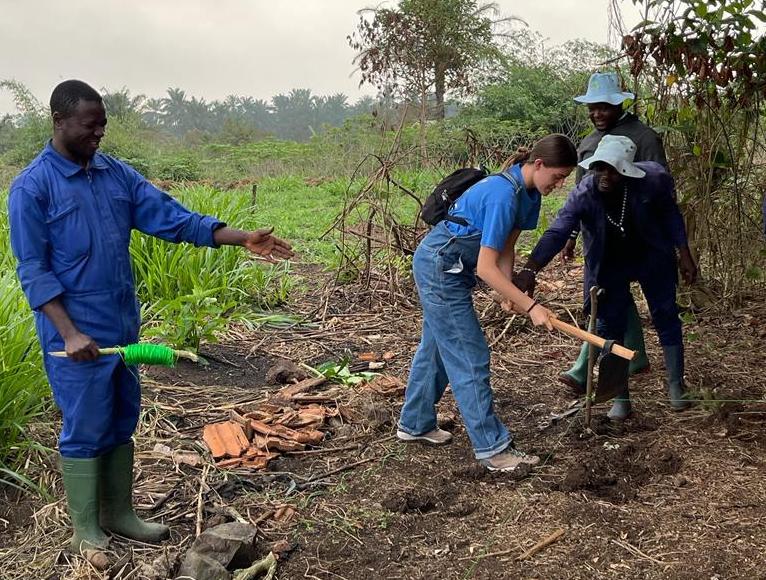 Context matters when it comes to sustainability.
That's what a team of UCLA students learned during their yearlong senior practicum project, which aimed to generate and share sustainable agriculture practices with an anti-recidivism program in Cameroon. The five team members are among 112 seniors who graduated UCLA with degrees in environmental science on June 12.
For the project, the students partnered with Agriculture for Africa, a program that teaches 25-and-younger incarcerated people in the fertile Nkongsamba region to farm — a skill that can help them stay out of prison once they leave.
After researching farming methods and crops grown in the region, the students compiled recommendations for composting, pesticide-free farming and other sustainable practices.
Then they visited Cameroon and the prison where the program is run.
"It was a big reality check of the sustainable practices that can be used versus what is practical there," said Sophia Roberts, a member of the UCLA team. "It's not so easy for people to give pesticides up when it could be the difference between crops failing or not."
Resources are limited in Cameroon, which is home to a displaced population of 2 million seeking refuge from war and insecurity in neighboring countries including Chad, Central African Republic and Nigeria. Food insecurity is a big problem, and a root cause of crimes that land many young people in prison.
Over spring break, the UCLA students met with regional and prison leaders and farmed alongside the incarcerated people in the program. Then they took what they learned on their trip and went back to the drawing board.
"We were looking at hydroponics prior to coming to Cameroon. Then we realized it requires a lot of technology, money and resources they might not have access to," said Erika de Guia, another UCLA team member. "What we did find was that they're really into raising catfish in addition to agriculture because it can yield a lot of profit."
The students came up with recommendations for farming catfish — even creating a catfish feed menu — and removed or changed impractical sustainable practices from their recommendations. And, because most of the population they worked with have no more than a primary school education, they simplified their materials' verbiage to make them more accessible.
Vijitha Eyango, who founded Agriculture for Africa in 2020, said there is a small but growing market for organic food in Cameroon, but that incorporating organic practices will take deliberation and time to be effective.
"There is an opportunity to tap into the organic supply chain and get a premium price for it, but it needs to be very carefully done," Eyango said.
But there are a lot of ways to measure success. Keeping young people from returning to jail by giving them marketable skills are core goals of the program. But part of that means giving participants — the program calls them "agripreneurs" — an improved sense of self-worth, confidence and the ability to see a better future.
"The fact that the UCLA students actually worked alongside them was a big hit," Eyongo said. "The agripreneurs were in tears when they left. I think that is more than money can buy."
The feeling was mutual.
"Everyone wanted to talk and everyone answered one of our questions," de Guia said.
The project with Agriculture for Africa was one of 11 within the senior practicum, a required capstone project that partners student teams with real-world partners from nonprofit organizations, government agencies and private businesses seeking to answer research questions on environment and sustainability issues. Other teams focused on issues including biodiversity and water quality in Los Angeles, waste management at the Aquarium of the Pacific and protecting blue whales from shipping vessels in the northern Indian Ocean.