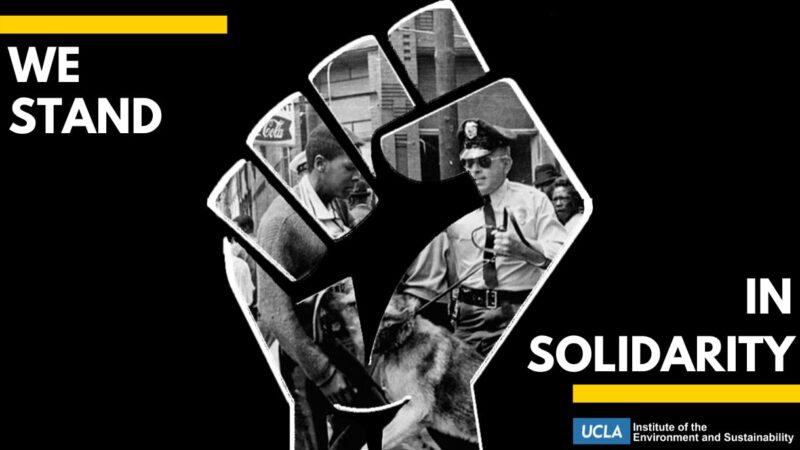 Voices
The criminal tragedy we are all party to
UCLA's Institute of Environment and Sustainability is based on optimism and finding solutions. Never have we felt greater despair than during the recent week of pain and witnessed, yet again, more reminders of a legacy of racial hatred.
What is so wrong is that the hateful violence is not a new story — it is older than the nation. Over forty years ago, writer and activist James Baldwin wrote "to look around the United States today is enough to make prophets and angels weep." Too little has changed since then.
As a white man, there is no way for me to know the anger caused by institutionalized racism, nor the pain caused by the deaths of George Floyd, Breonna Taylor, Ahmaud Arbery, Sean Reed, Tony McDade, and countless others at the hands of police. I never had to tell my son to be careful when stopped by a police car.
As an educator, my job is to inspire and give hope and opportunity to all of the students I encounter. I have been having a hard time doing so the last few weeks. Maybe this is the rock bottom for our nation. Will we climb out of it? It is convenient to lay the blame on failed national leadership. That leadership certainly matters. But the blame is not just on our leaders. It is on us, especially those of us with privilege. All of us at UCLA's environmental institute must be anti-racist. That means standing up for what is right.
The brutality of racism that inspired the Black Lives Matter movement is systemic, deep-rooted and takes a far greater toll than what gets captured on a bystander's cellphone and goes viral. We need only turn to COVID statistics to see the horrendous casualties associated with the disproportionate burdens placed on Black Americans. Black Americans are dying at the rate of 1 in 1,850 from COVID, whereas White Americans are dying at the rate of 1 in 4,400. This means that as of mid-May, the inequality in COVID mortality represents 13,000 lives in the United States that could have been saved, if only Black Americans enjoyed the same health outcomes as did White Americans. Let me say that again — 13,000 Black lives that matter. There is no other word for this than "oppression."
President Obama emphasized that we have to both protest and use politics to reform police departments and criminal justice systems at the local and state levels. I urge the community at this institute to do both.
We must feel the anguish, have compassion for those suffering, and be bold in our sustained solidarity. Let each of us find our personal leverage and use it to push for change. It could be the business or company where you work. It could be the local school district. It could be pressuring a philanthropic foundation to do more. It could be helping to oust an elected official. It could be personally donating time or money to improve the situation. It could be hiring someone out of work who desperately needs a job — even if it will damage your profit margin. It could be tutoring kids attending Title I schools, where resources are minimal. It could be providing technology to students of color who do not have the iPads and laptops so many of us take for granted. It could be making sure coronavirus test kits are immediately distributed to minority communities.
Like many White Americans, I thought the election of President Obama meant we were becoming a better nation. Black America knew better. We should have listened to them and not been so silent.
I know that many of you care, and many of you have made efforts. But if we do not elevate our impact, these past few weeks will simply be a passing-through point on our way to even greater depths of national failure.
The environment matters. Black Lives Matter. Equity matters. There is no such thing as a two-legged stool. Take away any of these and all will be lost. At UCLA, we cannot and will not stand for racism. Intolerance will not be tolerated. Let this be the beginning of the end for institutionalized racism.
Peter Kareiva
Director of the Institute of the Environment and Sustainability at UCLA
---
Resources and materials: