Three exceptional young UCLA scientists were honored by President Obama Monday, Jan. 9, with 2017 Presidential Early Career Awards for Scientists and Engineers, the highest honor bestowed by the U.S. government on science and engineering professionals in the early stages of their research careers. They are among 102 scientists and engineers in the nation receiving the awards.
In announcing the awards, Obama said, "I congratulate these outstanding scientists and engineers on their impactful work. These innovators are working to help keep the United States on the cutting edge, showing that federal investments in science lead to advancements that expand our knowledge of the world around us and contribute to our economy."
Recipients were selected for their pursuit of innovative research at the frontiers of science and technology as well as their commitment to community service as demonstrated through scientific leadership, public education or community outreach.
Thirteen federal departments and agencies join together annually to nominate the most meritorious scientists and engineers whose early accomplishments show the greatest promise for assuring America's preeminence in science and engineering and contributing to the missions of the awarding agencies.
This year's UCLA recipients are:
Eric Hudson
Hudson, an associate professor of physics whose research is funded in part by the National Science Foundation, published last August a study that uncovered an
apparent departure from the laws of thermodynamics
— fundamental research that is very useful to applied scientific research.
In 2013, he and his research team pioneered a new technique that combines two traditional atomic cooling technologies and brings normally springy molecules to a frozen standstill. These molecules could be the building blocks of the next generation of computers, promising far greater power and faster processing speeds than today's silicon-based machines. These "quantum computers" — so-called because they would harness the unique quantum mechanical properties of atomic particles — could draw their computing power from a collection of super-cooled molecules. But chilling molecules to a fraction of a degree above absolute zero, the temperature at which they can be manipulated to store and transmit data, has proven to be a difficult challenge for scientists.
Scientists have been trying to cool molecules for a decade and have succeeded with only a few special molecules. Hudson's technique is a completely different approach to the problem and has the potential to work with hundreds of different molecules.
Adriana Lleras-Muney
Lleras-Muney is a professor of economics whose research is funded by the Department of Health and Human Services and other agencies.
In her research published in 2016, Lleras-Muney and her co-authors documented that cash transfers given to poor women early in the 20th century led to substantial improvements in lives of their children, who obtained more education, had higher incomes and lived longer lives as a result. There are no prior studies estimating the lifetime causal effects of anti-poverty cash programs on children growing up in poverty.
This project is continuing to investigate how the behavior of mothers was affected by the transfers, whether they remarried, who they remarried and how the transfers affected their participation in the labor force and ultimately their mortality. In other research, Lleras-Muney is investigating the long-term effects of New Deal programs implemented during the Great Recession. This research aims to provide evidence on the full costs and benefits of government policies designed to help those in need.
She was on the faculty at Princeton University for seven years before joining UCLA's faculty in 2008. Her dissertation work on the effect of compulsory education on longevity won the Dorothy S. Thomas Award by the Population Association of America.  
Aradhna Tripati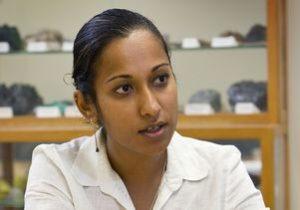 Tripati, an associate professor in the departments of Earth, planetary and space sciences, and atmospheric and oceanic sciences, and UCLA's Institute of the Environment and Sustainability, uses the chemistry of natural compounds to understand how the Earth works, including gaining important insights into climate change, the oceans and the transfer of carbon among the biosphere, atmosphere and oceans.
In research published last November, she and colleagues reported that, as the last ice age ended, the collapse of an ice sheet in what is now western Canada triggered a reorganization of the jet stream over the course of about only 100 years — a blink of an eye in geological time — quickly changing climate and rainfall patterns.
In other research, Tripati and her colleagues reported that Antarctica could be headed for major meltdown, ancient fossils hold clues for predicting future climate change, and that you would have to go back at least 15 million years to find carbon dioxide levels on Earth as high as they are today.
She has won many awards, including the E.O. Wilson Award given by the Center for Biological Diversity for her "groundbreaking research on carbon dioxide's role in climate change."
---
This story was originally published by UCLA Newsroom.