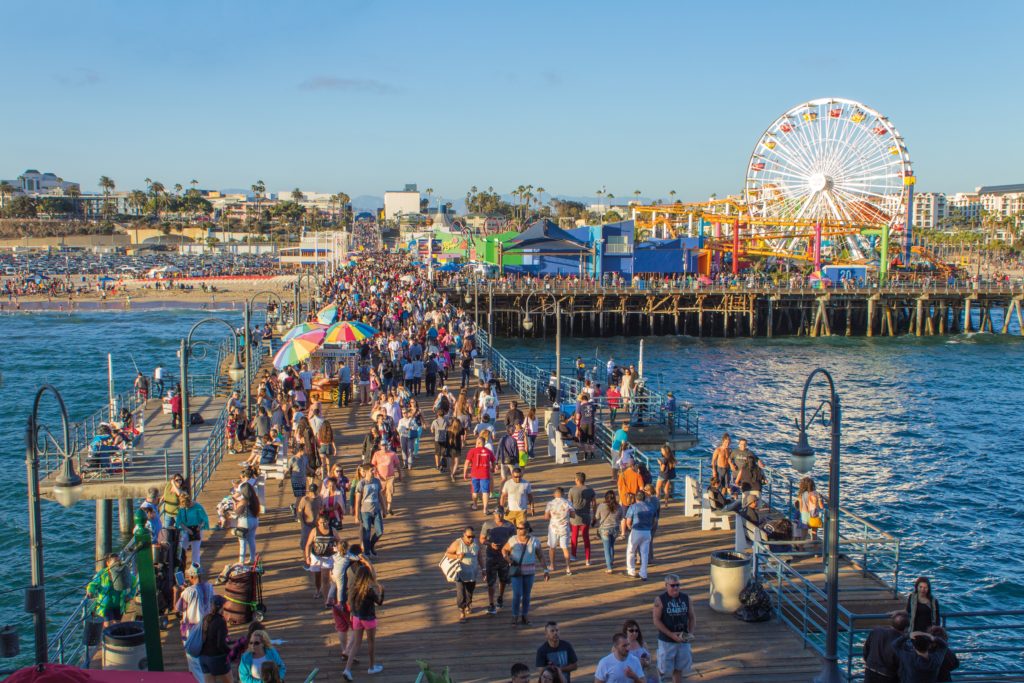 Story
UCLA students dig into Santa Monica Pier's waste problem
Food waste is one of the nastiest kinds of waste. It smells, produces greenhouse gases — and there's a lot of it.
If global food waste were a country, it would be the third highest emitter of greenhouse gases, behind only China and the United States. A team of UCLA students investigated the problem this year in one of the most iconic places in California.
The Santa Monica Pier, with nine million yearly visitors, is a visible but challenging place to improve waste management. Fortunately, it has strong political backing — Santa Monica is known for strong environmental stewardship. In 2011, the city council unanimously voted to ban single-use plastic bags. It also set a zero-waste goal: by 2030, the city aims to divert 95 percent of its waste from landfills.
Over the course of the 2017-2018 academic year, six students profiled the pier's waste management and investigated ways to improve their current system.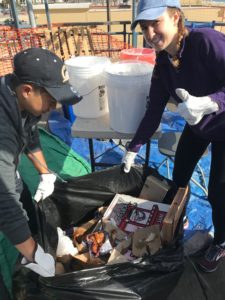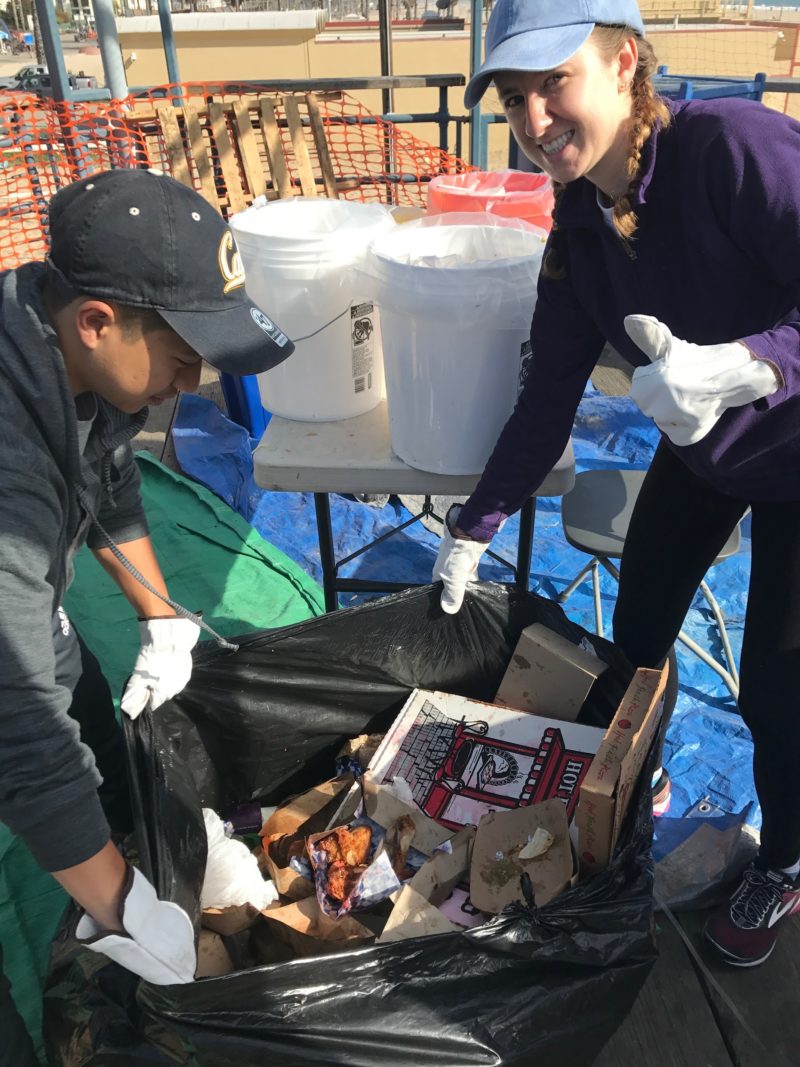 To get a sense of the amount and type of waste generated, they performed two audits. They weighed, recorded and — by hand — separated garbage into four categories: landfill, recycling, organics and liquids.
"Sorting through all the pier waste was tedious work, but it really gave us a different perspective on how much food is actually thrown away," said Mark Nguyen, one of the students on the team. "We kind of got hungry looking at all of it," he joked.
Fifty-four percent of the pier's waste was found to be organic, or biodegradable. That includes food waste, but also paper and other plant or animal-based products. Organic waste can be taken to facilities to be broken down in a sustainable way. So the higher percentage of organic waste there is, the better.
Recyclable products such as plastic forks, plates and cups may seem sustainable. However, once soiled by food products, they aren't recycled and wind up in landfills. The food waste they take with them decomposes, releasing methane, a potent greenhouse gas. They recommended food vendors transition from recyclable products to compostable ones.
The amount of waste varies greatly between slow and busy days, the students found. Their first audit, performed April 15, documented about 1.5 tons. A second audit on Cinco de Mayo saw that amount nearly triple.
Another issue they faced was how garbage is transported on the pier.
The pier currently uses a trolley to collect waste. It could almost be considered an attraction — but not the good kind. The trolley ducks-and-weaves through visitors, wafting its fragrant cargo by thousands of noses.
"It's smelly. It's noisy. It poses a hazard to visitors on the pier. And it's also incredibly inefficient," said Sophie Butler, another student on the practicum team.
The students investigated safer, more discreet options, such as tube transfer and conveyer belt systems. Tube transfers, like the one used on New York's two-mile-long Roosevelt Island, can significantly cut costs by automating travel across long distances. But although it would eliminate the need for the trolley, it wouldn't reduce costs at the pier, which is just one-third of a mile long. A conveyor belt system seemed another promising option, but wear and tear of marine weather might pose a problem.
The students concluded that any new system would need to be tailored to the unique qualities of the pier. They recommended that the city weigh the various options further.
The final piece of the puzzle is what to do with waste after it's off the pier. Currently, biodegradable waste gets hauled 90 minutes away to a facility in Oxnard. An on-site facility would eliminate that trip, but even the smallest waste digester on the market is big enough to process a year's worth of pier waste in just a week — total overkill. One potential long-term solution, the students suggested, would be coordinating with other Santa Monica entities, pooling enough trash to merit a local facility. As a short-term solution, they recommended finding a closer place to process organic waste.
"To change behaviors of a public space that sees over nine million visitors a year is a giant project with a moving target," said Negin Singh, executive director of the pier. "And we need all of our stakeholders on board and focused to make real changes that will impact the future. We are proud of the changes we've made thus far, but have a long way to go."
California legislators have also pursued policy solutions. In 2014 they passed assembly bill 1826, which aims to cut organic waste in half by 2021. The ambitious timelines set by state and city officials mean businesses will need to act smart and fast in order to meet the deadline.