"Social entrepreneurs are not content just to give a fish or teach how to fish. They will not rest until they have revolutionized the fishing industry," said Bill Drayton, founder of Ashoka, an organization that provides support for social entrepreneurs – individuals who create new and innovative ways to solve social problems. 
Social entrepreneurship exists at the crossroads between profit-based growth and not-for-profit ideals of changing the world for the better. It is a value driven approach to business that can lead to impactful change.
A Corporate Partners Program and Leaders in Sustainability event hosted by the Institute of the Environment and Sustainability May 14 explored the notion of putting social good alongside profit. "Doing Well By Doing Good: What Can Business Learn From Social Entrepreneurship" invited experts in the field to share their knowledge and experience with UCLA faculty, researchers, and students.
UCLA Anderson School of Management and IoES Professor Charles Corbett opened the workshop with a briefing on his area of concentration: the interfaces between operations management, sustainability, and entrepreneurship. Corbett's research focuses on how for-profit and non-profit entrepreneurs and small business owners make decisions and run their organizations on a day-to-day basis.
A panel discussion featured a mobile technology whiz, business consultant, and environmental sustainability specialist. Magali Delmas, a member of the IoES and professor with the Anderson School, introduced and moderated the panel.
At the intersection of philanthropy and mobile communications is PwrdBy. Founded by Christopher Brereton, the company helps nonprofits use mobile technology to advance their mission. Brereton explained how PwrdBy designs mobile application solutions for the nonprofit sector. Applications PwrdBy has created include donor management and volunteer coordination software.
Founder and CEO of Green Business BASE CAMP Carrie Norton talked about the original definition of social entrepreneurship and the fluidity around the vocabulary used to illustrate the term. Norton emphasized that it is profitable to develop solutions that have a good, positive impact on the planet and society.
Norton's "green boot camp" trains early stage entrepreneurs and offers customized curricula for those interested and invested in making social and environmental impacts. She said it is important from the start to embed sustainability into the DNA of a company and translate it into everyday operations. She advised reviewing the supply chain and holding all constituents (suppliers, producers, etc.) to specific standards a company can feel good about.
Megan Rast, environmental sustainability director for Sony Pictures Entertainment, discussed how the entertainment industry can be influential with green initiatives. Her presentation, "Powered by Super Heroes for the Planet," covered the "Amazing Spider-Man 2's" environmental efforts on set and off.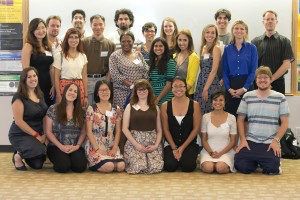 Following the panel discussion was the recognition of the 2014 Leaders in Sustainability graduating class. Leaders in Sustainability is a certificate program open to all UCLA graduate students that addresses issues of environmental sustainability in an interdisciplinary manner.
The graduates, from departments including environmental health sciences, urban planning, engineering, and public policy, accepted their diplomas from Delmas and Corbett and revealed their next steps – many transitioning to careers in the sustainability area.
Bhagwan Chowdhry, professor of finance with the Anderson School, delivered a commencement address titled, "Today is Ten Times More Important than Tomorrow." His speech stressed wise and fair resource management and a focus on today versus what is going to happen tomorrow, meaning, take care of people now and not worry so much about the future.
Chowdhry's advice to the graduates was twofold. First, if you are experiencing unhappiness use it as motivation to fix what is perplexing you. He said to "look around in the world, see what is making you mad and act – create change." He concluded by persuading the graduates to "excel not because it will make you rich, happy, or famous, but because when an individual excels many other people can benefit from it."