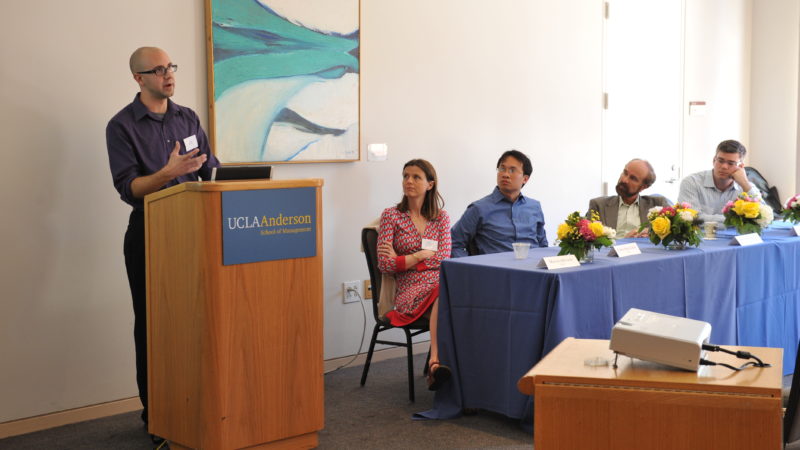 Event
Footprint Benchmarking and the Bottom Line: Finding the Value in Measurement and Management of Your Environmental Footprint
2011 CPP Workshop
On May 26, 2011, the Corporate Partners Program hosted a discussion on the pros and cons of measuring the footprints of products, operations, and supply chains. The discussion identified the characteristics of conditions that make footprint analysis actionable and how you can leverage these insights to enhance business value. More than 30 distinguished executives and scholars attended the interactive session which featured five panelists. The panelists presented new research methodologies to benchmark corporate environmental performance as well as how to implement corporate benchmarking within a firm while linking it to financial performance. Brief summaries of the talks can be found below:
Magali Delmas
Professor of Management
UCLA Institute of the Environment and Sustainability
Anderson School of Management
Professor Delmas presented her latest research on the connection between corporate carbon footprints and financial performance. This research, based on 1,000 US firms, established that environmentally efficient companies are assigned higher valuations by the marketplace. She showed that emissions from the supply chain have a strong impact of financial performance of company, ergo solidifying the relevance of green supply chain management for improved corporate performance.
Ben Schwegler
Chief Scientist
Walt Disney Imagineering Research and Development
Ben Schwegler provided a comprehensive overview of the unique sustainability initiatives underway at Walt Disney Imagineering. He discussed the innovative "carbon tax" framework implemented internally by Walt Disney units and emphasized the importance of sustainability to the Walt Disney brand and culture.
Doug Mazeffa
Director of Research
Greenopia Corporate Ratings
Doug Mazeffa discussed the processes and procedures of Greenopia, which develops local green business directories, product environmental ratings, and corporate environmental ratings. He outlined the sources of data used by Greenopia and the means by which such information is evaluated uniformly across a wide range of industries. He provided examples of the effectiveness of these ratings at improving firms' transparency.
Adam Grossman
Director of Client Services
Climate Earth, Inc.
Adam Grossman presented the Climate Earth platform, which uses cutting edge approaches in supply chain life cycle assessment and enables cost effective corporate environmental reporting for the entire supply chain. He outlined the potential of this data to increase revenue, reduce costs, and manage risk across a company's entire supply chain.
Chien-Ming Chen
Postdoctoral Scholar
UCLA Institute of the Environment and Sustainability
In collaboration with Professor Delmas, Chien-Ming Chen presented his latest research on "frontier" benchmarking, a novel methodology to compare firms' environmental efficiency. Using a case study on the food and beverage industry, he showed how frontier benchmarking can help firms identify relative performance to main competitors and use this methodology as a tool to improve their environmental and financial performance.