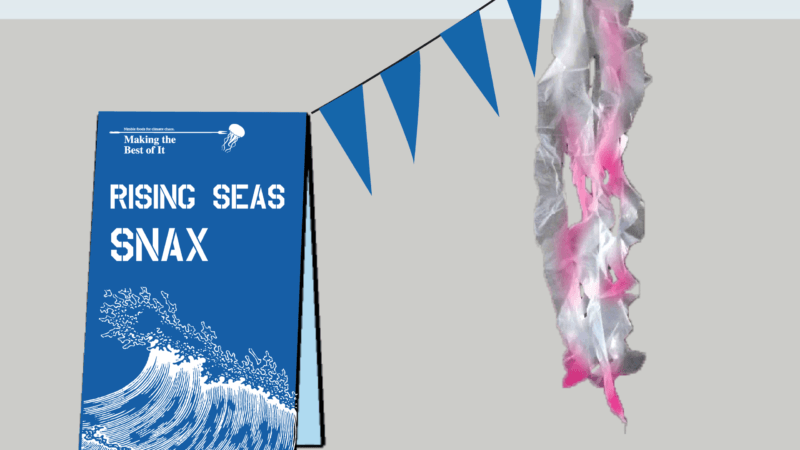 Event
RISING SEAS: JELLYFISH JERKY
A campus tasting event
A campus tasting event
Join artist Marina Zurkow and chefs Hank and Bean for a climate change conversation over Jellyfish Jerky and an environmental risk Mitigating Tea at their Rising Seas Hawker Stall.
On your way to and from classes, meetings and daily life, we invite you to take a snack break that brings the scale and data of climate change into a visceral, embodied experience.
This one-day public and free snack tasting happens Wednesday, November 14 as a UCLA "Campus as Canvas" event at two sites.
11-2 PM @ Dickson Court North, near Perloff Hall
5-8 PM @ Sunset Plaza on the Hill, near Covel Hall
FOOD FOR THOUGHT
Some project background
Jellyfish, a diverse group of soft, gelatinous marine animal species are prone to unpredictable blooms that highlight ocean disturbance and its human causes. They have the ability to thrive in degraded ocean conditions and their raft-like appearances are nearly impossible to predict. These blooms increasingly wreak havoc on human-settled spaces such as tourist beaches, power plants and prime fishing waters. As the ocean warms up and as sea levels rise–a phenomena certainly exacerbated by human activity–jellyfish (unlike other communities, human and nonhuman) continue to thrive.
Jellyfish have beguiled human beings for centuries, but they have also constituted an everyday food in Asian cultures for perhaps as long. Common edible jellyfish species, most famously the Cannonball, are benign-tasting and adaptable to different culinary preparations. Although, as Zoologist and Oceanographer Dr. Lucas Brotz heeds, "we should not … try to eat our way out of jellyfish 'problems,'" they do present a sometimes-abundant food source.
The Jellyfish Jerky snack is an unorthodox food product, prepared in a way more common to vertebrates than invertebrates, that in effect collapses and compacts the jellyfish.  Each participant will choose how to "season" their jellyfish with one of five distinct Flavor Blends evocative of Haiti, the Netherlands, Philippines, India and the United States, respectively. The flavor profiles draw attention to vulnerabilities that particular regions and communities—from island nations to the US Gulf Coast—face due to sea level rise and other climate risks.
We selected these countries based on high-risk climate change and sea level rise indices, which consider a complex matrix of factors (including population density, access to resources, mitigation plans, and wealth). Privilege and inequity are also crucial factors that Rising Seas: Jellyfish Jerky hopes to make part of conversations about climate change.
As a companion to the jerky, the Mitigating Tea will feature kombu, a mineral-rich and pleasantly-flavored seaweed that plays a vital role in ocean health. The kombu offers an optimistic sense that positive action and transformational change are still possible avenues for human responses to climate change.
Rising Seas: Jellyfish Jerky marks the culmination of a year of research and development on what it means to eat ecospherically in the changing climate of Southern California. Ranging from snacks to high-end dinners to plein air picnics, Marina Zurkow and Hank and Bean plan to continue their project, both in Los Angeles and in other regions, adapting their methods of research, creative output and culinary standards.
Acknowledgments
Supported by the UCLA Arts Initiative and the Laboratory for Environmental Narrative Strategies (LENS), with Professor Allison Carruth, this event is part of a larger food and climate project called "Making the Best of It: Nimble Foods for Climate Chaos" and a collaboration between artist Marina Zurkow and chefs Hank and Bean. The project's food-focused engagements current investigate the ways people in Southern California can eat and think about novel foods, what have been called "plan B" foods and shifting climate affordances in an era of increasing instability.