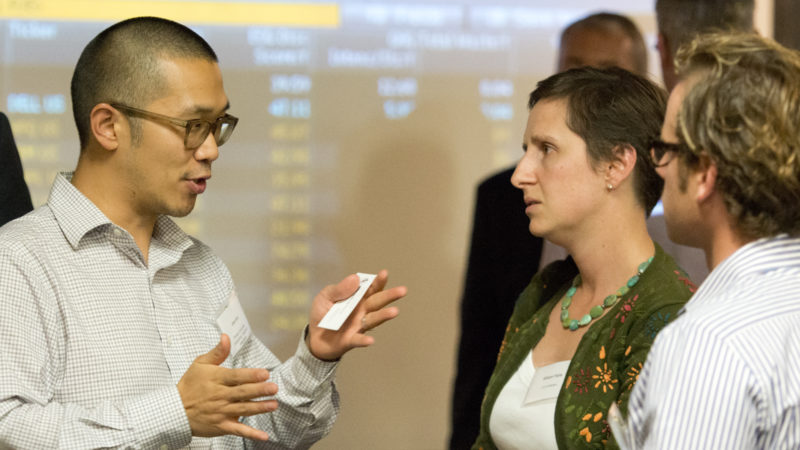 Event
The Future of Corporate Sustainability Reporting
2013 CPP Workshop
On November 15 2013, a panel of experts examined existing and emerging standards of responsible reporting. The panelists explored how sustainability reporting is becoming more widespread across a variety of industries, however it has yet to achieve standardization. Current trends in reporting were outlined as well as case studies of how certain companies are approaching reporting and the types of reporting frameworks that are currently being used. A recurrent theme was around the increase demand from consumers for transparency and standardization in reporting from year to year.
Key points from the panelists included:
Brad Sparks
Director International Global Citizenship
KPMG
Brad Sparks explained that 95% of the largest companies in the world issue corporate responsibility reports, however it is a practice that is still maturing. Data quality continues to be a critical issue among companies publishing sustainability reports, with 33% of the largest 250 global companies releasing a restatement. He stated that 2013 was a milestone year with key developments in the arenas of advanced reporting requirements, integrated frameworks, and natural capital accounting.
Mike Wallace
Director of Focal Point USA & Canada
Global Reporting Initiative
Mike Wallace illustrated how GRI provides guidance and support to organizations in managing their economic, environmental, and social performance responsibly and reporting transparently. He discussed the principles behind reporting elements and performance indicators, how data is acquired and how an ecological footprint is calculated. His presentation showed that investor demand for this information is up and that sustainability reporting is becoming mandatory in many countries. These demands are countered by challenges of acquiring reliable data, survey fatigue, and an ever-changing methodology for reporting impact.
Katie Schmitz Eulitt
Director of stakeholder engagement and advisory council chair
Sustainability Accounting Standards Board (SASB)
Katie Schmitz Eulitt discussed the existing legal framework governing public companies and the requirement to disclose "material" information, which allows investors to inform their decisions. There is increasing demand from investors to know about a company's sustainability performance prior investing. The SASB is working to facilitate reporting by developing industry-specific standards that will be cost-effective, auditable, and relevant.
John Kim
Manager of Insights and Integration
Disney Citizenship
John Kim talked about how the Walt Disney Company prioritizes, monitors, and responds to sustainability rankings and ratings. Disney Citizenship's reports include a summary table, data, GRI index, and infographics. He said sustainability reports should use performance-data driven, reflect strategy and disclosure priorities and focus resources, improve internal and external transparency, and communicate citizenship priorities to key stakeholders. Kim emphasized integrating and documenting what is considered important and to make the process easy and expected for internal partners.
Magali Delmas
Professor of Management
UCLA Institute of the Environment and Sustainability
Anderson School of Management
Professor Magali Delmas explained sustainability reporting as a method to internalize and improve an organization's commitment to sustainable development in a way that can be demonstrated to both internal and external partners. She described how communicating this information helps investors, customers, employees, and the community make choices based on environmental and social criteria.