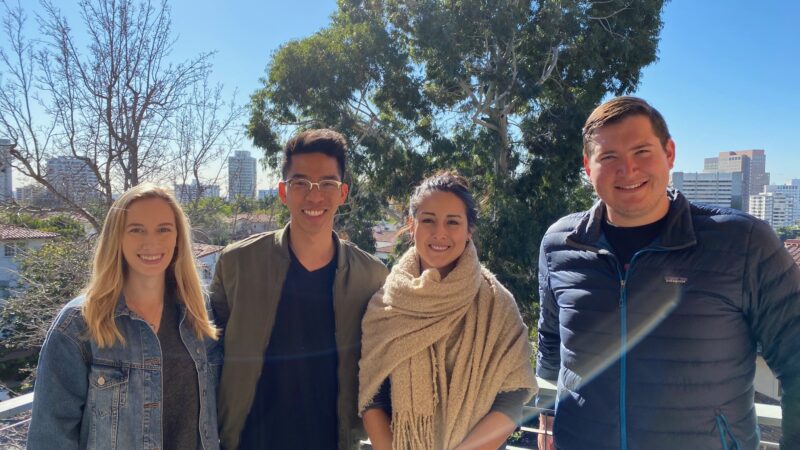 Headline |
La Kretz Center and Stunt Ranch Reserve award conservation science research grants to seven UCLA students
The UCLA La Kretz Center for California Conservation Science and the UC Natural Reserve System Stunt Ranch Santa Monica Mountains Reserve are pleased to announce the 2020 recipients of our competitive research awards. The awardees, working on projects ranging from the effectiveness of Marine Protected Areas to the impact of urbanization on biodiversity, each contribute to our goal of supporting and promoting the best possible student research that helps change how we conserve California.
Pictured above, left to right, are Samantha Snowden, Ben Ha, Vivien Enriquez, and Zack Gold. Not pictured are Robert Cooper, Mara Palacios Mejia, and Regina Zweng. Follow the links to learn more about these students and their projects:
Robert Cooper: Managing Pond Hydroperiod to Reverse Invasive Tiger Salamander Introgression
Vivien Enriquez: Effects of urbanization on the diet, gut microbiome and prevalence of antibiotic resistance in the dark-eyed junco (Junco hyemalis)
Zack Gold: Utilizing environmental DNA to understand its efficacy to detect rare fish and the effectiveness of Marine Protected Areas
Benjamin Ha: "Fishing" out the exomes of the federally endangered tidewater gobies to identify potential genes under selection
Maura Palacios: Environmental DNA as a tool for assessing microbial diversity & ecological impacts by contaminants at The Bowtie parcel Brownfield site in Southern California
Samantha Snowden: Characterizing interactions between mountain yellow-legged frog and unarmored threespine stickleback fish to assess the potential for their coexistence
Regina Zweng: Does Eutrophication First Drive "Basification" Then Acidification in California Estuaries?