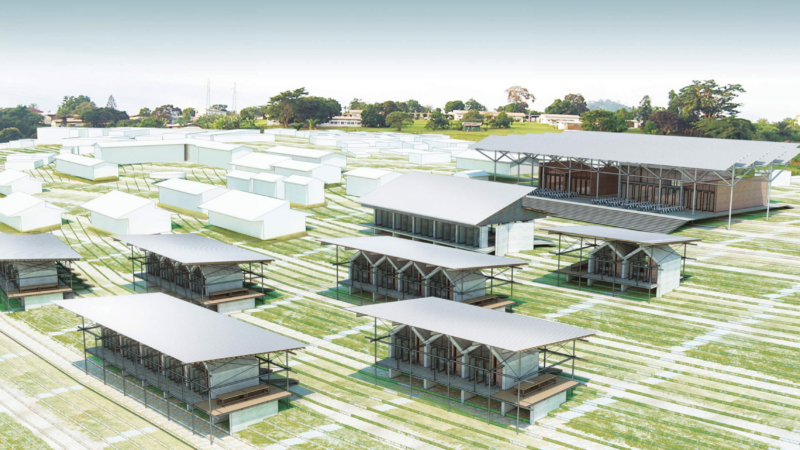 Headline |
USAID grant supports Congo Basin Institute's Distance Learning Center
The Congo Basin Institute (CBI), UCLA's first foreign affiliate, recently received a grant from the United States Agency for International Development (USAID) to support the building of a Distance Learning and Training Center on the campus of the International Institute of Tropical Agriculture in Yaoundé, Cameroon.
The Distance Learning and Training Center, designed as a green facility by the world-renowned architecture firm Gensler, will be a state of the art physical home for CBI and includes a sustainable and energy-efficient conference center and guest house built using locally sourced materials. The Distance Learning and Training Center will expand the educational and research offerings available to African and American scholars and government officials and will provide a forum to foster collaboration between educators, researchers, and students. African and American students will learn side by side and use state of the art geographic information systems (GIS) and remote sensing technology to directly address the critical needs of the Congo Basin, including food and water security, climate change and threats to biodiversity and human health. By incorporating virtual/distance learning and hands-on/experiential platforms, these facilities will provide technological and educational capacity that is lacking locally and regionally.
To view learn more about the design for CBI's Distance Learning and Training Center, view the article Learning About Resilience at the UCLA Congo Basin Institute on Gensler's website.
The Congo Basin Institute is a partnership between UCLA and the International Institute of Tropical Agriculture focused on improving scientific training in Central Africa. USAID is one of the world's largest international development agencies. Gensler is a world-renowned architecture, design, and planning firm and a global sustainability leader.