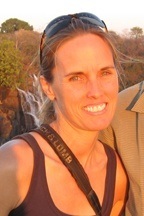 Brenda Larison
Assistant Adjunct Professor
UCLA Center for Tropical Research & Department of Ecology and Evolutionary Biology
(310) 206-6599
blarison@ucla.edu
Research Interests
I am fascinated by the myriad of physical forms and behaviors that animals display. In my research I focus both understanding how this amazing diversity evolves, and how to conserve it. My current research addresses both evolution and conservation through work the two projects below. I work in the lab of Bob Wayne here at UCLA, with researchers here in CTR, and with colleagues at several other institutions in the U.S. and abroad.
How the Zebra Got Its Stripes
How zebra evolved stripes is a mystery. It seems like there must be an advantage to offset how conspicuous they seem, but what is it? What are the genetic changes that occurred to cause striping? I'm working with my colleagues to find the genes that control striping and to discover what advantages there might be to stripping. Finding the genes that control striping can tell us a lot about how stripes evolved and why. Because natural selection leaves a footprint on the genome, genes can tell us whether they confer an advantage or not. Because of this we can map both genetic and stripe variation and compare this to geographic variation in environmental factors that we think may be important. Are zebra more striped in areas with higher temperatures, more trees or more tsetse flies? If they are this will lead to hypotheses that we can test more directly.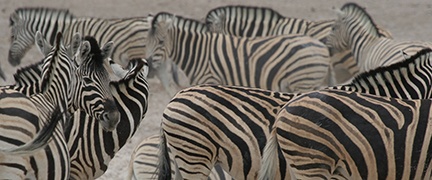 Insights from Genetics and the Conservation of Grevy's Zebra
The endangered Grevy's zebra is the largest and most finely striped of the three species of zebra. Less than 3000 remain in the wild concentrated in the ecologically rich Laikipia-Samburu region of Kenya. They are a flagship species, the preservation of which will help maintain the essential ecological processes that have created ecosystems like the Laikipia-Samburu. Our research on Grevy's examines how human land-use influences population genetic structure, migration, and gene flow using genetic tools, collaring data and modeling. Because we work closely with conservationists and managers, they can use our results to determine what management actions are required and how best to work with the local communities to conserve this species.

Education
Ph.D. University of California, Los Angeles, 2007
MA Biology, San Francisco State University, 1996
BS Marine Biology, San Francisco State University, 1989
Teaching
Lecturer in the Department of Ecology and Evolutionary Biology, UCLA
EEB114 Ornithology
EEB129 Animal Behavior
EEB124 Field Ecology
Publications
Cordingley J. E., Sundaresan S. R. Larison, B. J., Shapiro, B., Rubenstein, D. 2009. Grevy's zebra conservation: overcoming threats of isolation, genetic hybridization and demographic instability. Animal Conservation 12:520-521.
Larison, B. 2008. Impacts of environmental heterogeneity on alternative mating tactics in the threadtail damselfly. Behavioral Ecology and Sociobiology 16:531-536.
Larison, B. 2007.Environmental heterogeneity and alternative mating tactics in the damselfly, Protoneura amatoria. Behavioral Ecology 18:1021-1028.
Larison, B., P. W. Williams, S. A. Laymon, and T. B. Smith. 2001. Avian responses to restoration: nest-site selection and reproductive success in Song Sparrows. Auk 118:432-442.
Smith, T. B., K. Holder, D. Girman, K. O'Keefe, B. Larison, and Y.Chan. 2000. Comparative avian phylogeography of Cameroon and Equatorial Guinea mountains: implications for conservation. Molecular Ecology 9:1505-1516.
Larison, B., T. B. Smith, R. Fotso, and D. McNiven. 2000. Comparative avian biodiversity of five mountains in northern Cameroon and Bioko. Ostrich 17:269-276.
Schneider, C. J., T. B. Smith, B. Larison and C. Moritz. 1999. A test of alternative models of diversification in tropical rainforests: Ecological gradients vs. rainforest refugia. Proc. Nat. Acad. Sci. 96: 13869-13873.
Larison, B., S. A. Laymon, P. L. Williams, and T. B. Smith. 1998. Song Sparrows vs. Cowbird brood parasites: impacts of forest structure and nest-site selection. Condor 100: 93-101.