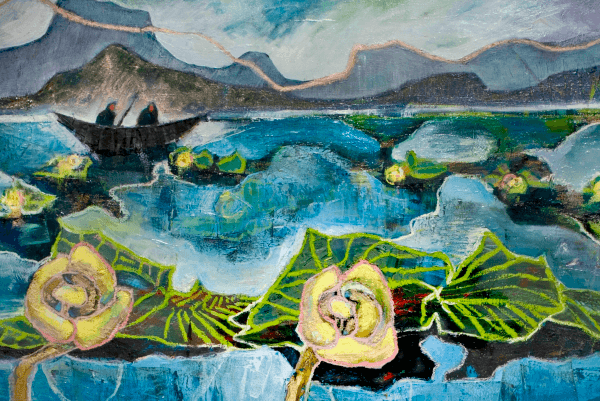 Ka'ila Farrell-Smith
Artist & Co-director
Signal Fire
Ka'ila Farrell-Smith is a contemporary Klamath Modoc visual artist and activist based in Modoc
Point, Oregon. The conceptual framework of her practice focuses on channeling research
through a creative flow of experimentation and artistic playfulness rooted in Indigenous
aesthetics and abstract formalism. Utilizing painting and traditional Indigenous art practices, her
work explores space in-between the Indigenous and western paradigms. Ka'ila displays work in
the form of paintings, objects, and self-curated installations.
Ka'ila is a Co-director for Signal Fire artist residency program, current Fields Artist Fellow with
Oregon Humanities, and a Board Member of Rogue Climate. Her work has been exhibited at Out
of Sight, Museum of Northwest Art, Tacoma Art Museum, WA; Missoula Art Museum, MT and
Medici Fortress, Cortona, Italy; and in Oregon she has work in the permanent collection of the
Jordan Schnitzer Museum of Art and Portland Art Museum. She is a featured artist at Scalehouse
Creative in Bend, Oregon and her work will be on view in 2021 at DITCH Projects in Springfield,
Oregon. Ka'ila has recently been selected to attend artist residencies at Djerassi, UCROSS,
Institute of American Indian Arts, and Crow's Shadow.
Ka'ila Farrell-Smith received a BFA in Painting from Pacific Northwest College of Art and an MFA
in Contemporary Art Practices Studio from Portland State University. She is a a certified
Wilderness First Responder and has been an activist on the frontlines fighting fossil fuel pipelines
and export terminals across the Pacific Northwest.
(Profile image: original painting by Ka'ila Farrell-Smith)