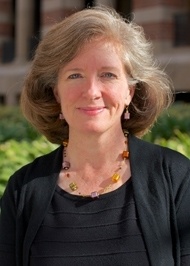 Monica L. Smith
Professor, Navin and Pratima Doshi Chair in Indian Studies
Institute of the Environment and Sustainability, Department of Anthropology
329B Haines
Los Angeles, CA 90095
310-794-9179
smith@anthro.ucla.edu
As an archaeologist, I specialize in the development of urbanism and the long-term human relationship with the environment. I describe myself as an ancient economic historian who utilizes archaeological data to analyze the collective effects of routine activities through the study of food, ordinary goods, and architecture. Over the long term of the existence of Homo sapiens, our species has had a significant impact on the environment. Even at low population densities as hunters and gatherers a hundred thousand years ago, humans had an outsized effect on their environments through their capacity to use fire and their ability to preferentially hunt vulnerable species, in some cases leading to extinction. By about ten thousand years ago when humans increasingly turned to farming, they engaged in genetic engineering through the purposeful selection of particular behavioral traits to produce domesticated plants and animals. Starting about five thousand years ago, people began to create synthetic materials theretofore unknown in nature such as bronze (and eventually, cement, plaster, and glass as the precursors of today's ubiquitous plastic goods). For millennia, humans also have engaged in landscape modifications that changed water courses, altered natural vegetation cover, and created new environments in which commensal animals and invasive species thrived.
Long-term trajectories of human engagement with the environment have set the stage for the increasingly intense interaction between cities and their hinterlands as our global population has grown. Cities have become the predominant mode of life and now house more than half of the world's people, but their development over the past six thousand years has encompassed rapid and intense social, economic, and even biological adjustments. My current fieldwork is focused on the Indian subcontinent, a region that brought into existence some of the world's earliest and most long-lived urban areas. Through research at the ancient city of Sisupalgarh, my colleagues and I have examined the growth and maintenance of a city that was occupied for more than a thousand years on the eastern coastal plains of the subcontinent. I have also worked on archaeological research projects at the Harappan site of Rojdi in India, the Buddhist site of Bhasu Vihara in Bangladesh, and Roman sites in the UK, Italy, Turkey, Tunisia, and Egypt.
In addition to my engagement with UCLA campus groups including the Center for India and South Asia, the Program on Central Asia, and the Cotsen Institute of Archaeology, I currently serve as an Academic Trustee of the Archaeological Institute of America and as a member of the National Geographic Society's Committee for Research and Exploration.
Selected publications
Book — Cities: The First 6,000 Years
Smith, Monica L. (Editor). 2017. Abundance: The Archaeology of Plenitude. University Press of Colorado, Boulder.
Smith, Monica L. 2016. Urban Infrastructure as Materialized Consensus. World Archaeology 48:164-178.
Smith, Monica L. 2015. The Origins of the Sustainability Concept: Risk Perception and Resource Management in Early Urban Centers. Research in Economic Anthropology 35:215-238.
Smith, Monica L. 2014. Feasts and Their Failures. Journal of Archaeological Method and Theory. 22: 1215–1237.