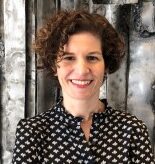 Paloma Giottonini, Ph.D.
Postdoctoral Researcher
Center for Corporate Environmental Performance
La Kretz Hall, Suite 300, Los Angeles, CA 90095
Paloma Giottonini is a Post-Doctoral Researcher at the UCLA Institute of the Environment and Sustainability. She is currently working on an experiment to motivate households to reduce electricity consumption through the participation of teenagers as energy conservation stewards. Although her research is interdisciplinary by nature, her areas of expertise are energy efficiency policy, housing equity, and urban sustainability.
Dr. Giottonini earned her doctorate in Urban Planning from University of California Los Angeles. She holds a master's degree in Urban and Environmental Planning from Arizona State University, and a degree in Architecture from the Monterrey Institute of Technology and Higher Education (ITESM, Mexico).