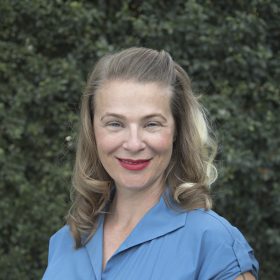 Tamar Christensen
Continuing Lecturer
Writing Programs
As a first-generation college graduate and a US Navy veteran, Tamar is passionate about empowering her students to find their voice and contribute to the academic conversation.  Since earning her Master's degree in History from CSU Long Beach and joining the Writing Programs faculty in 2010, she has taught the full range of lower and upper division courses offered by the department.  Drawing from the analytical writing textbook she co-authored, Own Your Perspective, Tamar leads thought-provoking classroom discussions and a rigorous revision process to arm students with the ability and desire to both articulate and act on their complicated views. No matter the writing course, Tamar underscores climate crisis issues, including at least one major assignment focused on the topic.  Recently, Tamar developed the Professional Writing Minor course, "Topics in Science Writing: Environmental Awareness to Climate Action," which helps students translate complicated scientific works (e.g. Intergovernmental Panel on Climate Change, Special Report: Global Warming of 1.5ºC, 2018) into effective op-eds, social media interactions and blogs, personal narratives, and TED Talks with the goal to instigate positive climate action that connects the individual to the collective.  Tamar's pedagogy is a direct reflection of her personal commitment both in and outside the classroom. She has been an invited speaker for student clubs across campus to help Bruins reimagine their lifestyles, focusing on how she transitioned to a zero waste lifestyle, reduced her consumption habits, changed her diet, and learned to get around LA without a car. In both her lifestyle and pedagogy, her focus on climate action helps students take individual steps that blossom into larger community-driven initiatives and political engagement.  
Tamar is currently working on an article to help other instructors develop climate-related writing assignments that encourage students to consider and change their personal habits while advocating for broader change.  She is also collaborating on a creative non-fiction book about how to reclaim the winter holiday season from capitalism and celebrate in a manner that is simultaneously good for the individual and our biosphere. A few of Tamar's efforts to build a bridge between classroom pedagogy and individual practices beyond the classroom have been highlighted in the Daily Bruin and by the UCLA Transportation's, "Be a Green Commuter" program.
Publications:
Randall Fallows and Tamar Christensen, "Own Your Perspective: A Concise Exploration into Content and Form." (2016).
"How Married UCLA Lecturers Lived Happily Ever After Car-Free," Karen Hallisey, UCLA Transportation, Be a Green Commuter (2020)
"Married lecturer duo hopes to instill a sustainable mindset in students," Kennedy Hill, Daily Bruin (2019).