Project Description:
The Academic Waste Diversion team will work to understand how zero waste may not be accessible to the UCLA community
.
Our focus is on UCLA demographics during the COVID-19 pandemic in 2020.
We aim to use this data to inform action in regards to UCLA zero waste policies and the single use plastic ban.
In order to maximize outreach and to better understand potential disconnect between the UCLA community and zero waste, we will focus on students who have experience and knowledge of zero waste practices as well as those who may not have this experience or knowledge. Once we have addressed sources of disconnect, we will focus on establishing waste reduction resources and practices that are accessible and financially feasible for students. We must take into account the challenges that the COVID-19 pandemic presents in regards to changes in waste production, as well as limited accessibility to waste reduction practices. Additionally, we will investigate the capacity for UCLA to provide resources to students, while also determining how best to fill in the gaps wherein UCLA cannot. Overall, our team will create/compile communicative deliverables, facilitate surveys for UCLA affiliates, and collaborate with the Zero Waste Ambassadors and student organizations to promote waste reduction amongst the UCLA populace.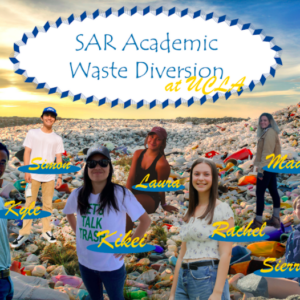 Stakeholder: Kikei Wong
Team Leaders: Kyle Alves, Maddie Wilson
Team Members: Simon Dionson,  Laura Edwards, Sierra Hagen, Rachel Minden
---