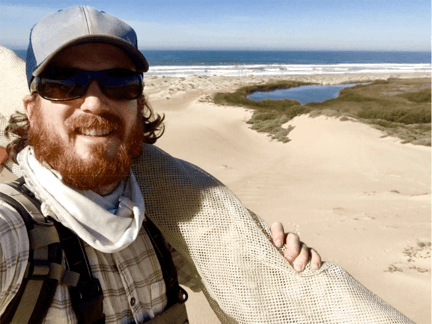 Awardee: Brenton Spies
Department: Ecology and Evolutionary Biology
Brenton Spies is a PhD candidate at UCLA in the Department of Ecology and Evolutionary Biology. His research primarily focuses on how environmental factors and anthropogenic impacts influence community level processes, hydrological dynamics, water quality, and the presence/absence of threatened and endangered species. Currently, Brenton's research is concentrated around the unique seasonally closed, or bar-built estuaries found throughout California, including the recovery and management of the federally endangered tidewater goby, a small California coastal endemic fish. Brenton earned his Bachelors in Biology from San Diego State University before obtaining his Masters in Marine Ecology at California State University, Northridge.
Project Description:
The lagoonal systems in California are intriguing from a biological perspective as they range widely in scale and community structure, and are subject to multiple types of hydrological intermittency (mouth closure vs. breaching). These systems provide a suite of ecological services to coastal wetland communities. However, seasonally closed estuaries and lagoons in California have never been subject to a broad study across systems in terms of their ecological attributes and the continuum of physical process and biology that they express. This study will be the first to provide synchronous physical, biological, and water quality data across multiple lagoonal systems.