SAR Database Team
Creating a Centralized Management System for Student Applied Sustainably Research at UCLA
---
Final Report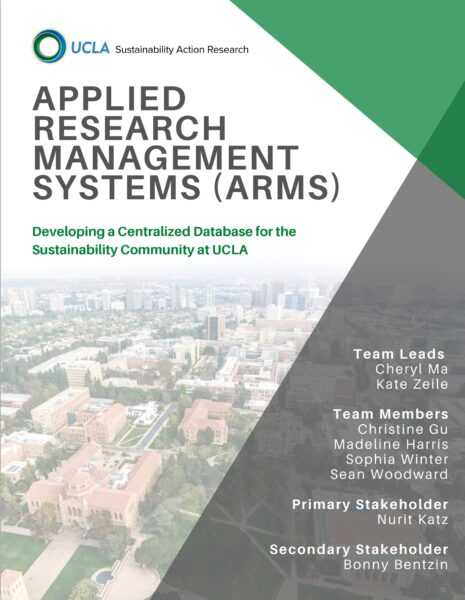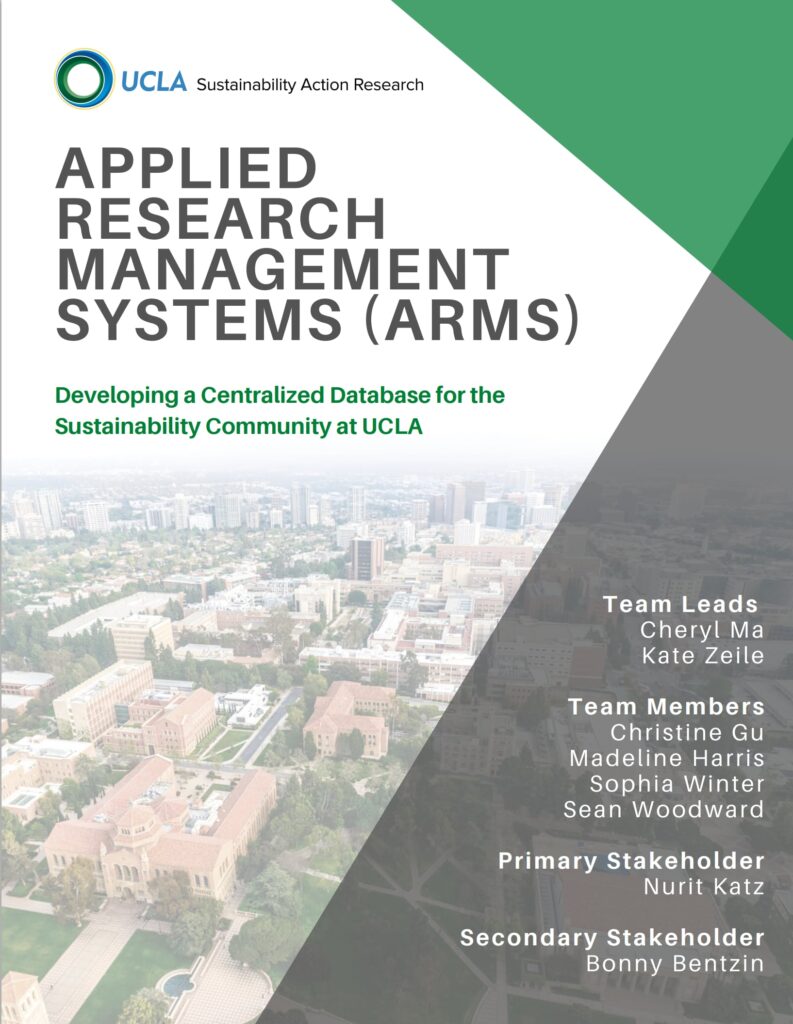 "Developing a Centralized Database for the Sustainability Community at UCLA"
The Student Applied Research team intends to create a singular, accessible space for the UCLA community to share, analyze, and track sustainability research conducted by on-campus student groups and programs including Sustainability Action Research, the Sustainable LA Grand Challenge Undergraduate Research Scholars program, Student Organization projects, internships, and other client projects on campus. Examples of information we hope to centralize include project descriptions, member contact information, and final reports, in a way that is searchable by topic for future students to utilize. Through this sharing of data, we hope to facilitate a greater understanding of the current state of student-led applied sustainability research and foster innovation and collaboration in future sustainable research ventures. 
With the help of our stakeholder, Nurit Katz, Chief Sustainability Officer of UCLA, and Bonny Bentzin, Deputy Chief Sustainability Officer of UCLA, we will first gather information from other schools with existing databases or portals and then search for connections to organizations within the campus community to collect student-sustainability research. The project will also aim to develop a guide for students interested in conducting applied research on campus to help them navigate the campus and to ensure coordination.
Our ultimate goal is to design a website or contribute to the design of a portal site with all the compiled research, potentially even including postings about current and proposed sustainability projects in addition to information about completed projects. A student group on campus is currently working on a complementary project to create a system for the data sets that can support future research projects (for example spreadsheets of water data or waste audit data). We will coordinate with them through the Office of Sustainability to ensure the projects support each other. We hope UCLA students for generations to come will utilize this resource to springboard UCLA's sustainability efforts into the future!
Stakeholder(s): Nurit Katz
Team Leaders: Cheryl Ma, Kate Zeile
Team Members: Sean Woodward, Madeline Harris, Sophia Winter, Christine Gu
---
Multimedia
---
Deliverables
Final Report: "Developing a Centralized Database for the Sustainability Community at UCLA"
Press Release: "UCLA's Theater, Film, and Television is Going Green"
Final Presentation: "What is the most effective way for sustainability-related data to be accessible and be shared among UCLA students and staff?"
---
Works in Progress
Midterm Report: Applied Research Management Systems 2020 Midterm Report
Midterm Presentation: Applied Research Management Systems 2020 Midterm Presentation