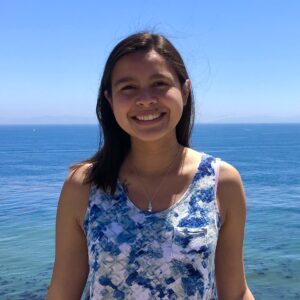 Awardee: Candice Cross
Bio: Candice Cross (she/her) is a third year Ph.D. student in the UCLA Department of Ecology and Evolutionary Biology in Dr. Paul Barber's lab. Broadly, she is interested in using next- generation sequencing tools to study the role of foundation species in marine ecosystems. Her work focuses on using environmental DNA (eDNA) to measure changes in community biodiversity following disturbance in seagrass meadows. Candice aims to work closely with local marine management organizations throughout her research to disseminate her findings and aid in local conservation efforts.
Project Description: Seagrasses provide critical physical, chemical, and biological support for marine ecosystems, but are declining globally due to increases in human activity. This study uses eDNA to characterize the fish and invertebrate communities supported by seagrass in the Port of Los Angeles and measure their response to dredging-induced disturbance. By understanding the changes in community biodiversity, this unique study will provide key insights into how seagrass and other marine vegetation may provide refuge for marine organisms in locations with increasing anthropogenic activity.