University Apartments Waste Diversion Blog Post: May 10, 2019
A Lesson On How to Talk Trash™
By: Emma Stanfield, Zachary Devereux, Caroline Schreck, Maia Rodriguez-Choi, and Elizabeth Popescu.
For the past two weeks, the University Apartment Waste Diversion team has been working on putting together two big deliverables. The first is an implementation proposal that will lay out all the information and instructions for rolling out a composting system in two University Apartments, 556 Glenrock and 558 Glenrock. This proposal will be delivered to the facilities management team, the ResLife team, and our stakeholder. We hope that our proposal will allow the compost system to roll out efficiently and effectively over the summer to be ready for new residents in the fall. We're also planning on presenting our proposal to all the departments involved, which will improve interdepartmental communication and make sure everyone is on the same page. Our other project is developing an binder for the Resident Assistants so they can have the tools to educate residents about proper waste disposal. By building an education standard through the Resident Assistant sustainability binder, we are hoping to empower the resident assistants as composting representatives and influencers in the University Apartment communities.
During Week 7, we will be holding an interactive waste audit event at Landfair Vista, sorting through a small amount of waste with the residents and teaching them proper sorting habits hands-on. We really want to show the apartment residents how to best utilize the compost system at their disposal, and it will be refreshing to speak face-to-face with the people we've been working behind the scenes to help since winter quarter.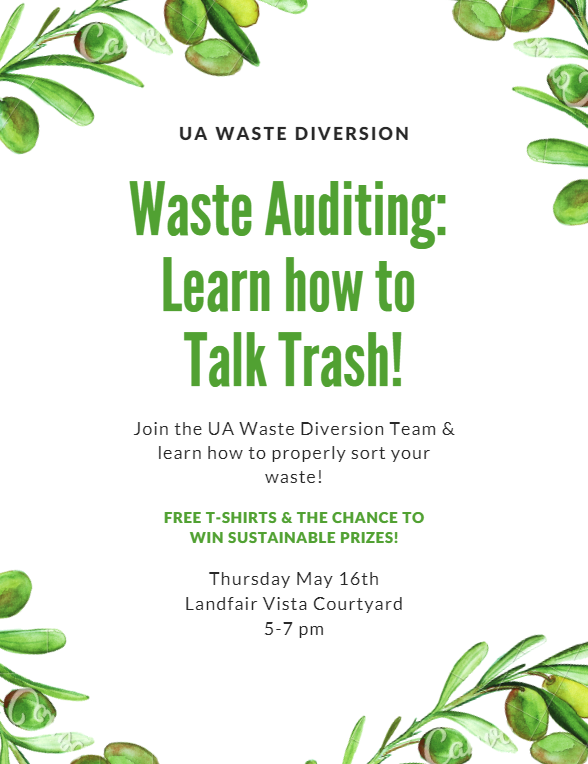 Pictured above is a flyer we created and distributed to promote the waste audit event