Story
Elsa Ordway joins Tom Smith as co-director of the Center for Tropical Research and Congo Basin Institute
Elsa Ordway, UCLA assistant professor of ecology and evolutionary biology, was named co-director of the Center for Tropical Research and the Congo Basin Institute on July 1, 2023. She leads the organizations with UCLA professor Tom Smith, who founded them and has served as sole director.
The Center for Tropical Research and Congo Basin Institute are conservation research organizations that focus on understanding the biodiversity, ecology and evolution of tropical ecosystems and the impact of human activities on these ecosystems.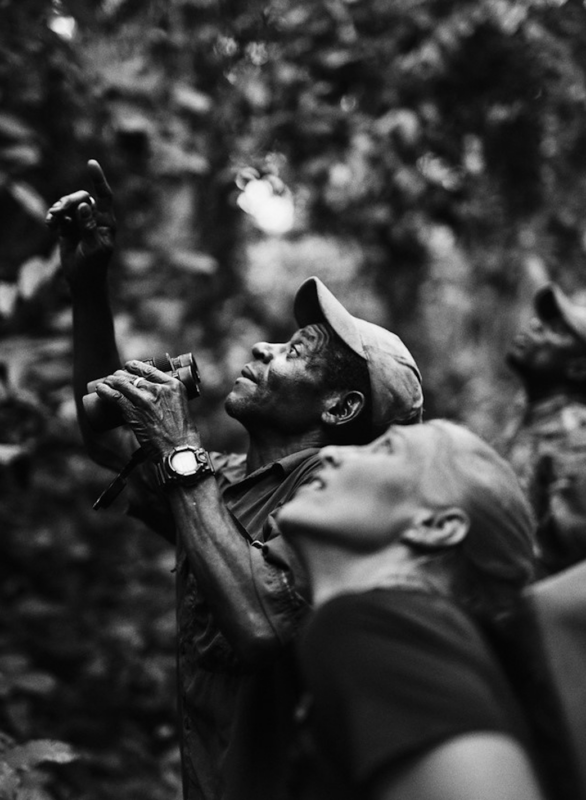 Ordway has extensive experience in the African tropics, where she worked on applied conservation projects in marine and forest ecosystems in countries such as Ghana, Madagascar and Equatorial Guinea. She studied for her master's degree in Rwanda and researched forest transitions and sustainable land use in Cameroon for her Ph.D. dissertation at Stanford University.
Tropical ecosystems play a critical role in informing solutions to climate change, Ordway said. Both organizations generate research that contributes to such solutions, Ordway said.
"Being able to step into a position of leadership is really a dream come true," Ordway said. "I look forward to going beyond research to continue the vision of folks who have been working hard to be a part of future solutions to major challenges like climate change, sustainable development and human health issues."
Smith will maintain an active role as a co-director for a three-year period as he transitions into a new role as research professor. He founded the Center for Tropical Research over 25 years ago to research tropical ecosystems and translate the knowledge learned into practical conservation and reforestation efforts. Beginning with a handful of projects, the center has since expanded to 45 countries on six continents.
Smith founded the Congo Basin Institute in 2015 with a similar vision: bridging the gap between academic research and decisions that affect wildlife and human communities. The institute, with a central hub in Cameroon, works in eight countries in Central Africa. It supports the livelihood of local and indigenous communities and actively engages in rainforest restoration and biodiversity conservation. It is also University of California's first foreign affiliate, an overseas location that provides new opportunities through access to unique resources, expertise, networks and flexible regulations.
Both Smith and Ordway have plans to significantly expand the work of both organizations, extending UCLA's focus on tropical ecosystems and supporting large-scale efforts to redirect attention towards tropical regions outside of the Amazon, particularly in central Africa.
Click here to view this story on the IoES Instagram.