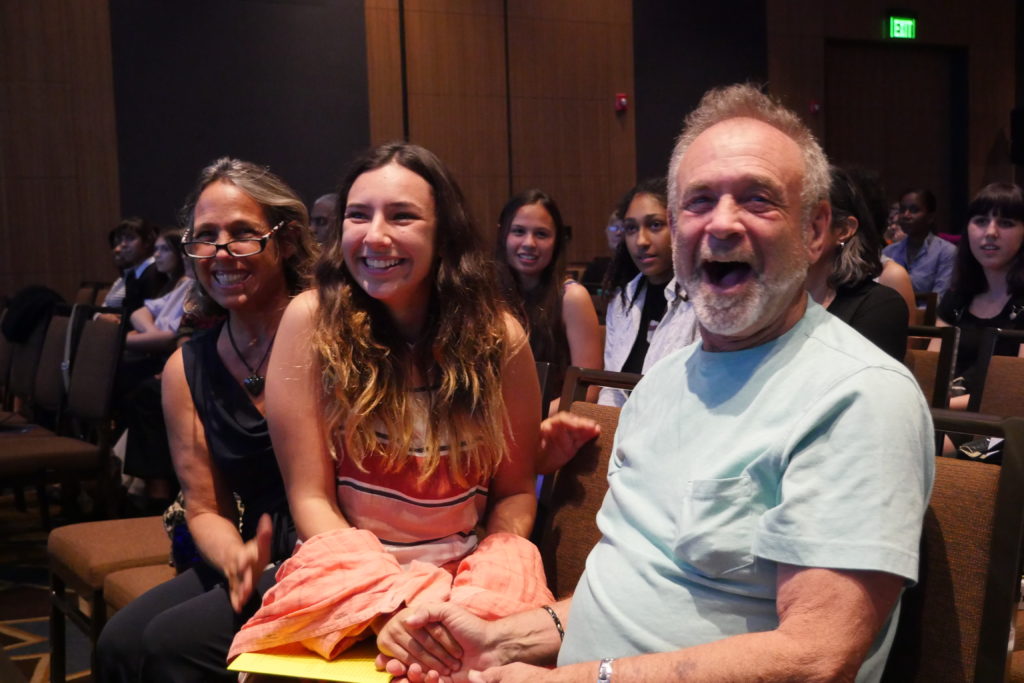 Story
Lights, camera, science!
The environmental movement needs fresh ideas to succeed where it has failed in the past. Enter Greensparks — a new film and education program that's just for high schoolers.
The initiative, launched today by UCLA Institute of the Environment and Sustainability (IoES), combines science and art, empowering young people to inform and inspire the world.
One half of the program, GreenShorts, is an environmental short film contest that gives students a chance to sit in the director's chair and win cash prizes.
The contest has expanded from last year's inaugural, city-wide competition to welcome students from across Southern California to submit entries in five topical categories ranging from food systems to environmental justice.
In an effort to include students regardless of their economic background, five "scholarships," from donors including Apogee Electronics, iOgrapher and the Skyscrape Foundation, were awarded today. The scholarships, which are based on need and merit, come in the form of technology packages that include iPads, filming lenses and audio recording devices — giving more people the tools to create top-notch films.
To ensure films have a strong science foundation, this year UCLA professors and students will offer expert advice during production.
Getting young people started early on environmental science and storytelling is essential to the future of the environmental movement, said David Schlais, creator of GreenShorts and director of partnerships at IoES.
"The movement at large has gotten very stuck in dogmatic conversations," Schlais said. "There is something magical about people under 18 years old. The kind of story and creativity they bring is sorely needed in the environmental space."
Film submissions are due March 28, 2018, and will be judged by some of the most influential names in the entertainment industry — including Netflix director of content acquisition Colin Morawski, Rachel Kropa, co-executive director of Creative Arts Agency Foundation, and Jesse Sisgold, IoES board member and president of Skydance Media.
"We are at a tipping point when it comes to our climate and our ability to sustain our environment for future generations," Sisgold said. "Powerful visual storytelling from the next generation is one of the best forms of stirring emotions, creating urgency and prompting action."
Winners will be announced in each of the five categories. First place gets $750 and a tour of Paramount Studios. Second place entries receive $500, and $250 will go to third-place films.
Last year's winning entry in the Wild L.A. category, created by Madelyn Paley from Thousand Oaks High School. The category was changed this year to "Wild CA" to include the entire state.
---
Of course, not everyone wants to be a master environmental filmmaker. With financial support from Boeing, Greensparks is launching online educational modules to teach environmental science. The cost-free program will be piloted at local schools including Will Rodgers High School, Environmental Charter High School and UCLA Community School this year before opening to the public in 2019.
"These modules are going to deliver environmental science in forms that are concise, digestible and interactive," David Schlais said. "We're going to tackle complex topics like climate change, water and drought in a way that reaches students of all demographics."
Through the contest and educational modules, Greensparks aims to show young people the range of careers available in the environmental realm, Schlais said. He also hopes it might also inspire them to pursue an education via IoES's undergraduate and graduate programs. In addition to providing an education that combines hard science with subjects like public policy, journalism and environmental justice, UCLA works hand-in-hand with the industry L.A. is most famous for.
"The world's biggest films are born in Hollywood," Schlais said. "In the middle of this entertainment capital, we are fostering a new kind of storytelling that is infused with science. Our hope is that GreenShorts becomes the on-ramp for a new generation of environmental blockbusters."
---
TOP IMAGE: Ariel Hyman and her parents celebrate a win at last year's GreenShorts competition. The film contest has been relaunched as part of a broader high school educational initiative, Greensparks.