Review
Wildfire experts lay out causes and solutions for California's worsening blazes
"We've got a big problem in California."
After two years of tragic, record-setting wildfires, climate scientist Daniel Swain's remark felt like an understatement.
Much more was said at L.A.'s New Abnormal: Mega Wildfires, a Feb. 6 event produced by The Nature Conservancy and UCLA. The capacity crowd of over 200 at the Luskin Conference Center had questions of their own in the wake of the Woolsey Fire, which torched more than 1,600 structures and killed three people in Los Angeles and Ventura counties. The Camp Fire in Northern California was even more destructive, causing 86 deaths and blanketing the region in thick smoke.
Swain, a research fellow with UCLA and The Nature Conservancy, joined two other experts: Edie Chang, deputy executive director of the California Air Resources Board, and Jon Keeley, a senior scientist with the United States Geological Survey. Peter Kareiva, director of UCLA's Institute of the Environment and Sustainability, moderated the discussion.
One point of agreement: People are making wildfires worse in multiple ways.
A live audience poll revealed that 52 percent thought "land use, urban and exurban development" was the biggest contributor to worsening fires. But the panel demurred, saying it was a combination of many factors, including development, land management and the effects of climate change.
Keeley said the main cause of fires depends on what part of the state they're in.
"A century of wildfire suppression has been very successful at preventing fires and has resulted in anomalous fuel accumulation. That is now responsible for some of our bigger fires in the Sierra Nevada," he said.
In Southern California, Keeley said, the biggest problem is population expansion and human development — not just more businesses and homes in fire-prone areas, but what that development brings, including additional sources of ignition such as power lines. During an extreme wind event, that increases the probability of fires and puts more people at risk.
Daniel Swain focused on a "pervasive" environmental problem that affects the entire region.
"Climate change is acting as a wildfire multiplier," Swain said. "Warming temperatures, declining snowpack, changing seasonality of precipitation — all of these things are drying vegetation across the landscape, not just in one or two fire regimes, but across the state's ecosystems."
Whatever the causes, many in the room had already witnessed some of the consequences. In addition to immediate death and destruction, air pollution poses another big problem, said Edie Chang — and not just to those living in the path of the flames.
"What we saw was a whole region affected by fire this fall," Chang said, referring to counties in Northern California during the Camp Fire, which experienced hazardous air pollution that made its way into homes and buildings in places like Sacramento. "That experience showed folks like me who live in urban areas that this is a problem that is not isolated to one region. It's something we all, as Californians, have to look at."
The panel agreed that the answers to worsening wildfires should be as varied as the causes — building fire-resistant homes, informing the public more clearly about dangerous conditions, and improving planning and land management across the state, to name a few.
"There is no silver bullet," Swain said. "We have to tackle all these issues simultaneously if we want to make a tangible difference."
Perhaps the most difficult challenge will be climate change, a problem that is both worsening fires and being made worse by them. Natural lands with vegetation typically remove carbon dioxide from the atmosphere. However, from 2001–2014, California's natural lands emitted more than they absorbed.
"Healthy natural lands have to be part of our climate change solution," Chang said.
She referenced the latest report by the International Panel on Climate Change, which projects that the world must go carbon-neutral — meaning no net emissions of carbon dioxide into the atmosphere — by 2050 to avoid a more than 1.5 degree Celsius increase in global temperatures. If it gets hotter than that, researchers predict life-threatening heat waves, water and food shortages, and extreme weather to impact vast swaths of the global human population, while possibly killing off coral reefs entirely and causing numerous other extinctions.
"The only way that we can get to carbon neutral is if we're pulling carbon out of the atmosphere," Chang said. "Our working natural lands are really the only natural system we have to do that."
In California, extreme wildfires may be the most tangible evidence to date of the perils of climate change. Still, when polled, few in the audience responded that their main concern is danger to their own lives and property. Instead, they focused on issues such as ecosystem and wildlife harms, air pollution and social issues like homelessness and poverty.
Daniel Swain cautioned against taking the individual threat too lightly.
"There are a lot of people who three years ago would have said 'yeah, that's probably not my primary concern,' " Swain said. "Those people have since related stories of escaping walls of flame in the dead of night in the past three years. It's something we don't think about until it happens to us."
At UCLA, multiple efforts are underway to better understand wildfires. This spring, a student team will examine how vegetation played a factor in the Woolsey Fire, working with Mountains Restoration Trust. Meanwhile, UCLA researchers led by Alex Hall have joined other University of California campuses for a $4 million research initiative to predict the future of wildfire in the state — and what can be done to prepare for it.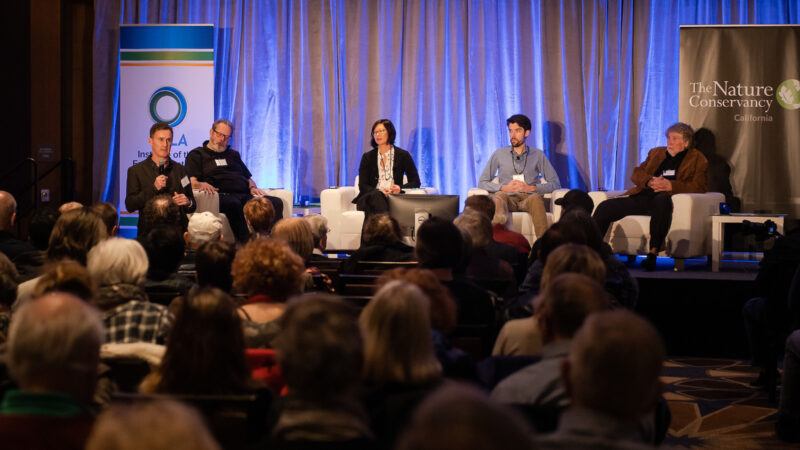 ---
TOP IMAGE: Smoke from the Woolsey Fire looms over Malibu's iconic coastline.