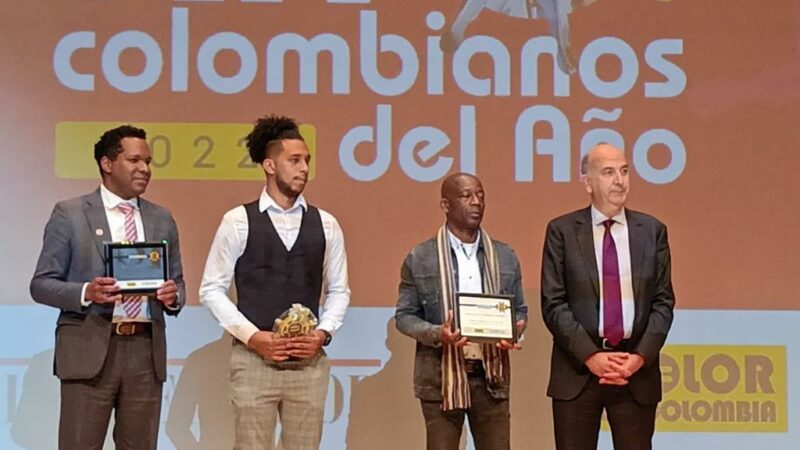 Blog |
Dr. Cristian Román-Palacios on finding his place in science, society, and journey to becoming Afro-Latinx Scientist of the Year
Cristian Román-Palacios, Ph.D., didn't always feel like he belonged. He was a fish out of water as a child of a Black mother and white father in Armenia, Quindío, a city in the central cordillera — or mountains — of the Colombian Andes.
Race — his mixed race, specifically — was never a topic that was openly discussed. But as an Afro-Latinx person, it was an undercurrent that influenced the arc of his future.
It's a future that had some of its beginnings at the Center for Diverse Leadership in Science at University of California, Los Angeles — and the lab run by Aradhna Tripati, Ph.D.
Early years
Dr. Román-Palacios is no stranger to science. He comes by his passion for studying the biodiversity of fishes honestly. Son of a professor of marine biology in the country of Colombia, he fondly remembers family excursions collecting freshwater fish from different places.
"I used to be extremely excited when he and his students revealed the amazing diversity of fish and invertebrates trapped in their nets," Dr. Román-Palacios says of the time spent with his father. "Every time the net was taken out of the water, there were a myriad of new creatures I hadn't seen before."
Fish and nature followed him everywhere. In a converted bedroom in his childhood home, his father had glass jars of fish, frogs and even, birds.
All that immersion in science meant that scientific inquiry was second nature to Dr. Román-Palacios. Other things didn't bode so well, however. The diversity and coexistence he observed in nature weren't necessarily reflected in his daily life.
As a successful scientist, he is well aware of his societal identity and what he is able to influence. But his personal identity — a whole other matter — also figures heavily into his psyche.
Race matters
Dr. Román-Palacio's friends in Colombia were either light-skinned or white. At a very young age, he began altering his own reality to paint an image of himself as white in his mind. "Color piel" which translates to "skin color" meant he saw himself as white at the age of even 10.
Racial inequities were all around him. While the white side of his family had access to jobs, infrastructure and resources, the Black side of his family did not.
"The racial divide was always explicit in the fact that both branches of my family existed in different sites and lived in two different worlds," he says.
Making up his own reality
Dr. Román-Palacios has become adept at making his own reality in these alternate worlds. Code switching is what he does — opting to morph into the person his environment demands of him. When he is in Colombia, he communicates in the language and norms expected of him. When he is the Black person in a predominantly white environment, he finds himself unconsciously adopting behaviors that help him blend in.
"In fact, the common perception that everyone is mixed generally cancels out any potential argument against racial discrimination that at the same time conflicts with economic disparities," he says. "However, it'd be relevant to ask if Colombians — or Latin Americans in general — are effectively mixed or if this conception is the result of a convenient social construct that maintains a racist status quo."
Being named the Afro-Latinx Scientist of the Year in his native Colombia in 2022 has challenged that status quo. It's an honor he was selected for by a jury and he is only one of three people in his field to be recognized.
"For many people around me, I'm an example that things can be achieved through hard work," he says. "In different conversations, their perspective is that hard work regardless of anything else such as race, social class, is behind success."
Identity is of utmost importance to Dr. Román-Palacios, though. He's been trying to carve one out for himself for as long as he can remember. When people from Colombia texted, emailed and called to congratulate him on his award, he saw a pattern emerge. They were congratulating him on being "Latinx Scientist of the Year," and completely negating his Afro roots.
"Apparently depriving identities of people and communities when deemed convenient is a common choice in Latin America," he says.
He's not one to be easily deterred, though. He knows his recognition has been a long time coming. And that he's had a helping hand or two along the way.
An enduring relationship
Upon graduating from high school, Dr. Román-Palacios went on to pursue a college degree at Universidad del Valle in Cali, Colombia. He chose biology as his major, graduated with honors, and did some early research in trophic ecology — the hierarchy of an organism in the food chain — of fishes and insect systematics. He caught the attention of Dr. Tripati who came across one of his undergraduate publications and sought his opinion on a paper they are working on.
He joined her lab as an Early Career Research Fellow. Dr. Tripati was by his side when he was applying to graduate schools in 2016. He went on to graduate from the University of Arizona with a doctoral degree in ecology and evolutionary biology in 2020.
"I've had a very close relationship with Dr. Aradhna Tripati since 2015," he says. "Aradhna has supported me as a person and researcher basically during my whole academic life. We first interacted when I knew almost no English while in college in Colombia."
Dr. Tripati also was right there when he applied for faculty positions in 2021. He went on to be hired as an assistant professor at the University of Arizona.
"I've had my mentor at UCLA for almost 10 years," he says of Dr. Tripati.
Interestingly enough, they didn't meet in person until 2021. The power of universality and that long relationship has him wanting to give back.
"I am interested in supporting other folks for marginalized groups in academia, the same way Aradhna did for me a while ago," he says. "She has opened so many doors for me. She has inspired me for years and keeps doing it."
What's ahead
Dr. Román-Palacios' expertise is in ecology, evolutionary biology, and data science. His research partly focuses on the long-term effects of climate change on biodiversity.
"From that perspective, my goal is to provide critical information for evaluating and addressing potential scenarios of biodiversity change over the next few decades," he says. "I also develop tools that are aimed at increasing access to science and resources that could be used by local communities."
Changes of that magnitude require frank and honest conversations from the community at large, he says.
"There are a ton of discussions happening around those aspects but too many people are not interested in getting a critical opinion," he says.
In his courses, he focuses on the "Ethics of What You Are Learning."
"It's mostly technical skill — assembling algorithms, social implications of algorithms, biases in data sets," he says. "It's dissecting data sets and how to use different populations."
When dissecting plant populations, It turns out that, at the end of the day, it's not just distinguishing between plant populations but how they inform eugenics and other larger populations.
Advice for others
Dr. Román-Palacios is passionate about community, helping people belong and being around others who understand and support each other and know what's important to them. His advice for others is this:
"Surround yourself with people who are worth your time and who support you. I'd say that being comfortable and feeling you are in the right space is extremely important for feeling productive and effectively supporting and triggering changes in society. Do not feel you have to agree to everything and state your opinion respectfully if you ever disagree."
To do his part in contributing to the future, he is working along with the Center for Diverse Leadership in Science, Esperanza Community Housing, and Youth Education and Empowerment in STEM.
More information